Tea Party's Joe Walsh Files Court Motion To Stiff His Kids… Again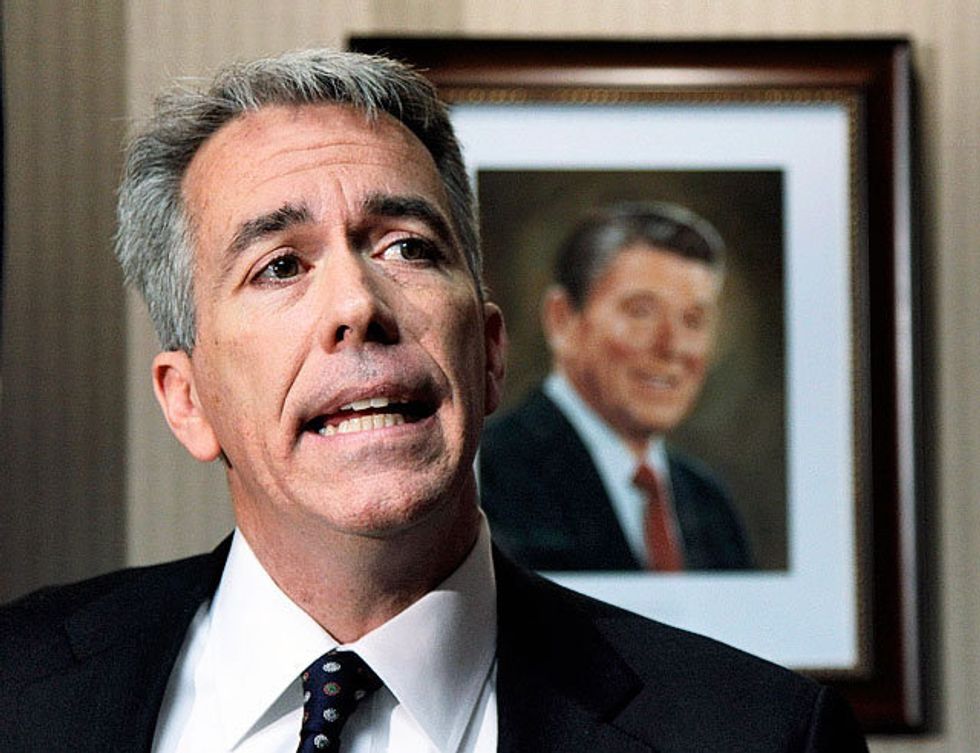 Former Illinois congressman and Tea Party darling Joe Walsh, who once famously declared, "I won't place one more dollar of debt upon the backs of my kids and grandkids unless we structurally reform the way this town spends money!" has doubled down on his deadbeat dad status, filing court papers to end his child support obligation — an obligation he has failed to meet in the past.
The "family values" ex-congressman, who has remarried and presumably supports the children he had with his second wife, enjoyed an annual salary of $174,000 for the two years he was in Congress, and somehow managed to loan his own campaign $35,000 and take expensive vacations with his girlfriend while claiming to be too poor to support his children. His wife eventually had to sue to wring a dime out of him, and after nearly 10 years of legal wrangling, court-ordered payments were deducted from his congressional paycheck from the time he took office.
"I have paid child support … through the end of my congressional payment," Walsh insisted. "I received a check, and so my ex-wife would have received 20 or 28 percent of that. She received her normal payment. They took it out of my check, they took it out of my check in January."
However, those payments actually stopped at the end of 2012, according to paystubs obtained by the Chicago Sun-Times, and now Walsh is once again trying his hand at the court system, this time filing a "Motion to Terminate Child Support Obligation" in an attempt to legally stiff his ex-wife and children this time.
The filing reads: (PDF)
Joe's employment has been terminated through no voluntary act of his own and he is without sufficient income or assets with which to continue to pay his support obligation. Due to a substantial change in circumstances, Joe requests that his child support obligation be terminated based on his present income and circumstances.
Coming from the party of "fiscal conservatism," one would assume Walsh would have set aside something for his children during those two years in which he was handsomely rewarded for doing not much of anything besides making racist attacks on the president and ridiculing the service of a female veteran who lost both legs in the line of duty. One would also think that, with his contacts and conservative pride, he'd have gotten a job by now… or is he just sitting home "suckling at the government teat," like he and his Tea Party cohorts insist the rest of the country's unemployed are voluntarily, greedily doing?
Perhaps it's time for Joe Walsh to take "personal responsibility" (another phrase conservatives love to throw around, but rarely fulfill) for the family he helped bring into this world, and stop finding excuses to deprive them of the support they are legally and morally entitled to. "Family values" is not just a catchphrase, Joe. It's a way of life.
AP Photo/Manuel Balce Ceneta, File