Tearful Obama Gives Statement On Connecticut School Shooting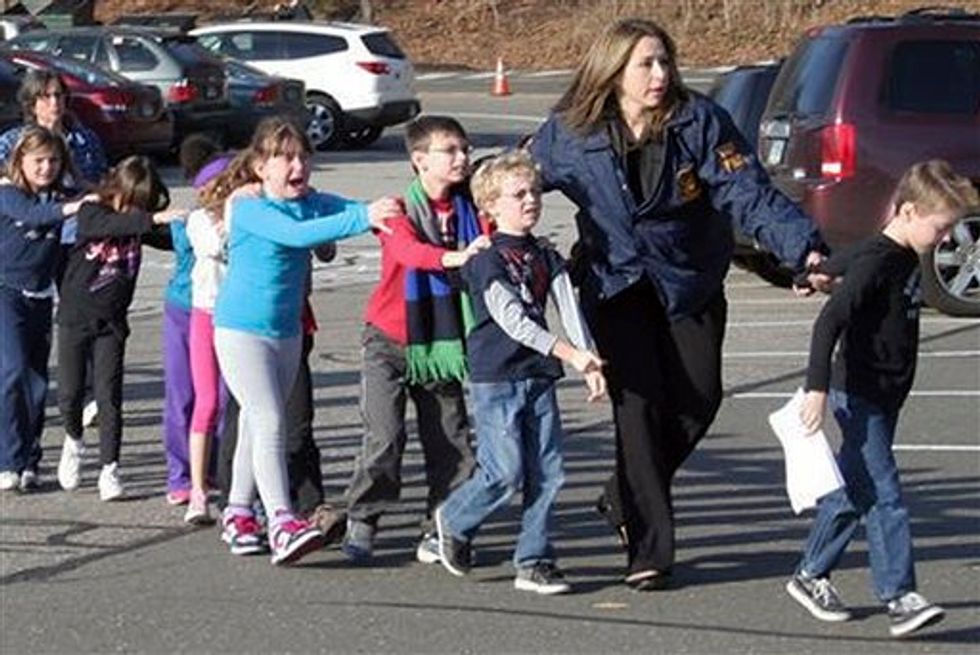 Responding to the horrific shooting at an elementary school in Newtown, Connecticut, an emotional President Barack Obama lamented that "we've endured too many of these tragedies in the past few years."
During a brief statement at the James S. Brady Press Briefing Room — named after the former press secretary who became a tireless gun control advocate after being shot in the 1981 assassination attempt on President Reagan — Obama told the nation that "our hearts are broken today."
"As a country we have been through this too many times," the president said, listing recent tragedies. "We're going to have to come together to prevent more tragedies like this, regardless of the politics."
The president's statement came in response to a shooting at Sandy Hook Elementary School, which killed 27 people — including 18 children, according to the Associated Press. The apparent gunman is Adam Lanza, whose mother was a teacher at the school. According to Clifford Levy of TheNew York Times, Lanza killed his mother and 18 students in her class. The shooter was armed with two guns — a 9mm handgun and a .223-caliber rifle — and according to police, he was killed at the scene. NBC News is reporting that a second suspect is being held in custody, although his precise connection to the attack is unknown.
Connecticut State Police Lieutenant Paul Vance told reporters that Newton police were called about the incident just after 9:30am, and immediately responded to the scene along with state police and a SWAT team. Vance said that he could not provide information regarding the fatalities until all family members had been notified
The 27 fatalities would make this the second deadliest school shooting in U.S. history, behind only the Virginia Tech attack, which claimed 32 lives in 2007.
Earlier in the afternoon, White House Press Secretary Jay Carney told reporters that President Obama was notified about the incident at 10:30 am, and would "receive regular updates as the day progresses." According to NBC News, the president has been briefed by Connecticut Governor Dan Malloy, Homeland Security Advisor John Brennan, and FBI Director Robert Mueller.
Carney refused to respond to the shooting with a strong statement on gun control, merely saying that renewing the assault weapons ban "does remain a commitment" of the president's, but "today is not the day" to debate the issue.
The Newtown shooting is the latest in an alarming series of killings that have shocked the country in 2012. In July, 12 people were killed in a shooting at a movie theater in Aurora, Colorado, and three people were killed on Tuesday night in a shooting at a Portland, Oregon mall. Of the 12 deadliest shootings in United States history, six have occurred in the past five years.
This post was updated at 4:50 to reflect reports that Adam Lanza, not Ryan, was the shooter.
AP Photo/Newtown Bee, Shannon Hicks

Video viaPolitical Wire