Technology Helps Banks Meet Consumers Online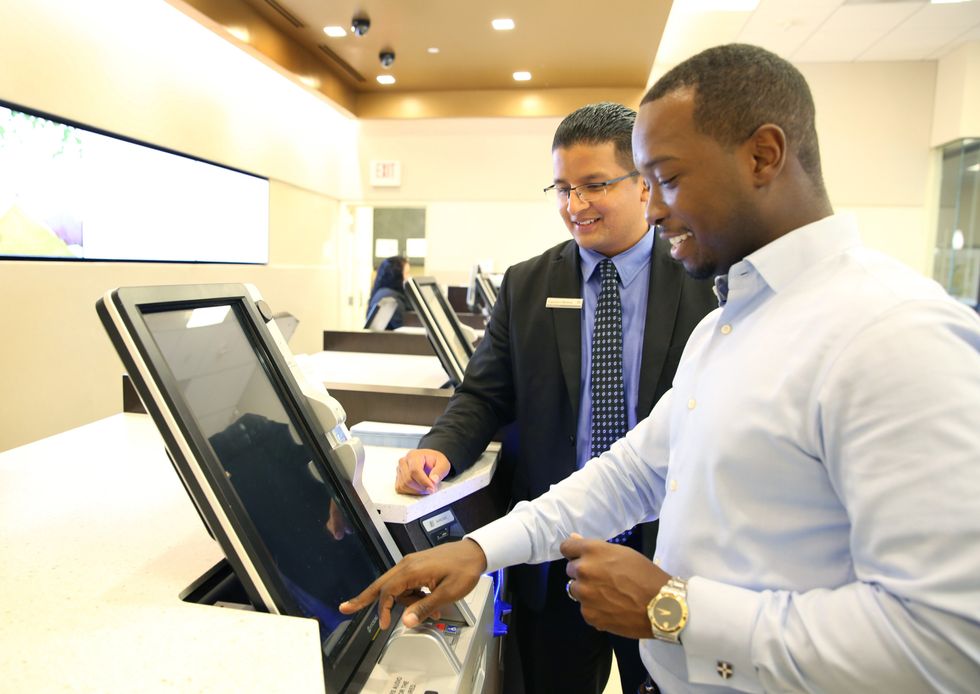 By Marco Santana, Orlando Sentinel (TNS)
ORLANDO, Florida — Marc Stumbo has not been in a bank in about two years.
The 32-year-old financial analyst said once his bank, Fairwinds Credit Union, adopted mobile check deposits, there was no need.
"It's just significantly more convenient," he said. "It has become an on-demand society, and I don't have time to go to a bank."
As more consumers than ever bank online or on mobile apps, banks have had to adjust, moving many services online and reducing the number of physical branches.
Some banks have virtual tellers, which make remote bank employees available for extended hours in a day.
Bank of America has introduced ATM with Teller Assist in 26 markets across the country. The remote teller performs most functions of a live teller inside a branch.
"People are thinking differently about banking," spokeswoman Tara Burke said. "We are trying to provide that flexibility and service. It revolves mostly around looking at how customer behaviors have changed."
As they do, banks have bolstered online security, with some introducing biometric, or fingerprint, verification to access apps, according to some reports. Websites require multiple steps for access.
A Pew Research Center report said 2013 marked the first time more consumers did their banking online than at a physical branch.
Both Chase Bank and Bank of America recently surpassed 50 percent of check deposits being done on mobile or at an ATM.
"We know customers like these technologies," said Greg Fahey, Central Florida market manager for Chase Bank. "They want more convenience and the flexibility to access their banking from anywhere."
However, it's not just the big banks with technology on the brain.
Officials with Fairwinds, a Florida-based institution with about 40 locations across Central Florida, said the bank has been developing technology to meet customers where they bank.
That includes being one of the first institutions to create an app for the Apple Watch that gives customers access to balances and other notifications on their wrist. Mathy Hogan, executive vice president for e-business, said the bank plans to build out that platform further. But Hogan emphasizes bankers still have a role when it comes to personal services such as retirement planning and loan arrangements.
"They like that mix of online and technology options, but sometimes they are still looking for guidance from a banker," she said. "Some of those are the biggest decisions of their lives. That's their future."
Kenneth LaRoe, who founded First Green Bank in Central Florida, said technology must be on the minds of all banks, including small ones such as his, even if limited budgets add hurdles. For instance, while larger banks have teams devoted to technology, First Green has to farm work out to vendors, which must have certain regulatory authorizations.
But the growth of online and mobile banking has opened some new opportunities, including the ability to serve customers from any state. It's a far cry from as recently as five years ago, when LaRoe said Fridays meant traffic jams at banks with customers depositing paychecks.
"The traditional bank model will be dramatically different in five years," he said. "There will definitely be less people coming into the banks."
The Pew study found that the percentage of consumers who bank online grew by about 50 percent from February 2005 to May 2013. In addition, the number of consumers who bank on their mobile devices nearly doubled from May 2011 to July 2013.
As more banks move toward technology, it will create something of a technological arms race in the industry, analysts say. With that effort will come the need to increase security as well.
"You have to innovate and keep up with consumer demand, or someone will eat your lunch," said Greg McBride, chief financial analyst for Bankrate.com. "You have to keep up, or you'll be run right out of town."
For consumers, the ability to finish most transactions online goes beyond check deposits, withdrawals and paying for a latte.
Stumbo, the financial analyst who hasn't entered a bank in two years, said he applied for a car loan and received approval while waiting at the dealer.
He says he has gone all-in on mobile payments and mobile banking.
"Nothing has to come out of my pocket, and the clerk never sees a credit card," he said. "It's as good as it gets."
(c)2015 The Orlando Sentinel (Orlando, Fla.) Distributed by Tribune Content Agency, LLC.
Photo: Branch Manager Francisco Medina, left, helps Hyzens Marc with a virtual teller on June 18, 2015 in Orlando, Fla. The Church St. branch of Chase Bank in downtown Orlando offers virtual tellers as well as a traditional teller. (Tom Benitez/Orlando Sentinel/TNS)