Ted Cruz Vows Filibuster To Defund Obamacare After House GOP Accuses Him Of Surrender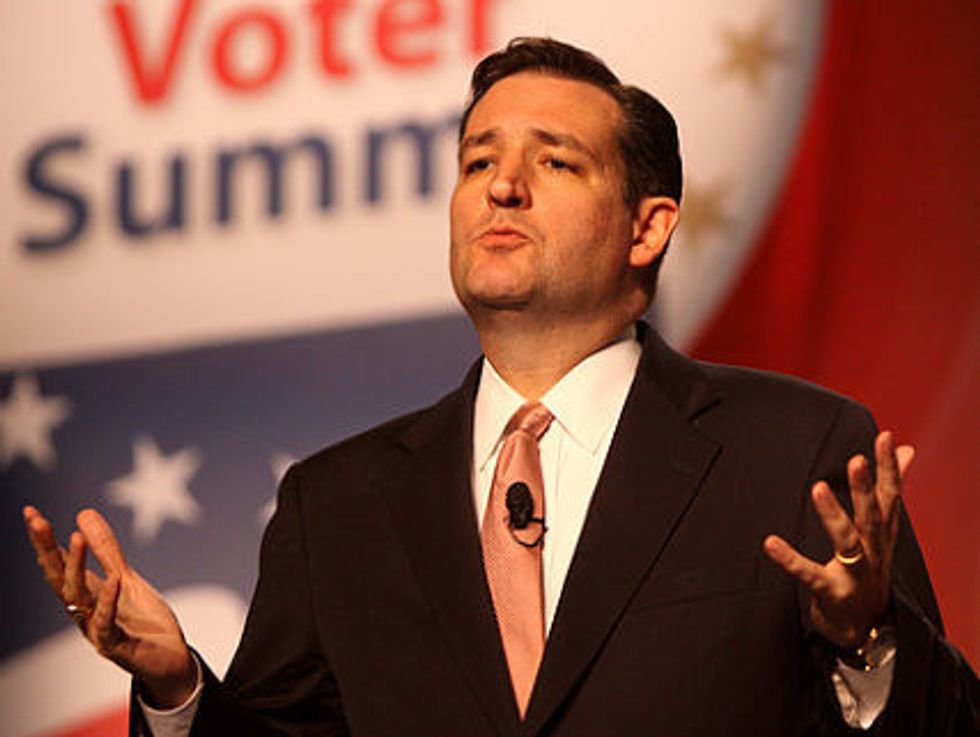 Senator Ted Cruz (R-TX) has vowed to filibuster any bill that would keep the government open past September 30 that does not include defunding Obamacare. But he also seems to be preparing the GOP base — one he's spent months ginning up — for the realization that his effort to defund the law before the health care exchanges open is likely doomed.
For months, Cruz has been promising the GOP a battle. Now he's getting one — from House Republicans who have been pressured to go along with his gambit, and now find themselves forced to choose between pleasing the base and destroying what's left of the GOP brand.
The junior senator from Texas opened himself up to a torrent of attacks from Republican members of the House on Wednesday night when he released a statement that admitted the obvious: He doesn't have the votes in the Senate to pass a bill that would defund Obamacare.
"House agrees to send #CR to Senate that defunds Obamacare. @SenTedCruz & @SenMikeLee refuse to fight. Wave white flag and surrender," Rep. Sean Duffy (R-WI) tweeted. Several of his colleagues also chimed in their disappointment with what they saw as giving up on stopping Obamacare.
Cruz announced that he was willing to pursue a filibuster to stop the the Senate from stripping the House's defunding proposal from the continuing resolution, hoping to assure his allies in the House who had adopted his hardline stance against the health care law.
"I am prepared to use any and all procedural methods to stop Obamacare from being funded," he told the AP's Ken Thomas on Thursday. But he also noted later that his efforts probably won't be enough to stop the law. "I think it is likely that it will take another election for a full repeal," he said.
With all 54 Senators who caucus with the Democrats likely to oppose any measure that defunds Obamacare, the question becomes, can Cruz keep six Republicans from joining the Democrats in ending his filibuster and sending the bill back to the House without the defunding language?
"I would make a plea today to the 46 Senate Republicans that today is a day for party unity; that every Senate Republican should stand with Republicans in the House, should stand with conservatives and should stand with the American people," Cruz said on Fox News Wednesday night.

Both Cruz and his colleague Senator Mike Lee (R-UT) seem to believe defunding the law in the Senate will be impossible, as six Republican senators have made a point of saying they don't support the idea.
"This, like so many other legislative debates, might well take several volleys between House and Senate," Lee said, again shifting responsibility back the House.
If no legislative fix becomes law, the government will shut down in less than two weeks. Polls show that most Americans would blame Republicans if it does, even though Republican voters — an increasingly smaller part of the population — are willing to default if it means getting their way on destroying the Affordable Care Act.
Speaker John Boehner (R-OH) seemed to dare Cruz on Thursday to engage in a high profile, Rand Paul-style talking filibuster in favor of the defunding effort. "This fight will move over to the Senate where it belongs," Boehner said. "I expect my Senate colleagues to be up for the battle."
The Speaker seemed explicitly interested in making sure that Cruz gets his fair share of the blame when this effort fails, as it likely will. Salon's Brian Beutler believes that Boehner's strategy of forcing Cruz to pass a defunding bill in the Senate is an effort to call his bluff after months of his labeling his colleagues "the surrender caucus."
Cruz seemed cognizant of Bohener's plan on Thursday when he again seemed to place the burden for stopping the law at the feet of his colleagues in the lower chamber of Congress, noting, "the House of Representatives, where Republicans have the majority — the House has to drive this process."
It's important to remember that even if a defunding bill did pass the Senate, which it won't, President Obama would never sign it. And even if the bill became law, it wouldn't actually stop the the implementation of Obamacare.
Photo: Gage Skidmore via Flickr.com