Ted Cruz's New Foreign Policy Suggestion: Bomb ISIS 'Back To The Stone Age'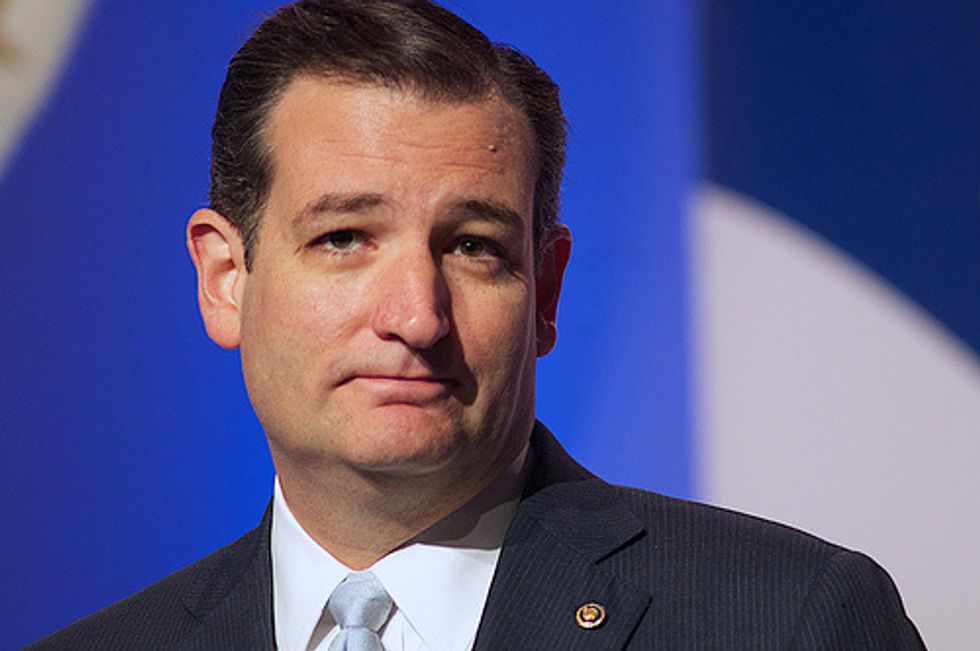 Senator Ted Cruz (R-TX) is preparing for the 2016 presidential race by managing to move even further to the right. At a weekend summit hosted by Americans for Prosperity (the Koch brothers' 501(c)(4) "dark money" group), Cruz introduced a new plank of his foreign policy: bombing the Islamic State "back to the Stone Age."
"America has always been reluctant to use military force, but we have never shied away from defending the United States of America," Cruz said on Saturday. "ISIS says they want to go back and reject modernity, well I think we should help them. We ought to bomb them back to the Stone Age."
This is a definite shift for Cruz, who has previously said that he sees himself "somewhere in between" the hawkish wing of the GOP and libertarians like Senator Rand Paul (R-KY), against whom he'll likely be competing if he decides to run in 2016.
Cruz isn't the only conservative who used the summit to blast the president's handling of ISIS. Governor Rick Perry (R-TX) criticized Obama's lack of cohesive action in the region.
"Yesterday, the president admitted he had no strategy to deal with ISIS," Perry said on Friday. "The deepening chaos in Iraq, Syria, Gaza, and Ukraine is all the clear and compelling evidence the world needs of a president one step behind, lurching from crisis to crisis."
Paul, who needs to tread especially carefully on foreign policy questions or risk alienating his libertarian base, also didn't miss the opportunity to criticize Obama. He suggested that "Obama's lack of leadership showed he'd been on the job too long."
This summit provided an opportunity for conservatives to get in the Koch brothers' good graces ahead of 2016. Ted Cruz's top contributors in 2012 had very close ties to the Kochs, and some attribute the government shutdown to their strong influence. Perry has also received a significant amount of campaign money from Koch Industries.
The Islamic State wasn't the only topic conservatives discussed. Cruz spent a good deal of his speech talking about immigration, saying that it would be "utterly lawless" for President Obama to take executive action without Congress' approval. He also invited Obama to come to the border, though it's unclear what exactly he wants Obama to do, since Congress was unable to agree on an immigration reform bill before going on recess.
"I figured out the only way there is a chance in heaven he might come (is if) I'm inviting him to come to a golf course," he said.
And it wouldn't be a conservative gathering if no one mentioned repealing Obamacare.
"In the year 2017, a Republican president in the Rose Garden is going to sign a bill repealing every word of Obamacare," Cruz promised.
But out of all of Cruz's comments on Saturday, people are probably most offended by his jab at the Bronx.
"Now, I understand that Manhattan is very concerned with their security with the Bronx, but it's a little bit different on 2,000 miles of the Rio Grande," Cruz said while talking about immigration.
New York City Council Speaker Melissa Mark-Viverito chalked up these comments to Cruz's "ignorance."
"It really is ignorance, because if you do know the reality of what is happening in New York City, if you know the reality of what is happening in the Bronx, you know that what you're saying is an outright lie," she told New York's CBS 2.
Photo: jbouie via Flickr
Interested in U.S. politics? Sign up for our daily email newsletter!