Teen Assailed For Outgrowing Conservatism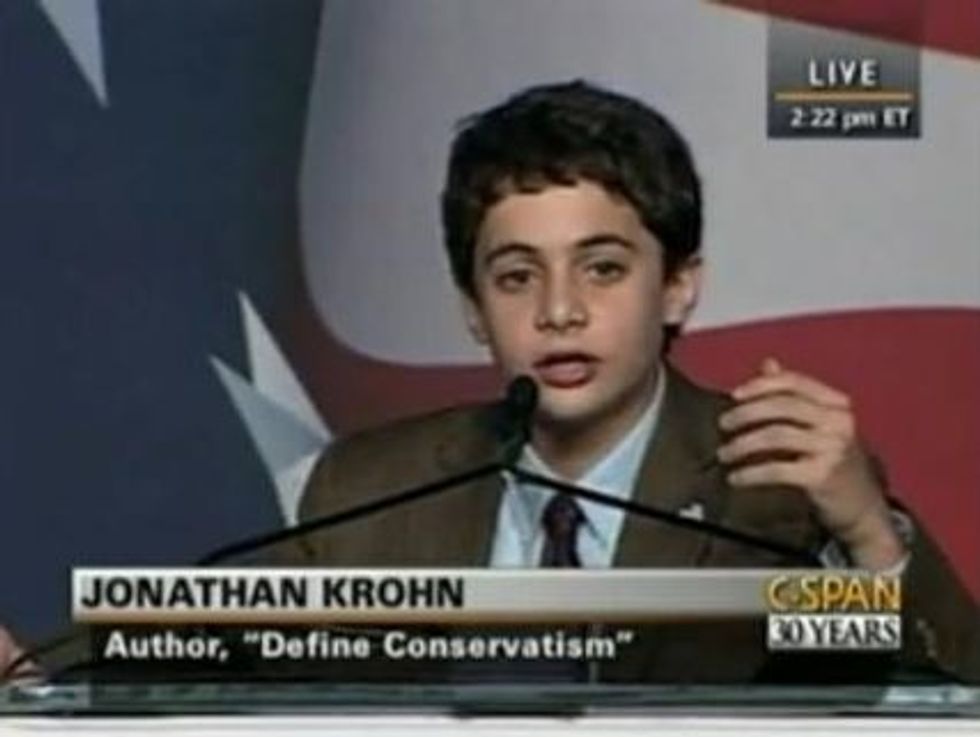 "And a little child shall lead them." — Isaiah 11:6
Jonathan Krohn is a symbol of what is wrong in American politics.
That is a not a character assessment. To whatever degree one can judge such things from a distance, he seems a decent kid — smart, likable, nerdy, a 17-year-old Georgia boy bound for New York University in the fall.
But in 2009, just before he turned 14, Krohn gave a short speech at CPAC — the Conservative Political Action Conference — video of which went viral and made him a star. Preternaturally poised for an adolescent — or for anybody, come to think of it — he outlined his four "principles" of conservatism. Conservatives fell in love. Someone in the audience actually ululated with joy. He was interviewed on Fox "News." Newt Gingrich blurbed his self-published book.
Three years later, conservatives hate him. "Douche" and "vacuous freak" are among the more printable things they are calling him in online forums.
Krohn's sin? He changed his mind. He now embraces marriage equality and health-care reform, among other apostasies of conservatism. The news broke a few days ago in an interview with Politico. Conservatism, it seems, was just a phase he was going through. Not that Krohn now considers himself a liberal. No, he rejects the very idea that we must be defined by political ideology.
Good for him.
Here is a newsflash for those bemoaning Krohn's defection: kids change, they try on different identities. Conservatism was simply Krohn's version of Goth attire or Bieber fever. Given that he is still a kid, he may have some entirely new passion six months from now.
The fact that so many on the political right had such faith in the utterances of a child, the fact that they feel so profoundly betrayed now, suggests the degree to which our perception of, and relationship to, political ideology has changed in the years since Ronald Reagan rode off into the sunset. Back then, ideology was something that guided you. Now, it is something that defines you, a thing you are (like your race or religion), as opposed to a thing you merely support.
It is there in the sweeping statements of conservatives' native moral, intellectual and even physical superiority (Rush Limbaugh believes conservative women are better looking than others). There in the brutish dismissal of competing views ("Liberalism is a mental disorder" writes Michael Savage). There in the brazen willingness to alter history that contradicts their claim to supremacy (conservatives started the Civil Rights Movement, says Glenn Beck).
To reject conservatism, then, is not simply to change your mind, exercising your God-given right to reconsider or dissent. No, it is to commit heresy, blasphemy and apostasy, to abandon the one true faith, to become a sellout, an Uncle Tom, an Oreo. The right has come to embrace a kind of ideological McCarthyism stultifying of and antithetical to independent thought and intellectual rigor.
Small wonder a steady trickle of true believers has come to question and even abandon true belief. As in a conservative federal judge, appointed by Reagan, who recently called the conservative GOP "goofy" and a "crowd of lunatics."
The plain truth is that neither liberalism nor conservatism owns a monopoly on good ideas — or bad ones. Smarter people in a healthier nation would realize this and do as Krohn has done, climb out of the political boxes, give themselves permission to embrace an idea based not on ideology, but on whether it is right and whether it will work.
In thinking otherwise, in believing there was something inherently holy or true about conservatism, Krohn was just going through an adolescent phase. Apparently he's grown out of it.
That's more than some of us can say.
(Leonard Pitts is a columnist for the Miami Herald, 1 Herald Plaza, Miami, Fla., 33132. Readers may contact him via e-mail at lpitts@miamiherald.com.)