As Temperatures Climb To 120 Degrees, Border Patrol Agents Raid Humanitarian Aid Camps On Arizona Border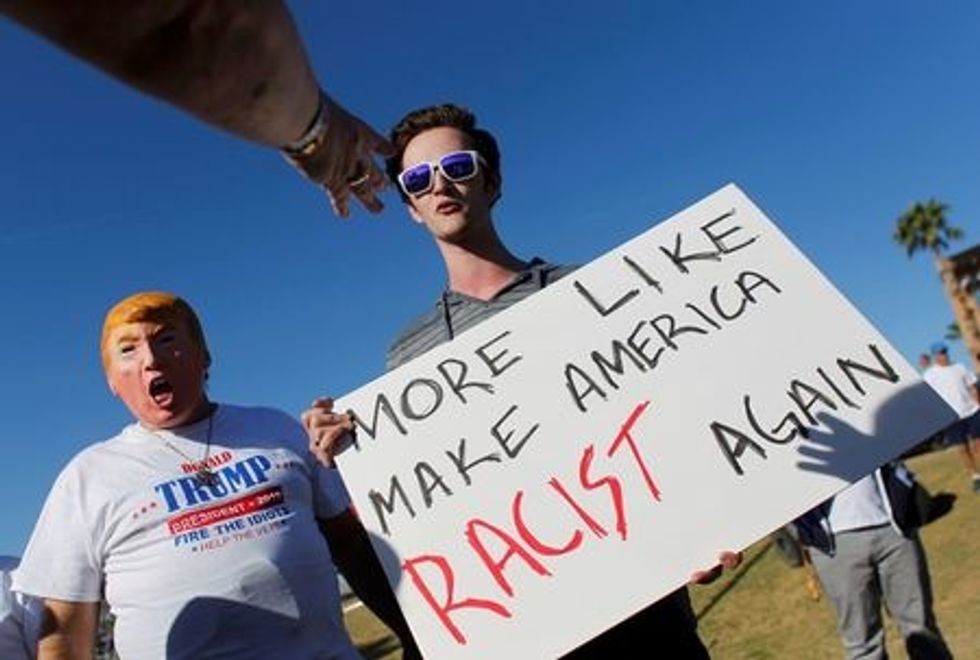 Reprinted with permission from Alternet.
By Lauren Kaori Gurley

Thirty armed Border Patrol agents with 15 trucks, two quads and a helicopter raided an Arizona humanitarian aid camp Thursday, arresting four migrants who were receiving medical attention, according to the humanitarian aid group, No More Deaths.
As southern Arizona prepares for 120-degree temperatures over the weekend and extreme heat advisories in the coming months, the raiding of aid camps providing water and care could prevent migrants from seeking life-saving medical assistance. On Thursday, temperatures reached 105 degrees in Arivaca, northwest of Nogales, Arizona, where the No More Deaths camp is located.
"The raid on the medical aid camp is unacceptable and a break in our good faith agreements w/BP to respect the critical work of #NoMoreDeaths," the organization providing care to the four detained migrants tweeted.
The U.S. Border Patrol responded in kind:
Nogales #CBP #USBP agents serve warrant and arrest 4 at No More Deaths camp in Arivaca, Arizona #HonorFirst pic.twitter.com/uw5Eg6MXQB

— CBP Arizona (@CBPArizona) June 16, 2017
Arizona Border Patrol agents have been aware of the No More Deaths aid camp since at least 2013, when Tucson sector chief Manuel Padilla came to an unofficial agreement with the organization not to enter their camp or detain migrants seeking medical care, in compliance with Red Cross ethical standards. But with the Trump administration ramping up the number of border security officials, many "sancturary" spaces can no longer guarantee safety for undocumented migrants.
The section of the U.S.-Mexico border near Nogales is known for its rocky terrain and sweltering temperatures throughout the summer months. Each year, countless migrants disappear on their journey across the Arizona/Sonora border, and hundreds of bodies are uncovered by humantarian aid workers.
Lauren Kaori Gurley is a freelance writer and master's candidate in Latin American studies and journalism at New York University. Her work has been published in In These Times, The American Prospect and the American Journal of Economics and Sociology. Follow her @laurenkgurley.
This article was made possible by the readers and supporters of AlterNet.