Ten Years Later, Resilient New Orleans Reflects On Katrina
@reuters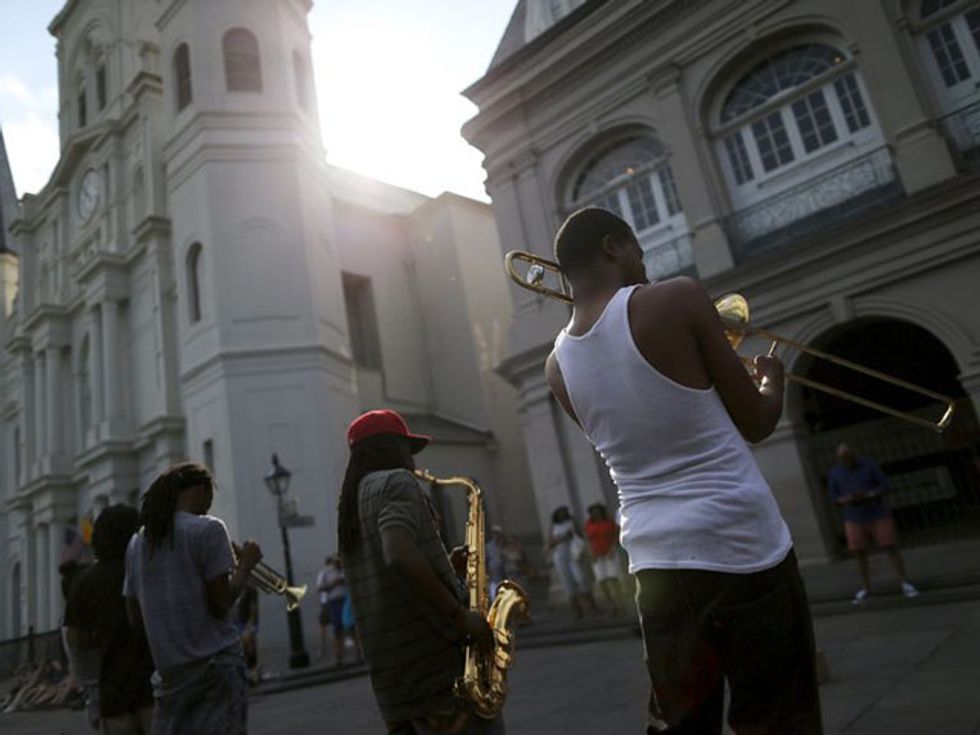 By Kathy Finn and Edward McAllister
NEW ORLEANS (Reuters) — From the Lower Ninth Ward to the Super Dome, New Orleans launched a day of events on Saturday to commemorate the 10th anniversary of Hurricane Katrina, paying tribute to its victims and homage to the city's resilience in the face of disaster.
Dignitaries made speeches to honor the 1,500 who died, brass bands marched through the streets and neighbors gathered for block parties across the city, where the mood shifted in turns from somber to reflective to celebratory.
"It is kind of bittersweet. We want to celebrate because we are still here, but a lot of people are not," said Natasha Green, 36, a resident of the devastated Lower Ninth Ward at the time of the storm. "It is important to remember what we went through here."
Saturday was the culmination of a week of reflection about a storm that left 80 percent of the city under water and displaced 130,000 residents. While residents and visitors alike said it was difficult to deny the rebound that New Orleans has made, there was also recognition that the poorest areas, like the Lower Ninth, have lagged.
The day began with Mayor Mitch Landrieu leading a somber tribute for the 83 "forgotten" victims whose unclaimed bodies lie in mausoleums at the Hurricane Katrina Memorial, housed in one of the city's historic above-ground cemeteries. A decade after Katrina, 30 of those bodies remain unidentified.
"Though they are unnamed, they are not unclaimed because we claim them," Landrieu said on a clear morning reminiscent of the calm before storm's landfall on Aug. 29, 2005.
"This has been 10 years of struggle," said the mayor, who was joined by Louisiana Gov. Bobby Jindal and other dignitaries. "But New Orleans is unbowed and unbroken."
Across town, hundreds gathered in the Lower Ninth Ward on a grass verge that abuts the Industrial Canal levee that was breached 10 years ago, causing some of the worst flooding.
Some locals wore traditional Mardi Gras parade dress including colorful headdresses. Vendors sold soft drinks and beer from large coolers.
The mood started out reflective but not downbeat. There was also an undercurrent of anger over the lagging redevelopment of the Lower Ninth, where empty lots and the shells of destroyed houses are still common sights.
"The people that have given this city its culture have been overlooked," Willie Muhammad, a student minister at the Nation of Islam, said to the crowd. "We shouldn't be surprised that the rebuild overlooked us."
At noon, brass bands began marching, bringing a celebratory atmosphere. Hundreds of people danced behind the blaring trumpets, horns and drums. About a dozen marchers rode horses.
Chad Peterson, a 29-year-old trumpet player with one of the brass bands, was upbeat.
"This is about my city. This is about Katrina. I'm just enjoying it. This is more of a celebration."
Other hard-hit parts of Louisiana were hosting memorials as well. At Shell Beach, in lower St. Bernard Parish just east of New Orleans, public officials and residents gathered along a waterway that burst through a levee in 2005 and killed 127 people. The ceremony will feature a reading of the names of victims, now etched into a monument there.
Similarly, Lakeview, Broadmoor, Mid-City and a host of other locales are looking back on 2005.
By mid-morning a crowd was gathering with cold drinks and food in a park along Harrison Avenue in Lakeview as kids played soccer nearby. Along a main street in the Mid-City neighborhood, colorful flags swayed in the breeze from 52 wooden poles arranged across a green space as a commemoration by sculptor Michael Manjarris. A block party is planned near the site later.
A march and hand-holding ceremony is scheduled at the Mercedes-Benz Superdome, the football arena that housed thousands of displaced people after the storm and became an emblem of the chaos and hardship that engulfed New Orleans after the flooding.
For several sweltering days, people were virtually trapped inside the Superdome without adequate food or water and little communication with the outside world. The scene became one of horror and despair, with some people who were already ill succumbing to the conditions and dying on the spot.
The scene was a political embarrassment for President George W. Bush and Federal Emergency Management Agency officials, who were roundly criticized for a slow response to a crisis that mostly affected the poor and African Americans.
Later, crowds were expected at the Smoothie King Center, home of the New Orleans Pelicans basketball team, where former President Bill Clinton would deliver a speech.
In a show of solidarity with other coastal states damaged by Katrina, a group called Gulf South Rising set up shop in Louis Armstrong Park at the edge of the French Quarter.
"The seas are rising and so are we," read banners hung on either side of the gateway to the park.
Speakers included representatives from Black Lives Matter, an advocacy group formed after a series of unarmed black men were killed by police officers over the past year.
The event will feature music, ceremonial drumming and dance performance on two stages, culminating in one of the city's trademark second-line parade at midnight.
(Writing by Frank McGurty; editing by Andrew Roche, Editing by Franklin Paul)
Photo: A brass band performs in Jackson Square one day before the ten year anniversary of Hurricane Katrina in New Orleans, Louisiana, August 28, 2015. REUTERS/Jonathan Bachman