Tennessee Pastor Hosts Massive Book-Burning At His Church
@Rebekah_Sager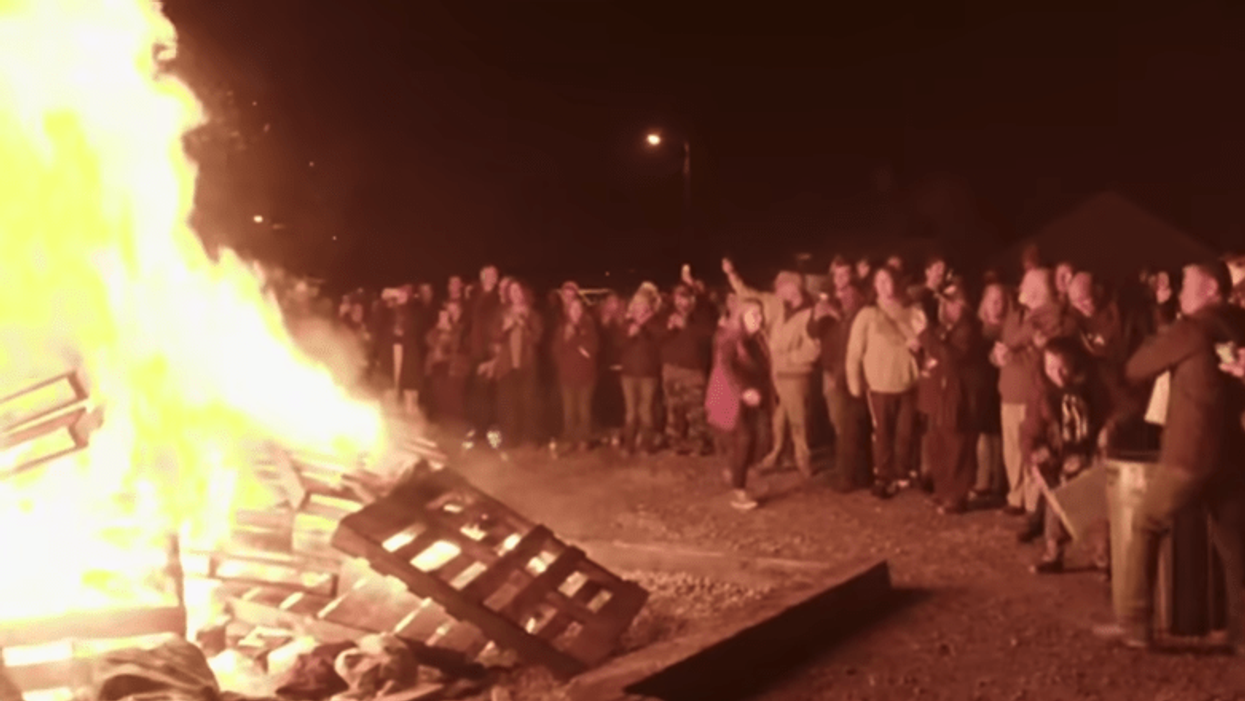 Image via Youtube
When the Nazis began burning books in May 1933, they claimed the books were "un-German." Joseph Goebbels, "chief propagandist," delivered an incendiary speech claiming "No to decadence and moral corruption!"
The Gleichschaltung, as it was called, wasan effort to cleanse German arts of culture that didn't align with Nazi ideology, focusing particularly on books by Jewish, liberal, and leftist authors—a bellwether of censorship and control that ultimately led to the murder of six million Jews.
Fast-forward to a Tennessee pastor who organized a book burning with his congregation Wednesday, citing his church's right to "burn occultic materials that they deem are a threat to their religious rights and freedoms and belief system."
The event took place in Mount Juliet, Tennessee, at the Global Vision Bible Church, which is led by the extreme right-wing conspiracy theorist Pastor Greg Locke.
Locke is a notorious anti-vaxxer and anti-masker. He's has called COVID-19 "nonsense" and the pandemic "fake," according to Fox affiliate WZTV-Nashville.
As reported by Nashville Scene, Locke delivered a sermon before the burning, directing parishioners to throw young adult titles such as J.K. Rowling's Harry Potter and Stephanie Meyer's Twilight into a large bonfire on the basis that the titles promote "witchcraft."
"We have a constitutional right and a Biblical right to do what we're going to do tonight," Locke said. "We have a burn permit, but even without one a church has a religious right to burn occultic materials that they deem are a threat to their religious rights and freedoms and belief system."
The Nashville Scene also reported that one counter-protester claimed that he threw a Bible into the fire while holding tightly to copies of Fahrenheit 451 and On the Origin of Species. Published in 1953, Ray Bradbury's novel Fahrenheit 451 depicts a dystopian American future wherein books are outlawed, and "firemen" are tasked with burning any books they find.
A local Mt. Juliet resident told Daily Kos that no one should just brush this event off as just a "local church, local pastor."
"Locke has over 2 million followers. He live-streamed the January 6 insurrection. He regularly tours the state with elected officials and Roger Stone spoke at the church," Sarah Moore said. She adds, "It's not just Locke or Trump, but the people who support them who scare me."
Locke threw himself into hellish hot water last week after suggesting during a sermon that autism, epilepsy, and other mental health disorders are actually demon possession.
A clip of Locke's controversial sermon " Desperate for Deliverance" went viral, and the comment section blew up by Christians and non-Christians alike.
Locke's book-burning party comes just a week after the McMinn County, Tennessee, school board issued a statement defending its removal of Art Spiegelman's Pulitzer Prize-winning Maus to teach eighth-graders about the Holocaust.
A truly concerning numberof conservatives have jumped on the train of trying to get books banned from school and public libraries, if not outright calling for texts to be burned. In addition to Tennessee, books have been banned in the Granbury Independent School District in Texas and pulled from shelves in Polk County, Florida.
"The McMinn County Board of Education voted to remove the graphic novel Maus from McMinn County Schools because of its unnecessary use of profanity and nudity and its depiction of violence and suicide."
Tennessee children live in a state with the tenth-highest teen birth rate of any state, the tenth-highest homicide mortality rate, the third-highest violent crime rate, and the ninth-highest poverty rate.
But Locke is worried about witchcraft and the school board is worried about profanity in a book about the world's most horrific examples of extremism.
"Orwellian" was one of the choice words Spiegelman had to describe a Tennessee school board's unanimous decision to banMaus. "I'm kind of baffled by this," Spiegelman told CNBC, and "It's leaving me with my jaw open, like, 'What?'"
We are all Spiegelman.
Just for the record, one of the books that was torched by Nazis was by Helen Keller, an American author "whose belief in social justice encouraged her to champion disabled persons, pacifism, improved conditions for industrial workers, and women's voting rights," the U.S. Holocaust Memorial Museum writes.
Reprinted with permission from Daily Kos