Test Kitchen Recipe: This Weekend, Try Easy, Crowd-Pleasing Barbecued Shrimp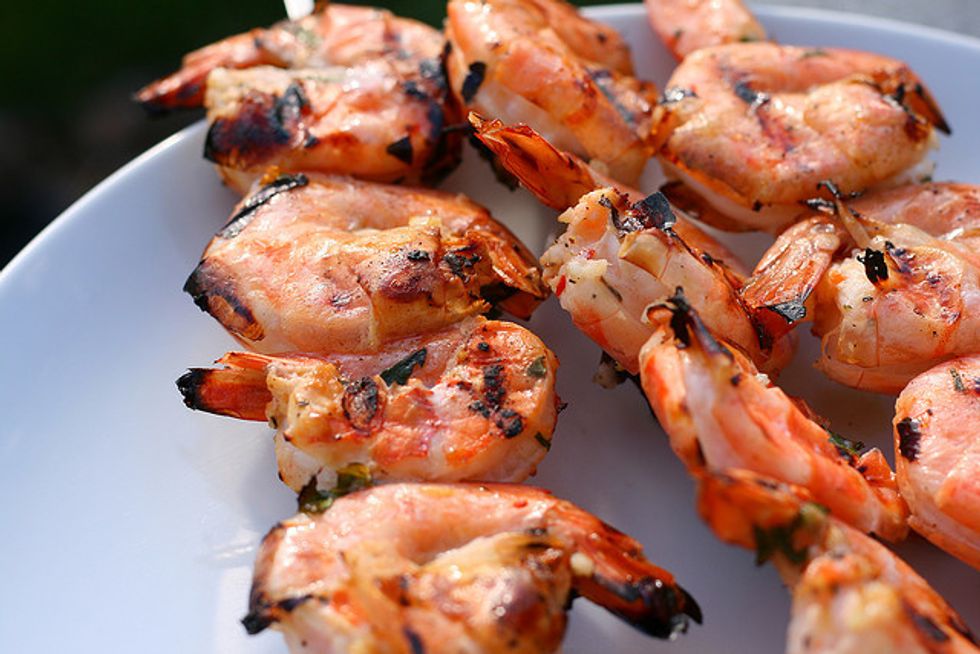 By Susan Selasky, Detroit Free Press (TNS)
Shrimp is terrific grilled as a main dish or an appetizer. The challenge with shrimp on the grill is it's fragile and cooks quickly. If you overcook shrimp, it becomes tough and chewy. The key is marinating or brining the shrimp and using no more than a medium heat.
You can also brush the shrimp with a sauce while they are on the grill to keep them from drying out. And, once you put them on the grill, don't even think of walking away. Shrimp cooks quickly and you need to pay attention.
Whenever I cook shrimp (grill, roast, or steam), I brine them first, which plumps them up and keeps them moist during cooking. For about 2 pounds of shrimp, in a large pot, dissolve 1/2 cup of kosher salt and 1/2 cup of sugar in 1 gallon of water. Add the shrimp and refrigerate.
Let them soak 1 1/2 to 2 hours, no longer or you risk them becoming too salty. Remove them from the brine and give them a quick rinse under cold water. This removes any possible surface salt.
The best way to grill shrimp is to thread them on two wooden skewers or position two shrimp together.
Using the two skewers helps you turn them all at once and cook evenly.
If grilling shrimp without skewers, leave on the shells to protect them on the grill but de-vein them.
To devein shrimp, cut a slit on the backside to the tail with small scissors and remove the vein. That slit also makes it easier to peel them once they are done.
Serve these shrimp as an appetizer or main dish, served over a mixed greens salad or with grilled vegetables.
SHRIMP ON THE BARBIE
Makes: 6 / Preparation time: 20 minutes / Total time: 30 minutes
It's important to cut the bell pepper and onion in small pieces so that they are even with the shrimp. If the pieces are too big, the shrimp won't touch the grill grates.
Ingredients
6 wooden skewers, soaked in warm water
1 pound large shrimp, shelled, de-veined
2 bell peppers (any color), seeded, cut into even 1-inch pieces
6 slices of lime
6 small pieces of onion, cut into 1-inch pieces
1/2 cup favorite smoky-flavored barbecue sauce
1 to 2 tablespoons red hot pepper sauce, such as Frank's Red Hot Sauce
1/2 teaspoon Worcestershire sauce
1 clove of garlic, peeled, minced
Preheat or prepare the grill for medium-high heat. Once the grill is hot, oil the grates. Alternately, evenly divide and thread the shrimp, bell pepper, lime slices and onion pieces on the skewers. Set aside. In a small bowl, combine the barbecue, hot pepper and Worcestershire sauces, and garlic.
Brush some of the sauce mixture over both sides of the shrimp skewers. Place the skewers on the grill, and grill about 3 to 4 minutes on each side (depending on how big the shrimp are) or until they turn pink. Brush them with the remaining sauce mixture while grilling. Remove them from the grill and serve warm.
Adapted from "The Grilling Bible" by Marilyn Pocius (Publications International, $29.95).
Analysis per 1 shrimp skewer.
124 calories (6 percent from fat), 1 g fat (0 g saturated fat), 16 g carbohydrates, 13 g protein, 578 mg sodium, 112 mg cholesterol, 1 g fiber.
Photo by Mike McCune via Flickr