Texas Attorney General: Texas Didn't Discriminate Against Minorities, Only Against Democrats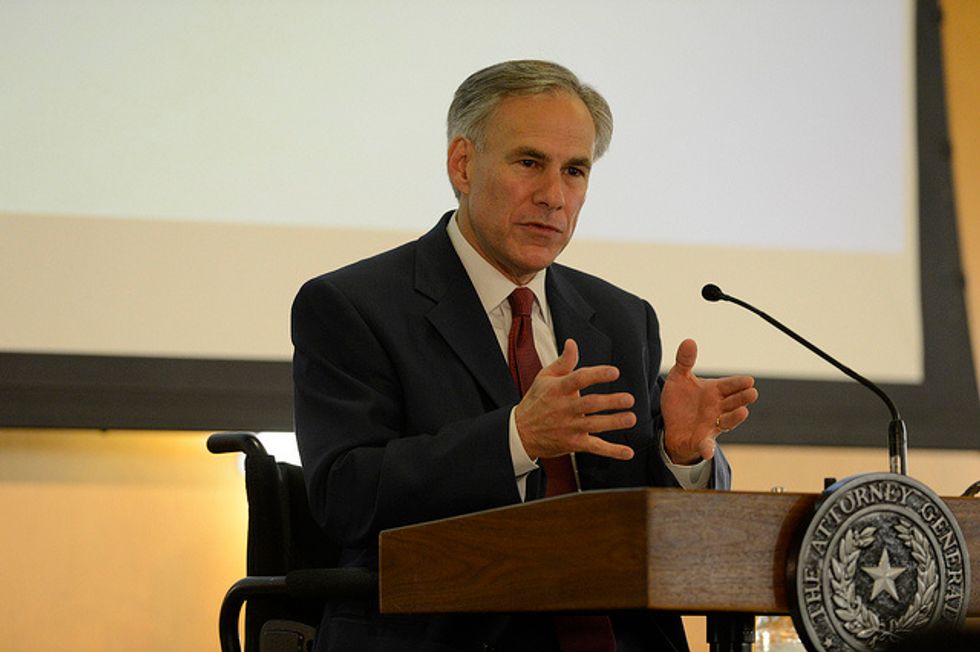 Republican Texas attorney general Greg Abbott wants to make one thing clear: when Texas Republicans engage in gerrymandering tactics, it's not racially motivated. It's simply about partisan politics.
Abbott, who is the overwhelming favorite to succeed Rick Perry as Texas' governor, is continuing to defend the state against a lawsuit seeking to bring its voting laws back under federal supervision, following the Supreme Court's decision to "neuter" the Voting Rights Act.
Attorney General Eric Holder announced in July that the Justice Department would work to fully restore the Act in states with a recent history of voter discrimination, and made it clear that Texas is a "particularly strong candidate for such federal supervision" due to the "evidence of intentional racial discrimination."
Holder's comments followed a federal court's findings that Texas had, in fact, engaged in intentional race discrimination when it last drew its district lines. According to Holder, Texas Republicans "consciously replaced many of [a] district's active Hispanic voters with low-turnout Hispanic voters in an effort to strengthen the voting power of [the district's] Anglo citizens."
Texas' defense does not deny that Texas engaged in discrimination, but it does deny that it did so on the basis of race.
Greg Abbott backed up Texas, explaining: "In 2011, both houses of the Texas Legislature were controlled by large Republican majorities, and their redistricting decisions were designed to increase the Republican Party's electoral prospects at the expense of the Democrats."
In other words: The state's Republican Party was trying to water down Democratic votes, not those of minorities.
Abbott's admission serves as a great defense against the Voting Rights Act – a law designed to protect against or prevent racial bias in voting in states with a long history of voter discrimination – and it also proves that Texas did not actually do anything illegal.
Still, partisan gerrymandering is hardly unassailable; various Supreme Court justices have noted that the practice can be seen as a violation of voters' First Amendment right.
The purpose is to minimize a party's influence while strengthening the opposing party's voice and power. By discriminating against Democrats, Texas engaged in a form of viewpoint discrimination – something prohibited by the First Amendment.
Even if Abbott's brief proves Texas did nothing illegal or racially discriminatory, Texas will have to continue its battle against the Justice Department. Just two hours after the Supreme Court had lifted federal supervision and restrictions in Southern states, Texas announced it would advance a voter ID law, despite federal courts insisting that such a law would "disproportionately target the state's fast-growing minority communities."
Photo:TheTexasTribunevia Flickr.com