Texas Officials Turn Blind Eye To Fracking Industry's Toxic Air Emissions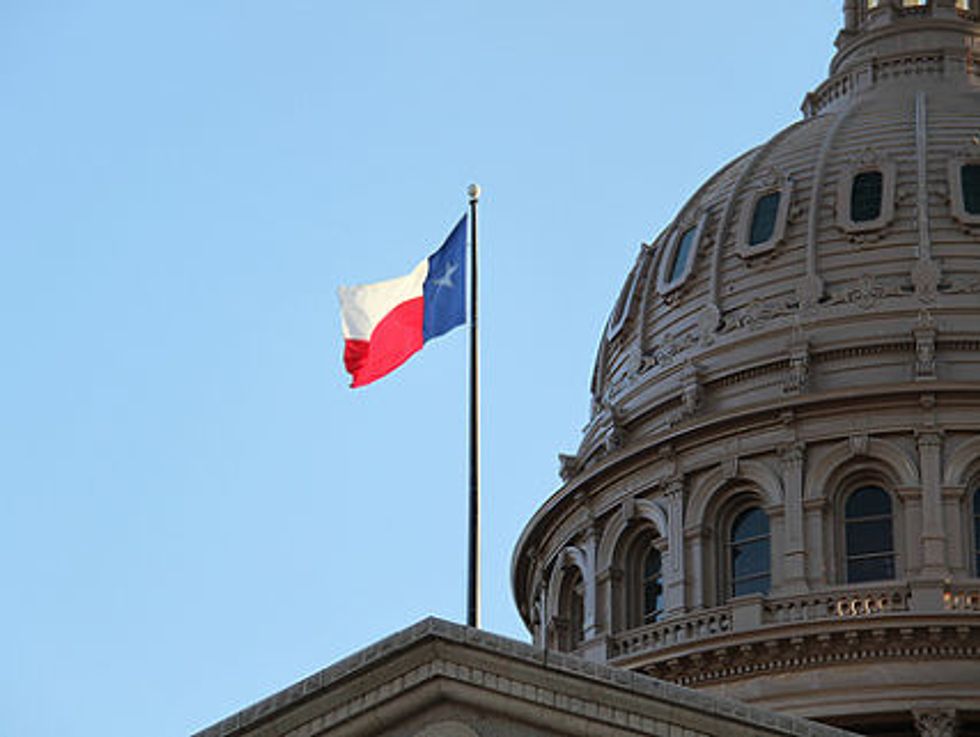 By David Hasemyer, Ben Wieder and Alan Suderman, InsideClimate News
KARNES CITY, Texas — In January 2011, with air quality worsening in Texas' booming oil and gas fields, state environmental regulators adopted rules to reduce emissions.
The industry rebelled. So did the state legislature.
A few months later, lawmakers passed SB1134, effectively preventing the new regulations from being applied in the Eagle Ford Shale region of South Texas, one of the nation's biggest oil and gas booms. Since then, more than 2,400 air emissions permits have been issued in the Eagle Ford without additional safeguards to reduce the amounts of benzene, hydrogen sulfide and other dangerous chemicals that drift into the air.
The legislature's rush to protect the oil and gas industry reflects a culture in which politics and business have become almost inseparable.
State Rep. Tom Craddick, a Republican who championed the House version of SB1134, owns stock in nine oil companies, five of which are active in the Eagle Ford. In 2013, the stock was worth as much as $1.5 million. Craddick, his corporations and partnerships also received royalties of as much as $885,000 for mineral rights. Corporations and unions are banned from giving to Texas candidates, but since 2000, industry employees and related political action committees have given Craddick's campaigns more than $800,000.
The industry also invested $600,000 to help Craddick's daughter, Christi, win a seat on the Texas Railroad Commission, which issues drilling permits.
Other Texas lawmakers also benefit from the oil and gas industry's largesse.
Forty-two of the body's 181 members or their spouses own stock or receive royalties from companies active in the Eagle Ford, according to a Center for Public Integrity review of financial disclosure records. Those holdings could be worth as much as $9.6 million, according to a conservative estimate based on 2012 data.
Republican Gov. Rick Perry, who signed SB1134, has collected more than $11.5 million in campaign contributions from those in the industry since the 2000 election cycle. Attorney General Greg Abbott, favored to win the Republican nomination for governor, has raked in more than $4 million. Abbott has sued the U.S. Environmental Protection Agency 18 times for interfering in Texas affairs.
Supporters say oil and gas has been good to Texas, and they are right. The industry employed 315,000 people and paid $8.5 billion in taxes in 2010. It has been especially important to counties in the Eagle Ford. The tax base for the industrial sector in Karnes County, in the center of the drilling, exploded from $217 million in 2008 to $6.2 billion last year.
The downside is industrial air pollution in a rural area where people of limited means rarely share in the bounty.
Most of the Eagle Ford's roughly 1.1 million residents live in small towns or on farms. About 23 percent live below the federal poverty line, compared to 17 percent statewide and 15 percent nationally.
"Let's be blunt. That is not really a body of voters that the power structure in Austin has any real concern about," said Larry Soward, a former commissioner of the Texas Commission on Environmental Quality who is now president of the board of Air Alliance Houston, an organization dedicated to reducing air pollution.
Rep. Tim Kleinschmidt, a Republican who represents Karnes County in the state legislature, is no stranger to the oil industry. He has leased land to oil companies while the law firm where he practices specializes in negotiating oil and gas agreements. "I've practiced in an oil field my whole life," he said.
Kleinschmidt says the industry is proactively addressing climate and infrastructure concerns. "I can't say too much in support of our oil and gas industry in Texas," he said. "Our oil and gas industry is very environmentally concerned."
Sister Elizabeth Riebschlaeger sees it differently. The 77-year-old nun-turned-activist speeds through the Eagle Ford region in her white Honda Civic, intent on exposing the ills she believes have been forced on residents. "They do not like to complain," she said. "They don't want to make trouble."
While Texas may be extreme, it's not unusual for politicians to be seduced by industry, said Michael Nelson, professor of environmental ethics and philosophy at Oregon State University.
"What's going on is the masking of a moral decision in a utilitarian kind of debate that puts more weight on what can be seen, in this case the financial benefit, (than on) what can't be as readily measured: the risks," Nelson said. "Those risks to health and environment aren't as perceptible as the financial benefit, so the cost benefit equation is tipped out of balance."
As a consequence, residents suffer, said Sharon Wilson, a leader in the Texas office of the environmental group Earthworks.
"It doesn't matter what the people say. It … does … not … matter," Wilson said.
Rep. Lon Burnam, a Fort Worth Democrat who has served 16 years in the Texas House, is the most outspoken of a handful of legislators trying to curb oil company influence. He describes the legislature as "a wholly-owned subsidiary of the oil and gas industry."
In the last legislative session, Burnam introduced 12 bills that would have regulated or taxed the industry in some way. Most died in the House Energy Resources Committee, where six of the 11 members, including Craddick, own stock or receive royalties from the industry, according to their personal financial disclosures.
Photo: George Olcott via Flickr