Texas Sen. John Cornyn Asks Obama For FBI Probe Of VA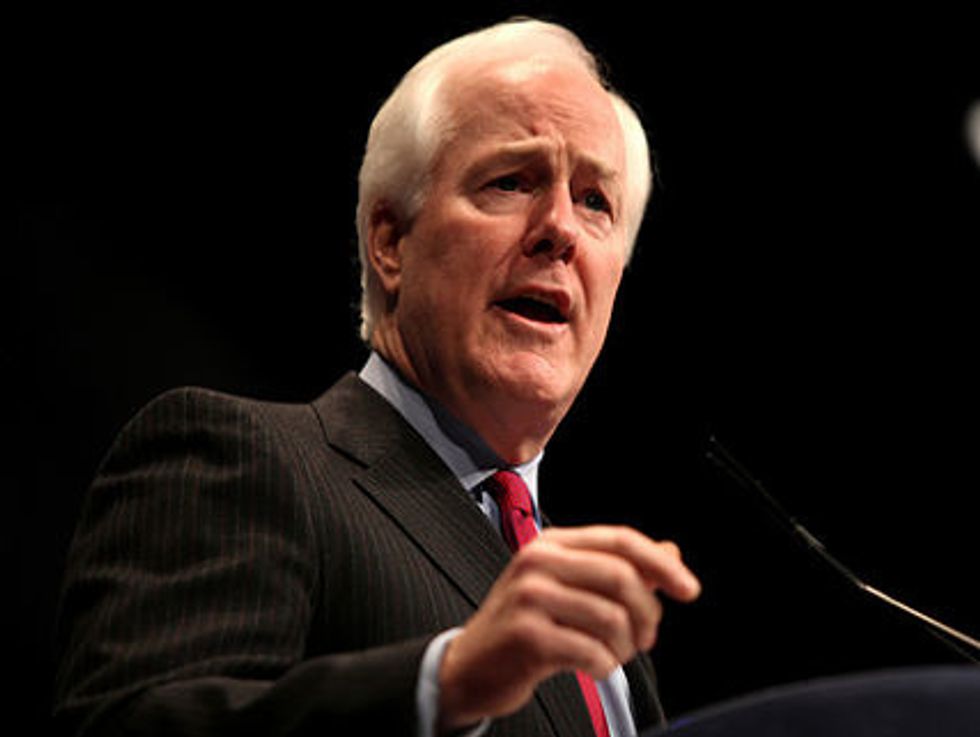 By Molly Hennessy-Fiske, Los Angeles Times
HOUSTON — U.S. Sen. John Cornyn wants the FBI to lead the widening investigation into alleged wrongdoing at Veterans Affairs facilities across the country.
After meeting with about a dozen local veterans on Thursday, the senior Republican Texas senator sent a letter to the president asking him to send in the FBI. Cornyn noted allegations by Texas whistleblowers this week that VA managers received bonuses after concealing excessive patient appointment wait times.
"When you hear the leadership at the VA are receiving bonuses only for cooking the books, to me that speaks of corruption," Cornyn told veterans during the hourlong meeting. "There are issues of criminal culpability there that need to be looked at."
Cornyn said he asked FBI Director James B. Comey about getting involved after a congressional hearing last week.
"He said they are ready, willing and able to do that type of investigation but they had not been asked," Cornyn told the Los Angeles Times.
In his letter to the president, Cornyn cited the Texas whistleblower accounts, "heartbreaking claims of mistreatment and neglect" at VA facilities. He insisted that the incidents are not isolated, but rather "pervasive fraud involving multiple layers of personnel." The alleged fraud and misconduct could constitute federal crimes punishable by up to five years in prison, he wrote.
While the VA's inspector general has been investigating and has said his office is working with the Justice Department to look into possible criminal charges, Cornyn said "the breadth and complexity of these problems very likely exceeds the capabilities of any IG office."
"The FBI and its expansive resources should be brought to bear here, especially to seize and preserve criminal evidence before it is destroyed," Cornyn wrote.
Jim Fleming, the Texas state commander of the American Legion, agreed, saying, "I don't think the VA can investigate themselves."
The veterans Cornyn met with liked the idea of enlisting the FBI and said it is important to have an independent investigation.
"A lot of coverup has taken place and we need to uncover it and make sure it never happens again," said Inge Conley, Texas chief of staff for Veterans of Foreign Wars. Conley, a retired Army master sergeant, said she stopped relying on VA health care after waiting several months for an appointment in Houston.
Cornyn and veterans at the Houston event praised the quality of some VA treatment, but said that only added to their frustration.
"It is world class, but it doesn't count for much if you can't get an appointment," Cornyn said.
Reginald White, a retired longtime Houston VA cardiology supervisor, told the gathering how high-level VA managers have profited by artificially reducing wait times to improve their annual evaluations and receive bonuses — even as veterans, he said, suffered without care.
A few whistleblowers have come forward in central Texas in recent days with similar accounts.
"A lot of individuals will do what they have to do to inflate that and make it look good to get that bonus," said White, a veteran whose own annual evaluation and bonus was not tied to wait times.
White said that the bonus system needs to be corrected before more money is pumped into the VA and diverted from patient care.
Several others at the meeting called for a change in VA leadership to clean house after the scandal.
Cornyn is among several congressmen who have called for Veterans Affairs Secretary Eric Shinseki to resign in the wake of the scandal, and several veterans at the Thursday gathering agreed.
"Every day we see more reasons why" Shinseki should resign, said Bill West, Texas state adjutant for the American Legion, who complained to Cornyn on Thursday of lengthy wait times and doctor shortages at local VA facilities.
"It's not that they don't have the money — they're misappropriating it by giving bonuses to directors where they could spend it on doctors," West said, asking Cornyn to "go back and fight and get new leadership — we need it."
Two veterans in their 30s also complained at the meeting about delays in care that lead them to stop using the VA and deterred other young veterans with PTSD, or post-traumatic stress disorder, including some who were suicidal.
Veteran Navy Corpsman Daniel Espinoza, 35, of Houston said that after waiting months to get treated for PTSD at the local VA, he gave up, resorting to the local emergency room.
"I don't go there anymore unless it's for a scheduled appointment for my annual checkup," he said of the VA. "I'm just frustrated."
Cornyn said the fact that veterans in need of immediate care had been deterred from seeking help by VA delays was deeply troubling.
"I'm going to be pressing this issue as hard as I can and trying to instill a sense of urgency," Cornyn said, but he cautioned that "we're just at the beginning, unfortunately, of uncovering the problem."
Photo: Gage Skidmore via Flickr