A Texas-Sized GOP Race For President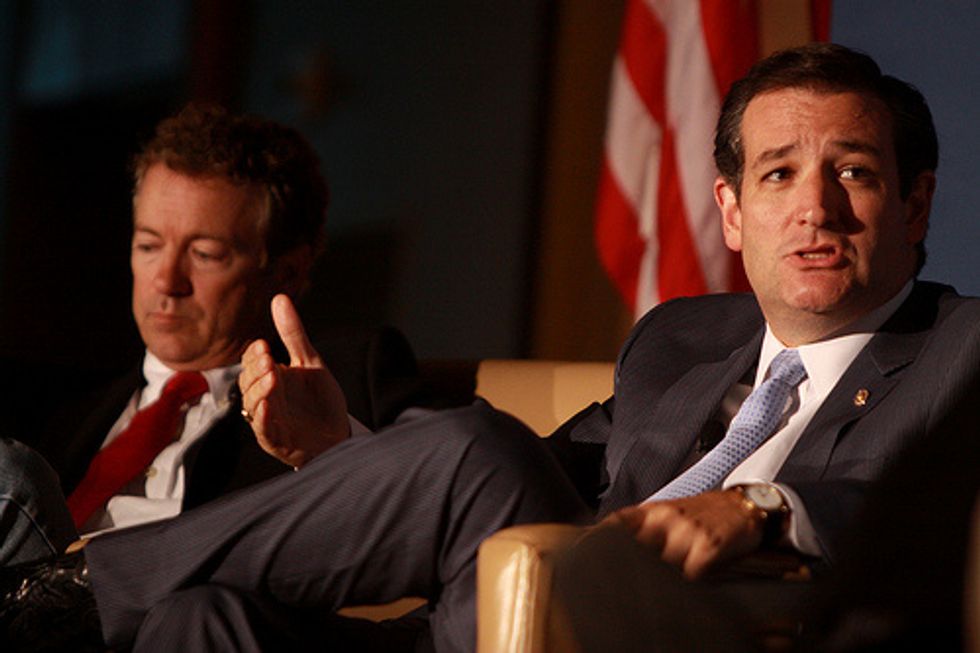 By Maria Recio, McClatchy Washington Bureau (TNS)
WASHINGTON — How many Texans does it take to run for president?
Well, five, apparently.
The Lone Star State, always ready with bragging rights and deep pockets, is laying claim to five Republican candidates with Texas connections who are testing the 2016 presidential waters.
"If you don't have a Texas tie, you're not running for president," joked Bill Miller, an Austin consultant who advises both Republicans and Democrats.
Two of the potential contenders are immediately identified as Texans: the state's junior senator, Ted Cruz, who exploded on the national scene after his surprise 2012 election; and the former governor, Rick Perry, who had a gaffe-plagued presidential campaign three years ago and stepped down as governor this month after 14 years in office.
But three others lay claim to Texas roots; in some cases, extensive ones.
Jeb Bush, 61, is a two-term former Florida governor, but a native Texan, a point that goes far with the state's sticklers for being a true son of the Lone Star State.
Perhaps more importantly, he's also a son of former President George H.W. Bush and brother of former President George W. Bush. Jeb Bush was born in Midland, grew up in Houston and attended the University of Texas at Austin.
Sen. Rand Paul (R-KY), 52, a son of former Texas congressman and presidential candidate Ron Paul, grew up in southeast Texas near Houston and studied at Baylor University in Waco.
The least prominent name on the 2016 potential contender list is Carly Fiorina, 60, a former Hewlett-Packard CEO and unsuccessful 2010 Senate candidate in California, who said last week she is "seriously considering it."
Fiorina was born in Austin, and although she grew up elsewhere, would visit family in Texas.
With about 20 Republicans so far weighing whether to seek the nomination, Texas can claim a quarter of them.
"I think it's good for Texas," said Sen. John Cornyn (R-TX). "Since 2007 Texas has created 1.2 million net jobs and other states created 80,000 jobs. Texas is an economic boom town."
But what is it about Texas that generates these go-getters? "It reflects a certain spirit and a certain flavor," said Cornyn.
Rep. Kay Granger (R-TX), a former Fort Worth mayor, said, it's "because Texas has been such a huge success."
So, is it a point of pride to have so many Texans or near-Texans running? "Absolutely," she said.
Texans are famously boastful about the size and success of their state, even when it comes to politics.
Evan Smith, editor-in-chief of Texas Tribune, a nonprofit media outlet, said that he was going to have his staff give a special focus to the Texas-linked candidates. At a recent party celebrating the organization's fifth anniversary, he stood in front of blow-ups of the five potential Texas presidential wannabes.
"It is fundamentally a race that runs through Texas," he said.
Texas Republican Party Chairman Steve Munisteri said, "It makes sense that national Republican leaders would draw from the largest Republican state. We are developing a bench for national leaders." He added that there could be yet another name on the list, former Sen. Rick Santorum (R-PA), 56, who ran for president in 2012.
Since 2013, Santorum has been chief executive officer of EchoLight Studios, just north of Dallas/Fort Worth International Airport, which makes Christian films. That connection gives Santorum more of an asterisk than a place in line, but it may resonate with some donors.
And money, critical in the early campaign stages, is a Texas asset.
In the 2014 election cycle, Texas was the fourth largest state in contributions, with $143.4 million, 71 percent going to Republicans, according to federal data compiled by the nonpartisan OpenSecrets.org.
"Texas is one of America's mega-states with enormous concentrated wealth that can easily support multiple candidates for president," said Larry Sabato, director of the Center for Politics at the University of Virginia. "Probably all the Texas-linked candidates will have some state-based moguls in their corner."
Bush can tap into the Texas network of his family's supporters which has been active recently. His son, George P. Bush, won his first election in November, as the state's land commissioner.
"The Bush name is synonymous with Texas," said Munisteri.
Similarly, Paul can look to his father's financial base, which, as admirers of the libertarian-leaning father and son, is a different group of donors from Bush's establishment supporters.
Perry and Cruz have in-state financial strongholds, as well, with the governor having a core of business connections and the senator popular with the tea party and evangelicals. And Fiorina recently raised her profile in the state by campaigning for newly elected Gov. Greg Abbott.
But Munisteri said that "many people who play at the highest level will give to multiple candidates."
Photo: Gage Skidmore via Flickr