Texas Teens Planned Deadly Attack On Classmate, Probation Officer Testifies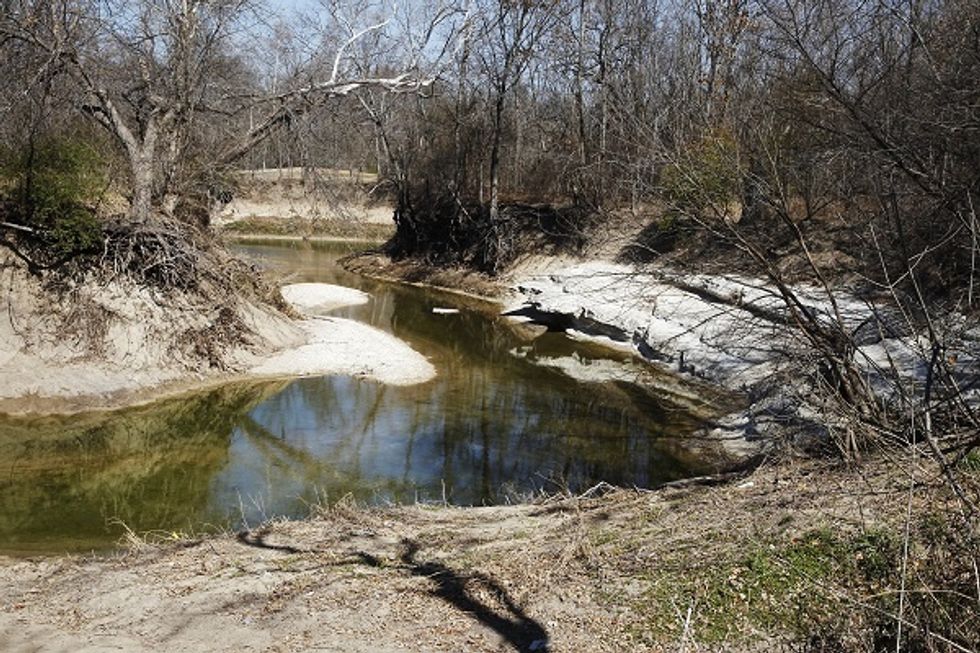 By Julieta Chiquillo and Wendy Hundley, The Dallas Morning News
DALLAS — Two Wylie East High School students put "significant" planning into killing a 17-year-old classmate, according to testimony at a juvenile detention hearing Monday.
The 16-year-old boys are accused of putting Ivan Mejia in a headlock and fatally choking him Saturday night behind the high school and dumping his body in a creek in a wooded area in Garland, Texas. They face first-degree murder charges.
A romantic dispute appears to be the motive. One of the accused teens told police that Mejia was dating a girl who also had been in a relationship with the other accused teen, according to testimony.
The boys are not being named because of their age.
Citing information from a police report, Collin County juvenile probation officer Antonia Allen testified the teens had been planning the slaying since March 3. Their preparations included deciding how to lure Mejia, commit the crime and dispose of the body.
Both teens participated in choking Mejia, according to Allen's testimony.
She said they used a sock to block his mouth while they covered his nose and kept him from breathing.
"It was premeditated," prosecutor Kelly Ludy said. "It was callous. It was violent."
After the killing, the teens were caught along State Highway 78 near Firewheel Town Center mall, where Garland police said the two admitted to trying to bury Mejia's body.
When Judge Cynthia Wheless asked both teens in separate hearings whether they understood the charges, they calmly said they did.
The judge ordered that the boys be kept in detention until the next hearing.
Both teens' parents were present in the courtroom Monday. The mother of one of the boys sobbed and squeezed the hand of her son's father as the teen was led away in handcuffs.
Wylie Police Sgt. Donna Valdepena said at a news conference Monday that authorities are continuing to investigate the case.
"It has shaken our entire community," she said.
A friend of Mejia's who knew one of the suspects said she was stunned when she learned of the crime.
"I was at a loss for words. It scared me," said the 14-year-old, who spoke on the condition that she not be publicly identified.
She told The Dallas Morning News via online messages that one suspect's jealousy over Mejia's longtime girlfriend was the only conceivable motive for his death. She said she did not know why the other teen would have been involved in the slaying.
Mejia's girlfriend, a freshman, has posted online: "I love a boy that was going to be my future and worked hard to be together for 3 years and was taken away from me so easily."
The 14-year-old friend of Mejia's recalled him as a kind boy who was intent on becoming a Marine.
"I'll always remember his smiling face and the loyalty he already had for our country," she said. "He touched my life, and I am thankful I met him."
Mejia's slaying was the second of a Wylie East student in two years.
Freshman Nahum Martinez, 15, was shot in the forehead at close range in March 2012.
The classmate who shot him was 14 at the time. He pleaded guilty to manslaughter and tampering with evidence and was sentenced to 15 years in custody. Another classmate pleaded guilty for his role in disposing of Nahum's body and was sentenced to a year in the juvenile justice system followed by probation until he turns 18.
"It's hard to believe it's happened again," said Jessica Woody, a barista at the Shoemaker and Hardt Coffee shop in Wylie's downtown historic area.
"Wylie's growing, and things are changing," said the lifelong Wylie resident who graduated last year from Wylie East. "But I still love this town. It's a great place to live. I still feel safe here."
Woody said her younger brother served with Ivan Mejia in the school's ROTC program and was devastated when he heard about his death.
"I was in ROTC for four years," she said. "It's like a family."
Mejia's slaying was the topic of conversation for customers at the Texas Dollar Pawn & Gun shop.
"A lot of people are coming in and talking about it. They can't believe it happened in Wylie," said Sondra Foust, who has owned the store with her husband for 10 years.
The violence has shocked and saddened the community. "These weren't hoodlums. These were decent kids," Foust said of the suspects. "That's even more disturbing."
Natalie Perez previously attended Wylie East with Mejia, but it wasn't until they worked at a local sandwich shop together that the two became friends.
"He was always great with people," said Perez, 19. "One day he went out to get us all some shaved ice because he wanted us to learn how to handle things to become faster, do it on our own. He was always trying to teach you something and help you learn."
Mejia lived in a small brick home near Wylie East with his parents and younger brother.
"They're good neighbors, and he was a good kid," said Lorena Almazan, who lives across the street from the family. "He was very religious and always going to church."
The Mejia family declined to comment.
Photo: David Woo/Dallas Morning News/MCT