Thai Government Rejects Election Delay Despite Deadly Violence
@AFP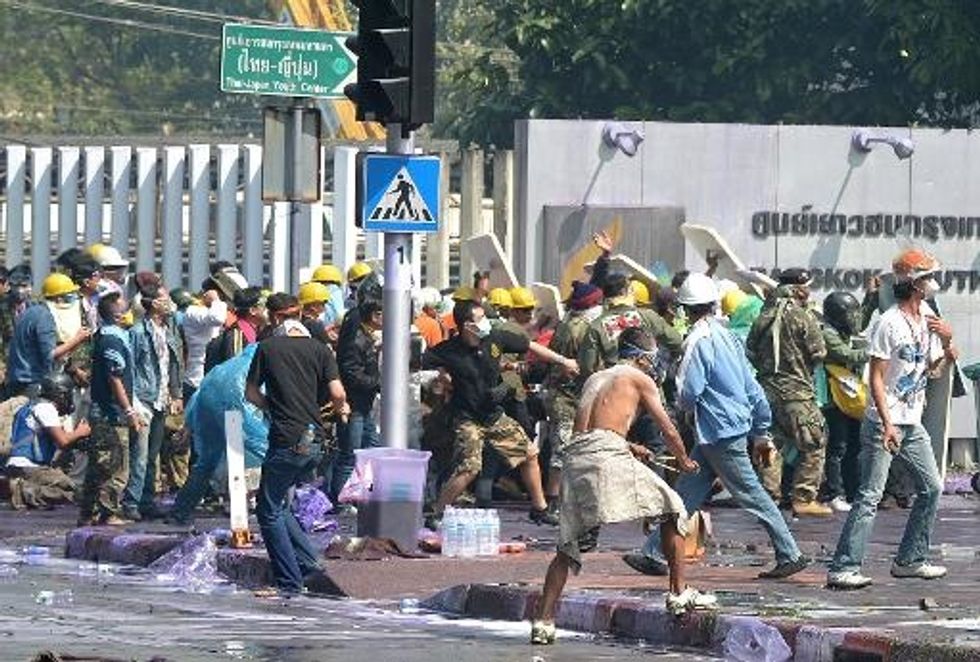 Bangkok (AFP) – Thailand's government Thursday rejected calls to postpone February elections after clashes between police and opposition protesters in the capital left one policeman dead and dozens wounded on both sides.
The new outbreak of civil strife deepened the crisis facing Prime Minister Yingluck Shinawatra, whose government has been shaken by weeks of mass street rallies seeking to curb her family's political dominance.
The long-running conflict broadly pits a Bangkok-based middle class and elite against rural and working-class voters loyal to Yingluck's older brother Thaksin Shinawatra, who was ousted as premier by a military coup in 2006.
Police fired tear gas and rubber bullets Thursday at rock-throwing demonstrators who tried to force their way into a sports stadium in the capital where election candidates were gathered to register for the February 2 polls.
The protesters — who want to overthrow Yingluck's government and install an unelected "people's council" in its place — accuse billionaire tycoon-turned-politician Thaksin of corruption and say he controls his sister's government from his base in Dubai.
They have vowed to block the February election, saying it will only return Thaksin's allies to power.
Nearly 100 people from both sides were injured, according to the emergency services.
Twenty-five police officers were hospitalized, with 10 in serious condition, according to a police spokesman. One police officer died of a gunshot wound.
"Today democracy in Thailand is hijacked by violence & thuggery. Shame!" Sunai Phasuk, a senior researcher with New York-based Human Rights Watch, wrote on Twitter.
As the violence escalated the Election Commission recommended the February polls be delayed indefinitely.
"We cannot organize free and fair elections under the constitution in the current circumstances," said commission member Prawit Rattanapien, who along with other vote officials had to be evacuated from the stadium by helicopter.
But the government rejected the proposal, saying it would not solve the bitter standoff.
"The government believes delaying an election will cause more violence," Deputy Prime Minister Phongthep Thepkanjana said in a televised address to the nation.
He noted that under the constitution, an election should normally be held no more than 60 days after the dissolution of parliament, which happened in early December.
The main opposition Democrat Party — which has not won an elected majority in about two decades — has vowed to boycott the vote.
Thailand has seen several bouts of political turmoil since Thaksin's overthrow.
His supporters have accused the protesters of trying to incite the military to seize power again, in a country which has seen 18 successful or attempted coups since 1932.
Those wounded Thursday included one protester who was reported in serious condition with an apparent gunshot wound to his head.
Two journalists, one Thai and one Japanese, were among the injured, according to the public health ministry.
Security forces denied firing live rounds, saying only rubber bullets and tear gas were used against demonstrators.
"Protesters are not peaceful and unarmed as they claimed," another deputy prime minister, Surapong Tovichakchaikul, said in a televised address.
"They are intimidating officials and trespassing in government buildings."
The weeks-long unrest, which has drawn tens of thousands of protesters onto the streets, has left six people dead and nearly 400 wounded.
It is the worst civil strife since 2010, when more than 90 civilians were killed in a bloody military crackdown on pro-Thaksin protests under the previous government.
Thaksin is adored among rural communities and the working class, particularly in the north and northeast. But he is reviled by the elite, the Bangkok middle class and many southerners, who see him as corrupt and a threat to the revered monarchy.
Pro-Thaksin parties have won every election since 2001, most recently with a landslide victory under Yingluck two years ago.
The protesters want loosely-defined reforms — such as an end to alleged "vote buying" — before new elections are held in around a year to 18 months.
The rallies were triggered by a controversial amnesty bill, since abandoned by the ruling party, which Thaksin's opponents feared would have allowed his return without going to jail for a corruption conviction which he says is politically motivated.
The National Anti-Corruption Commission said Thursday that it would press abuse of power charges against the speakers of the two houses of parliament in relation to another controversial proposed law, to amend the make-up of the Senate.
The anti-graft body said it was still considering whether to press the same charge against 381 other politicians, including Yingluck, who supported the bill.
AFP Photo/Pornchai Kittiwongsakul