Thanksgiving Around Ferguson Marked By Quiet In Aftermath Of Chaos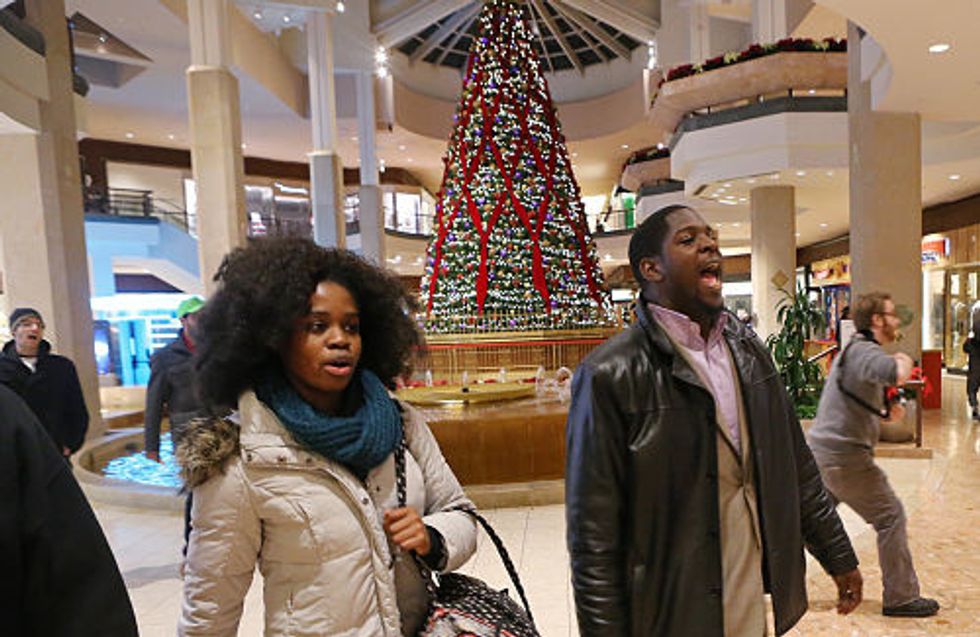 By St. Louis Post-Dispatch staff (TNS)
The relative calm leading up to Thanksgiving continued Thursday with reports of sporadic protests at St. Louis-area big-box stores sparsely populated by shoppers taking advantage of expanded holiday shopping hours.
Police throughout the evening responded to pop-up demonstrations that peacefully interrupted shopping at Target and Walmart stores in St. Louis and St. Charles counties. No overnight arrests were made.
Communicating via Twitter and other social media sites, protesters hopscotched from one big-box store to the next to register discontent with the Michael Brown decision.
The protests on Thursday, with amicable interactions between demonstrators and police, contrasted sharply with the violence that shook Ferguson on Monday.
In Maplewood one officer even consented to a selfie with Deray Mckesson, a Minneapolis educator active in the Ferguson protest movement.
On Friday morning, St. Louis County police reported that neither it nor the Missouri Highway Patrol had made any arrests related to Ferguson protests late Thursday or overnight.
Thursday's quiet followed an evening of peaceful demonstration in Ferguson — the site of looting and arson after Monday night's grand jury announcement that Ferguson police Officer Darren Wilson would not be criminally indicted in the fatal shooting in August of Brown, an unarmed 18-year-old.
St. Louis County police said two people were arrested in Ferguson on Wednesday night, one for failing to heed an order to disburse and the other on a felony warrant.
The parking lot on South Florissant Road where protesters have gathered all week to voice disapproval of the non-indictment to police and National Guard troops stationed at the Ferguson Police Department was empty of everyone but media crews Thursday night.
There was unrest connected with Ferguson on Thursday in New York, where seven people were arrested for breaking windows at the flagship Macy's on 34th Street and attempting to disrupt the department store's annual Thanksgiving Day parade.
___
Jesse Bogan, David Carson, Joel Currier, Joe Holleman and Steve Giegerich of the Post-Dispatch contributed to this report.
Photo: Twenty to thirty protesters marched through the St. Louis Galleria on Wednesday, Nov. 26, 2014, chanting slogans. They stayed in the mall for about fifteen minutes and then left peacefully without confrontation with a large police presence. (J.B. Forbes/St. Louis Post-Dispatch/TNS)