The 5 Worst Things Trump Did In 2018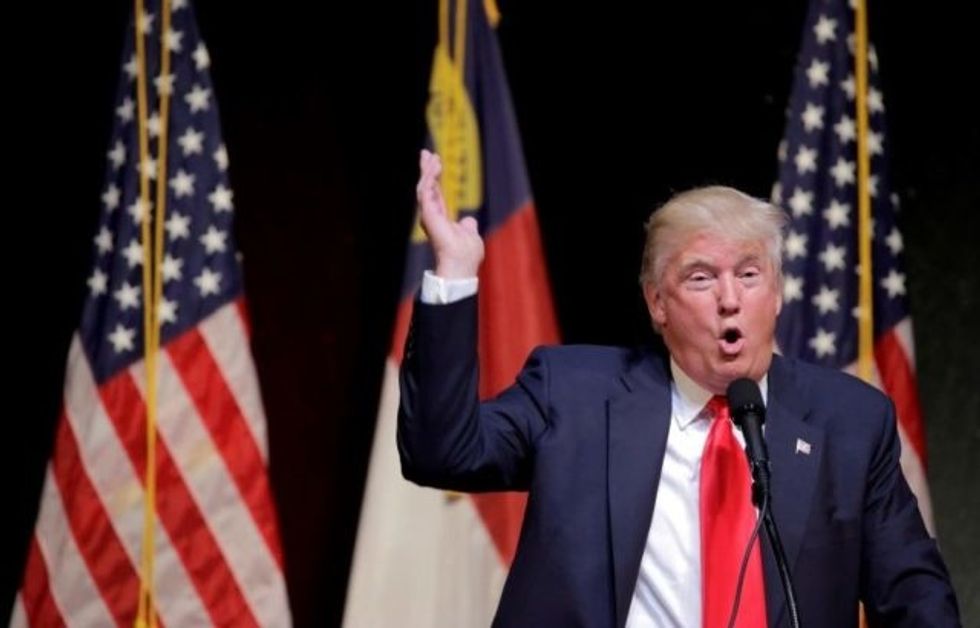 Reprinted with permission from Shareblue.
In his first inaugural address, President Abraham Lincoln appealed to the "better angels of our nature" in hopes of healing a divided country.
In 2018, Trump made clear that "better angels" would have no influence over his administration, opting instead for cruelty, bigotry, and reveling in the most lowly, base, and repulsive instincts humanity has to offer. The following five events horrified the nation, cementing Trump's legacy as one of the worst to hold his office in U.S. history.
Baby jails
Trump's antipathy toward immigrants was made clear during the unconscionable "zero tolerance" family separation policy brought to attention during the spring and summer of 2018. The revelation that the Trump administration was forced to construct "tender age facilities," better known as baby jails, led to national and international condemnation.
In total, the Trump administration ripped more than 2,600 children away from their families. Some children were so young they were still breastfeeding, and at least one toddler died shortly after being released from federal custody.
Different reasons were given for the policy, including using the pain of families as a deterrent, or using it as leverage to negotiate funding for Trump's border wall. In the end, it has created one of the darkest periods in American history, and Trump is looking for ways to continue implementing it.
Brett Kavanaugh nomination
When Supreme Court Justice Anthony Kennedy resigned, Trump nominated Brett Kavanaugh for the position. After he was nominated, Dr. Christine Blasey Ford came forward, explaining how a drunk Kavanaugh attempted to rape her at a high school party in the 1980s. The credible allegation culminated in a widely watched hearing, where Ford detailed her experience, followed by an unhinged, belligerent Kavanaugh who ranted and screamed throughout his testimony.
Despite the grotesquely unprofessional behavior exhibited by Kavanaugh, as well as the fact that other women came forward with accusations, Trump steadfastly remained supportive of Kavanaugh's nomination, refusing to let allegations of attempted rape impede his choice for the Supreme Court.
Republicans in the Senate, including a spineless, sniveling Jeff Flake, voted in favor of Kavanaugh, sending a second accused sexual predator to sit on the highest court in the land. After the vote, Trump stooped lower yet again, repeatedly mocking Ford in front of his rallies.
Cover-up of murdered journalist Jamal Khashoggi
Trump's animosity toward journalists and the free press is encapsulated in his callous, cowardly response to the brutal murder of Washington Post journalist Jamal Khashoggi. As the world was reeling from the murder — ordered by Saudi Crown Prince Mohammed bin Salman, according to U.S. intelligence — Trump was celebrating violence against reporters.
At a rally for Montana Republicans, Trump took great pleasure in acting out Rep. Greg Gianforte's infamous "body slam" attack on Guardian reporter Ben Jacobs. Trump praised Gianforte for his violent assault, calling him a "great guy" and a "tough cookie." Trump even re-enacted the body slam on stage and told the cheering crowd, "Any guy that can do a body slam, he's my kind of … he's my guy."
It wasn't the first time Trump endorsed violence against reporters, but it was particularly disgraceful in the context of the recent murder of a journalist. Meanwhile, Trump attempted to sow doubt about who was responsible for Khashoggi's murder and to carry water for the Saudi regime.
In a true low point, Trump put his desire for cheap oil above the most basic human rights of people.
Trump appeases Putin at press conference
In what former former CIA Director John Brennan described as "nothing short of treasonous," Trump shocked the world with his reckless appeasement of Russian dictator Vladimir Putin at a July 2018 press conference. On foreign soil and in front of the entire world, Trump repeatedly praised Russia while trashing U.S. intelligence agencies investigating Russia's interference in the 2016 election.
"I have great confidence in my intelligence people. But I will tell you that President Putin was extremely strong and powerful in his denial today," Trump said while standing beside Putin.
Russia attacked the very fabric of American democracy, and Trump was too servile and spineless to confront a foreign adversary. In the 2016 election, Hillary Clinton warned that Trump would be Putin's puppet. In 2018, Trump betrayed U.S. intelligence agencies and proved her right.
Gassing toddlers
In what might be a new low, the American Academy of Pediatrics released a statement condemningTrump's use of chemical weapons against "infants and toddlers in diapers."
The incident happened on the U.S.-Mexico border, where U.S. border patrol agents fired tear gas at immigrants — including families with small children — on the Mexico side of the border. The incident, met with gleeful cheers within the Trump administration, highlighted the blithe cruelty toward immigrants, beginning with Trump and trickling down throughout his entire administration.
Every time America thinks that Trump cannot possibly go any lower, he relentlessly shows us that there is no dark depth to which he will not sink. The 2018 midterms showed voters are tired of complicit Republicans aiding and abetting Trump's worst impulses, and a new Democratic majority in the House will seek to both reign in the damage and begin to repair the pillars of democracy left crumbling by Republicans.
Published with permission of The American Independent.