The Big Chinks In Comey's Righteous Armor
@JamieStiehm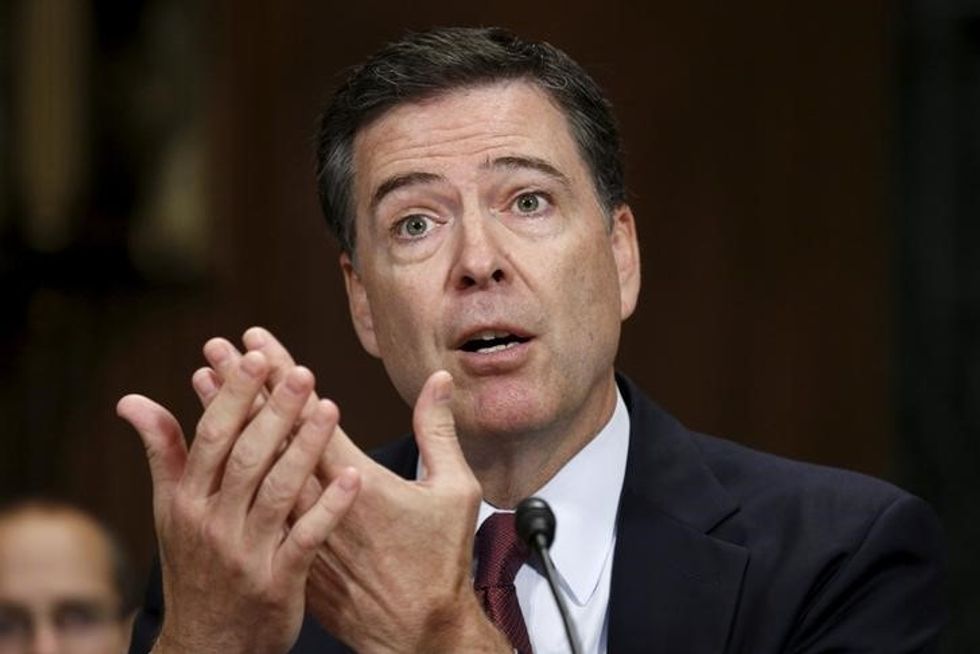 Reprinted with permission from Creators.
America is living a Greek tragedy, because of a freakishly tall man who thinks he carries the weight of the world on his shoulders. His name is James Comey; his brand-new book title is "A Higher Loyalty;" he's here to say that Donald Trump is "morally unfit to be president."
As if we didn't know. The irony of his ink runs deeper than the well.
The former FBI director, fired by President Trump last May, is avenging his abrupt exit from the job J. Edgar Hoover held for half a century. Comey just launched a war of words with Trump. Reckless or high-minded? You tell me.
Either way, there are chinks in Comey's armor as he makes media rounds. For starters, the FBI chief did not resign in protest. That's the honorable road less taken, if he found Trump unfit and untruthful. But Comey loved his job's "tremendous fame, attention and power." So he tolerated the ogre in the Oval: Trump, a boss he sketches with a scathing pen. (I can't argue with the critique.)
The second chink is well-known. Running for president, Hillary Clinton made mistakes along the way, but she didn't deserve Comey as her tormentor. It's etched onto many memories that Comey took Clinton to task publicly over "extremely careless" emails on a private server.
He first broke FBI protocol to scold the former secretary of state in the summer of 2016, though the bureau did not pursue the case.
But wait, it gets worse. Comey did the same on Oct. 28, 2016, the election's home stretch. He announced taking another look into Clinton's emails, a case closed days before the volatile election.
Polls on the morning of Oct. 28 show Clinton with a comfortable lead. By night, her numbers tumbled down. A fateful day for democracy. Comey made grave moves that dismayed his own colleagues. At the FBI, it's close to a commandment: Thou shalt observe silence about failed investigations before a presidential election.
But wait, here's the cruelest chink of all. Trump's campaign was under federal investigation, too, for ties to Russian cyberattacks on the elections. Why didn't Comey pipe up to warn the public about a far worse foul on our free elections? Confounding. President Obama knew, too, and kept quiet on the western front.
Comey and Obama, each 56, share a cool cerebral mind meld. They fancy themselves above the political fray. Both assumed Clinton would win and did not want to be seen as favoring her. Great minds.
Reading between Comey's lines, he's always right in a world of woe, overcoming others. Surely, Obama admired an independent Republican, with so few of those bison roaming the range.
But let's not forget Comey was an avid Republican political appointee in the George W. Bush Justice Department. He made an unusual scene: racing to Attorney General John Ashcroft's hospital room to prevent a surveillance program from being renewed. He felt like Martin Luther, crossing the cross Bush-Cheney White House.
In 2013, Obama committed a serious unforced error. He rewarded the Luther-like Comey by appointing him FBI director. What folly for his party, though Obama hasn't owned any regrets. (When was he ever wrong?)
Obama praised Comey in the Oval after the election, for integrity and ability. "I want you to know that nothing — nothing — has happened … to change my view," he told Comey.
As for Clinton, Comey is sorry he couldn't explain why he did what he did well enough for her to understand.
That is not an apology.
The Democratic nominee decisively won the popular vote. She didn't deserve Comey's rebukes, always at her expense. Nor did we the people deserve his thwarting fair play in the public square.
The New York Times noted that somehow Corey blames us for the fine mess: "Impeachment would be a cop-out for a public that should also be held accountable for electing Mr. Trump in the first place."
In Greek tragedy, the hero's hubris — or pride — results in his downfall. But in Comey's case, his pride cost his country dearly before the fall.
To find out more about Jamie Stiehm and other Creators Syndicate columnists and cartoonists, visit Creators.com.