The Bundys Are Bumbling Villains In This Western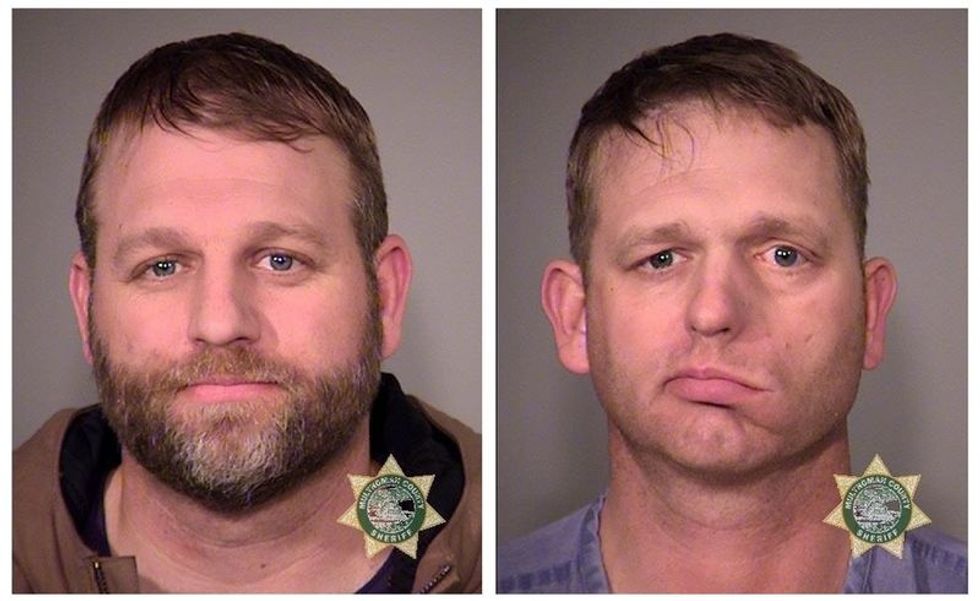 Looks like that epic cowboy movie Cliven Bundy and his boys dreamed of playing starring roles in will never get made. Thankfully, their own epic stupidity ended the fantasy less in tragedy than in farce—definitely more "Blazing Saddles" than "The Wild Bunch."
Or was it "Cliven Bundy and the Sundance Kid" they were going for? No matter. That one ended badly for the romantic outlaws too.
Apart from the needless death of one True Believer in a cowboy hat who committed what city folks call "suicide by cop"—announcing his determination never to be taken alive and then reaching for his pistol—the rest of Bundy's sagebrush revolutionaries eventually surrendered without incident. Most are headed to Federal prison.
The ignominious end of their occupation of the Malheur National Wildlife Refuge in remote eastern Oregon should serve as an object lesson to crackpot insurrectionists across the West. No, the public won't come rushing to your support. Local ranchers wanted nothing to do with the uprising. A bird sanctuary was badly chosen place to make a stand. Put it this way: millions of Americans enjoy hiking, hunting, and bird-watching.
Cow-watching, not so much.
Nor have you intimidated the U.S. government. "Who are those guys?" Butch and Sundance wanted to know. But any two-bit drug dealer in Baltimore or New York could have told them that you can't go around pointing guns at Federal agents and start traveling the countryside holding press conferences.
How foolish would you have to be to imagine you could? The Bundy sons vowed a bloody standoff at the Malheur refuge, and then announced a public meeting in the next county 100 miles away. Only one highway links the two places. FBI agents and Oregon state cops set up a roadblock at a remote spot and bagged the lot.
Family patriarch Cliven Bundy next announced his intention to show up in Oregon to support the remaining occupiers. But you can't take no shooting iron on a commercial airline flight. Secure in the knowledge that he and his posse would be unarmed, agents met him at the gate. They'd been waiting almost two years for the old fool to set himself a trap.
The rebel rancher may never again be seen outside a courtroom. According to a press release distributed by the U.S. Attorney in Las Vegas: "Cliven Bundy and four others were indicted by the federal grand jury today on 16 felony charges related to the armed assault against federal law enforcement officers that occurred in the Bunkerville, Nev. area on April 12, 2014." A U.S. District Judge in Oregon denied his bail request on the grounds that the 69 year-old rancher is clearly a flight risk.
The FBI grinds slow, but fine. Among the offenses Bundy's charged with are "Assault on a Federal Law Enforcement Officer," and "Threatening a Federal Law Enforcement Officer." The first carries a 20 year sentence and $250,000 penalty; the second 10 years and $250,000.
The indictment stipulates that he and his sons Ryan and Ammon, "planned, organized, and led the assault in order to extort [government] officers into abandoning approximately 400 head of cattle that were in their lawful care and custody. In addition to conspiring among themselves to plan and execute these crimes, the defendants recruited, organized, and led hundreds of other followers in using armed force against law enforcement officers in order to thwart the seizure and removal of Cliven Bundy's cattle from federal public lands. Bundy had trespassed on the public lands for over 20 years, refusing to obtain the legally-required permits or pay the required fees to keep and graze his cattle on the land."
We all saw the whole thing on national TV. Back in Nevada, Federal officials who found themselves outnumbered four to one made a tactical decision not to risk a bloodbath over a herd of scrawny cows. At the expense of being criticized by people spoiling for a showdown, authorities apparently saw limited harm in letting Bundy declare victory while holing up at his remote desert ranch with his posse. Capturing him wasn't worth a single agent's life.
Which is why it's so important that their patience paid off. Also crucial was the Oregon community's near-unanimous rejection of the Bundy cause.
Cattle ranchers can certainly grow frustrated with government bureaucracy, but they also tend to be extremely practical people. The Bundy acolytes struck them as crackpots; their theories of constitutional law as zany as their tactics.
University of Oregon geography professor Peter Walker spent weeks documenting the local response. "At one community meeting," he wrote "when almost the entire leadership of the Bundy group arrived unexpectedly, citizens of Harney County stood on their feet, pointed fingers at the Bundys and chanted "Go home! Go home! Go home!"
Real cowboys, see, can't just go gallivanting off and leave their herds.
Particularly not in winter.
Photo: Inmates Ammon Bundy (L) and his brother Ryan Bundy are seen in a combination of police jail booking photos released by the Multnomah County Sheriff's Office in Portland, Oregon January 27, 2016.  REUTERS/MCSO/Handout via Reuters