The Clinton 'Reform' That Enabled Trump's New Propaganda Machine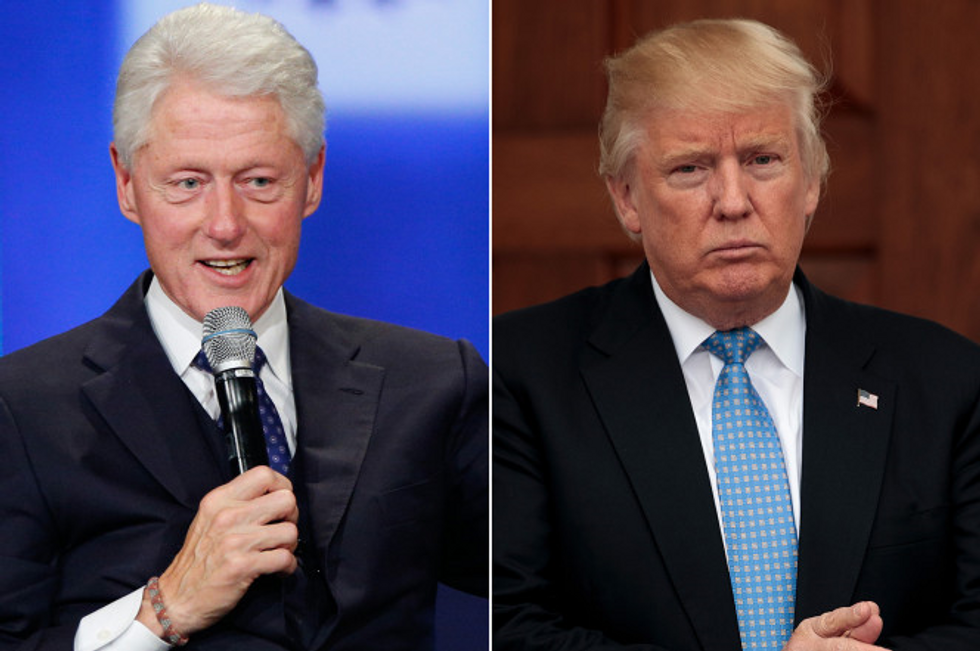 Reprinted with permission from AlterNet.
If you spent any time on social media over the weekend, you've probably seen it by now. On Saturday, Deadspin's Timothy Burke published a supercut of news anchors for the Sinclair Broadcasting Group reciting a distinctly Trumpian promo. "We're concerned about the troubling trend of irresponsible, one-sided news stories plaguing our country," each of them intoned. "The sharing of biased and false news has become all too common on social media. More alarming, some media outlets publish these same fake stories, stories that just aren't true, without checking facts first. Unfortunately, some members of the media use their platforms to push their own personal bias and agenda to control 'exactly what people think.'"
The post quickly went viral, earning tens of thousands of retweets on Twitter and capturing the attention of "Last Week Tonight's" John Oliver, who compared Sinclair's staffers to "members of a brainwashed cult." Reporters and corporate watchdogs alike have voiced their dismay, decrying the American telecommunications company's abuse of the public trust. But what few have acknowledged, and what Oliver himself neglected to explore, is how the engine of Donald Trump's propaganda machine was constructed by none other than Bill Clinton.
In 1996, Clinton passed the Telecommunications Act, the first major overhaul of the country's telecommunications legislation in over 60 years. For decades, the FCC abided by what was known as the rule of seven, prohibiting any one company from owning more than seven AM or FM radio stations or seven television networks. Under President Ronald Reagan, the rule of seven became the rule of twelve. It wasn't until the subsequent Democratic administration, however, that the rule was abandoned entirely in favor of a national ownership cap, allowing a single entity to own as much as 35 percent of market share.
While the bill was truly bipartisan, earning 414 votes in the House and 91 in the Senate, Clinton was among its greatest champions. "It promotes competition as the key to opening new markets and new opportunities," he said at the legislation's signing. "It will help connect every classroom in America to the information superhighway by the end of the decade. It will protect consumers by regulating the remaining monopolies for a time and by providing a roadmap for deregulation in the future."
Twenty-two years later, that deregulation threatens to upend our democracy. The far-right Sinclair Broadcasting Group, which allegedly struck a deal with Jared Kushner during the 2016 election to provide the Trump campaign with more favorable coverage, currently reaches approximately 38 percent of American households. If the organization is successful in its acquisition of the Tribune Media Company, that number could climb to 72 percent.
"The Telecommunications Act of 1996 did not just permit consolidation in TV," noted Guardian reporter Kevin Carty last November. "It paved the way for radio monopolization as well. Before the law, it was illegal for one company to own more than 40 radio stations. Today, the company formerly known as Clear Channel—iHeartMedia—owns 858 stations."
Hindsight is 20/20, and a Democratic president can shoulder only so much of the blame for a project as fundamentally authoritarian as movement conservatism. But like NAFTA and welfare reform, which have accelerated the demise of the working class, the Telecommunications Act offers yet another example of third-way politics sowing the seeds of the party's destruction, if not the country's. For this reason, the Sinclair merger must be stopped.
"A diverse, de-concentrated, and competitive media system protects free speech in the United States," Carty continued. "It guarantees that public discourse cannot be monopolized by concentrated power, whether in form of populist demagogues or corporate plutocrats, as it is in so many less fortunate nations."
Jacob Sugarman is a managing editor at AlterNet.