The Coal Baron Killing Our Planet Is A United States Senator
@CynicalBrandon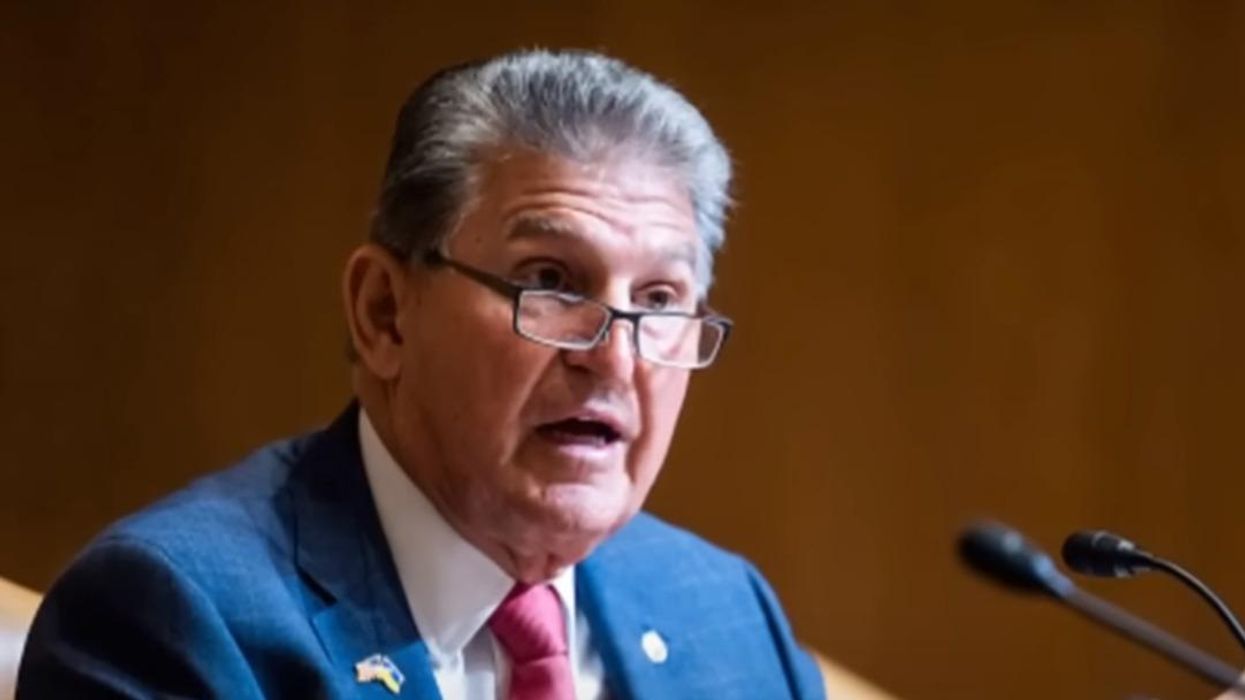 Youtube Screenshot
President Joe Biden's goals to tackle climate change were shattered this week when Sen. Joe Manchin, the conservative Democratic West Virginia coal baron, announced that he would not support Biden's proposed initiatives. Manchin's colleagues had hoped that he would agree to something – even modest policies that aimed to reduce dependence on fossil fuels, lower greenhouse gas emissions, invest in renewable sources of energy, or enhance environmental protections.
Manchin's intimate ties to the declining coal industry – from which he personally rakes in millions of dollars per year – have long been a thorn in the side of the science-based progressive climate agenda. The Senate, being evenly split between Democrats and Republicans, has provided Manchin with the opportunity to seize and exploit rare swing vote power.
On Friday, after dragging Senate Democrats through lengthy negotiations that in hindsight appear to have not been in the best of faith, Manchin moved the goal posts, revealing to radio host Hoppy Kercheval that he wants to monitor inflation for another month (or more) before he reconsiders signing onto crucial climate legislation.
"I am where I have been — I would not put my staff through this, I would not put myself through this if I wasn't sincere about trying to find a pathway forward to do something that's good for our country," Manchin said.
"Let's wait until that comes out, so we know that we're going down the path it won't be inflammatory, to add more to inflation," he continued, adding that "I want climate. I want an energy policy. I thought we were moving truly in the right direction."
This coincided with search and rescue operations stemming from unusually severe storms that unleashed devastating floods and inundated wide swaths of Manchin's home state.
Nonetheless, numerous Democrats in the Senate and the House of Representatives blasted Manchin following his break from the party's priorities. Although there is a glimmer of hope that progress can be made when Congress returns from its summer recess in September, expectations are low.
"It's been a really, really terrible day," Senator Tina Smith of Minnesota told The New York Times. "If Senator Manchin wants a deal on climate and energy, he can have one in a heartbeat. This is Senator Manchin's deal for the taking, and if it doesn't happen, it is on him."
Representative Pramila Jayapal of Washington, the chairwoman of the Congressional Progressive Caucus, said that Manchin "has shown that he doesn't know how to close a deal — or he doesn't want to close a deal — and that you can't trust him."
Representative Elissa Slotkin of Michigan remarked that "I can't get blood from a stone" and that "I'm not in the Senate. They're clearly having problems negotiating among themselves. And I will just — for my constituents — take what I can get."
On Saturday, Doctor Leah Stokes, an associate professor of political science at the University of California at Santa Barbara, tore into Manchin in an editorial in TheNew York Times.
'With the fate of our planet hanging in the balance, his every utterance was of global significance. But his statements have been like a weather vane, blowing in every direction," Stokes wrote. "Manchin has wasted what little time this Congress had left to make real progress on the climate crisis."

This has put the president in a politically precarious position.
"Wary of upsetting the delicate negotiations, the Biden Administration has held back on using the full force of its executive authority on climate over the past 18 months, likely in hopes of securing legislation first," Stokes said.
"The stakes of delay could not be higher," she continued. "Last summer, while the climate negotiations dragged on, record-breaking heat waves killed hundreds of Americans. Hurricanes, wildfires and floods pummeled the country from coast to coast. Over the last 10 years, the largest climate and weather disasters have cost Americans more than a trillion dollars — far more than the Democrats had hoped to spend to stop the climate crisis. With each year we delay, the climate impacts keep growing. We do not have another month, let alone another year or decade, to wait."
Time, Stokes stressed, is rapidly running out.
"Democrats need to pass their reconciliation package this summer," she pointed out. While Manchin claims that "we've had good conversations, we've had good negotiations," Stokes noted that "this is doublespeak; he simply doesn't want to be held accountable for his actions. He has consistently said one thing and done another."
In fact, Stokes explained, the Senate's "package would have built domestic manufacturing, supporting more than 750,000 climate jobs annually. It would have also fought inflation, helping to make energy bills more affordable for everyday Americans."
Manchin's intransigence, however, does not exist in a vacuum.
"Manchin has taken more money from the oil and gas industry than any other member of Congress — including every Republican — according to federal filings," Stokes highlighted.
The United States, meanwhile, is still the world's second-largest emitter of planet-warming gases. Its recommitment to the Paris Climate Accord – from which Donald Trump withdrew the country early in his presidency – means little if serious efforts are not undertaken to break away from oil.
Individual states – mostly led by Democrats – are pushing forward with their own approaches to greenifying their economies. But without a cohesive national plan, the outlook is grim, and one man – Joe Manchin – is hastening the descent into a very dark future.
Earlier this year, the United Nations Intergovernmental Panel on Climate Change issued its sixth report, which stated:
It is unequivocal that climate change has already disrupted human and natural systems. Past and current development trends (past emissions, development and climate change) have not advanced global climate-resilient development (very high confidence). Societal choices and actions implemented in the next decade determine the extent to which medium and long-term pathways will deliver higher or lower climate-resilient development (high confidence). Importantly climate resilient development prospects are increasingly limited if current greenhouse gas emissions do not rapidly decline, especially if 1.5°C global warming is exceeded in the near-term (high confidence). These prospects are constrained by past development, emissions and climate change, and enabled by inclusive governance, adequate and appropriate human and technological resources, information, capacities and finance (high confidence).
Its conclusion was nothing short of apocalyptic and was unambiguous in its warnings about worsening destruction and ecological collapse:
The cumulative scientific evidence is unequivocal: Climate change is a threat to human well-being and planetary health. Any further delay in concerted anticipatory global action on adaptation and mitigation will miss a brief and rapidly closing window of opportunity to secure a liveable and sustainable future for all. (very high confidence).
For now, though, the next steps are for the people to determine.

"Hold your children close tonight. Leave some water out for the birds. And make a plan to call your elected leaders to demand climate action, to rip out your fossil fuel furnace or to buy an e-bike. The climate crisis is getting worse, and Congress is one vote short of saving us," Stokes concluded. "We're going to have to save ourselves."

Reprinted with permission from Alternet.