The Dallas Police Department Has Been A Model For Confronting Police Brutality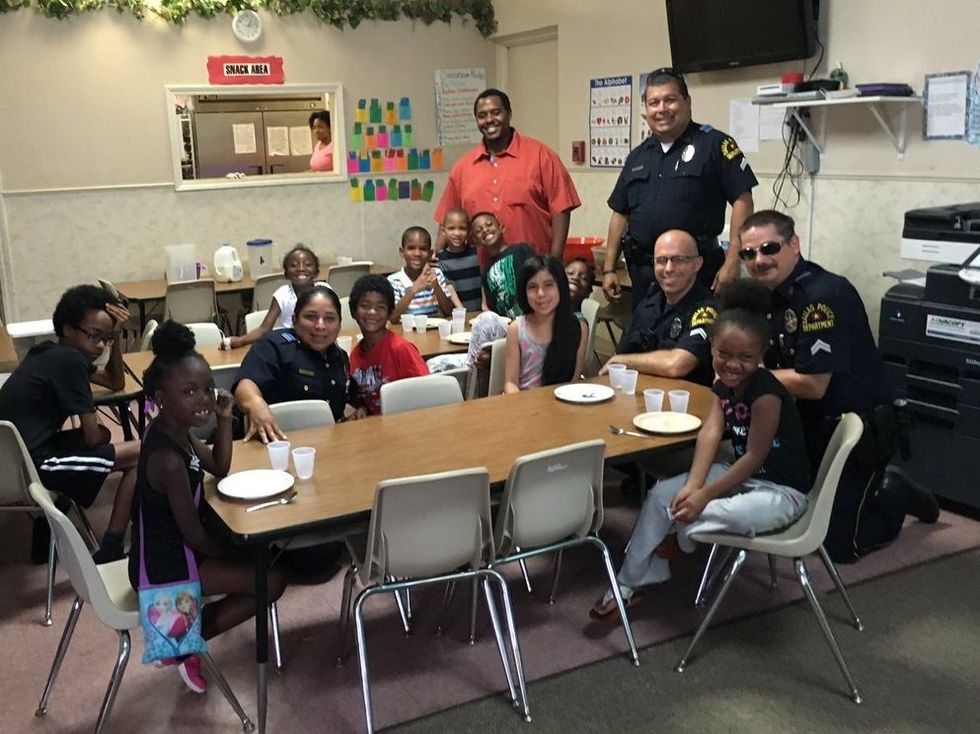 The Dallas Police Department experienced the darkest night in its history when five police officers lost their lives and seven more were wounded Thursday night during a protest against police brutality following the killings of two black men at the hands of police officers in Louisiana and Minnesota.
This tragedy is intensified by the fact that the DPD's records show that the department has served as an example of how to address the issue of police misconduct through de-escalation of force training, community policing, and large amounts of cooperation and understanding between the force and the community.
"This police department trained in de-escalation far before cities across America did it," Dallas Mayor Mike Rawlings said on Friday. "We're one of the premier community policing cities in the country and this year we have the fewest police officer-related shootings than any large city in America."
Police Department Chief David Brown has been an active force in this turn-around. After the killing of Michael Brown by a police officer, the Dallas Police chief wrote an op-ed offering condolences and discussing what the nation's police forces could do to better serve their communities. These ideas, which he has implemented during his time as chief, have produced positive results for the department and ci.
Buzzfeed reports:
The dramatic decline in excessive force complaints and arrests trace back to the year Brown, who is black, took over the department in 2010. In 2009, the department received 147 excessive force complaints and made 74,000 arrests. Within three years, arrests were down to 61,000 and within five years, excessive force complaints were down to 53. As the number of excessive force complaints and arrests declined, so did the city's murder rate, which reached its lowest point in more than 80 years in 2014, before ticking back upwards in 2015.
Last November, the Dallas Morning Newsreported that the Dallas Police Department (DPD) was taking a new approach based on de-escalation. They were taught to avoid rushing into action, approaching subjects right away, having many officers shouting at once — all tools to build a trusting relationship with the community.
Officers also shifted focus to what's called "reality based training," which is modeled after real life events recorded by officer body cameras, dash-cams, and the media. More training hours are also required — officers on patrol are now mandated to complete reality based training every year, twice as frequently as before.
Officer monitoring through the use of body microphones and cameras also coincided with a decline in complaints against police.
Brown told the paper that this decline in complaints was a result of "training, community policing and holding officers accountable."
Community involvement has been a top priority for the police department, something evident in their social media presence. Before the shootings began, the Dallas Police Department (DPD) Twitter account was enthusiastically live-tweeting the protest against police violence.
#Dallas police officers maintain traffic control to ensure the safety of the demonstrators. pic.twitter.com/wocOuXqj0g

— Dallas Police Dept (@DallasPD) July 8, 2016
.@DPDAnderson with Senator Royce West @ demonstration @ Belo Garden Park pic.twitter.com/9wzMAxfsiM

— Dallas Police Dept (@DallasPD) July 8, 2016
Earlier Tweets also show their commitment to community involvement.
We made it for #snacktime @ChildrensVillage #footpatrolpic.twitter.com/4wCy4oYnE7

— Dallas Police Dept (@DallasPD) July 6, 2016
#DallasPD PIO is on the scene at #RedWhite&Boom! Stickers anyone? pic.twitter.com/PA6YEMZYBG

— Dallas Police Dept (@DallasPD) July 4, 2016
Good times at Casa Latina #FootPatrol@VoteAdamMedrano@DPDAnderson @ChiefLawtonDPD @DPDCA@DPDRecruitingpic.twitter.com/1GNCGvkJPY

— Dallas Police Dept (@DallasPD) July 1, 2016
These attempts at being seen as part of the community may partially explain why police officers at the protest were not prepared to face a sniper attack. Officers wore their daily patrol uniforms at the protest – most did not wear helmets or protective vests.
Photo: DPD Twitter.