The 'Dreamers': They Anger The GOP And Power Democratic Campaigns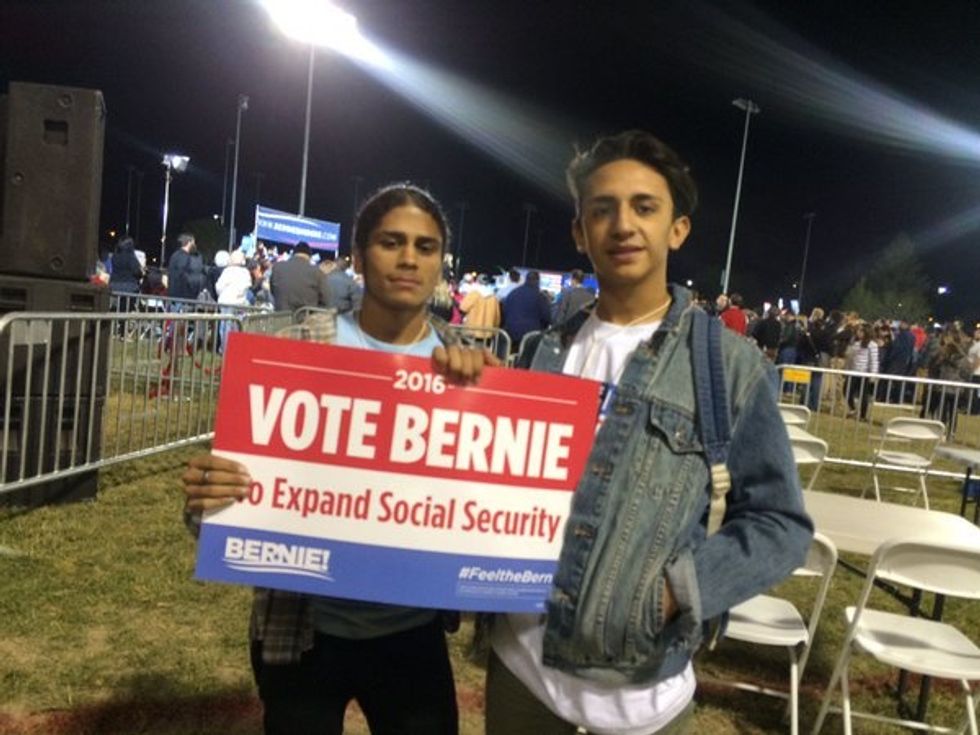 By Kate Linthicum, Los Angeles Times (TNS)
LOS ANGELES — When he's not at school, 18-year-old Pedro Duran often can be found dialing voters from the threadbare Las Vegas campaign headquarters of presidential candidate Bernie Sanders.
Or he might be handing out Sanders buttons at a nearby Latino grocery store, or promoting Sanders to members of his extended family.
An Ecuadorian who was brought to the U.S. illegally as a child, Duran isn't eligible to vote in Nevada's Democratic caucuses next month. But that hasn't stopped him from doing everything he can to support his favored candidate.
"I'm kind of fighting the fact that I'm excluded," said Duran, who believes Sanders will do the most to protect immigrants like him from deportation. "I have to be a part of this."
Immigrants lacking legal status are increasingly involved in this year's presidential race, working as volunteers, campaign advisers and, in some cases, as paid staffers for Sanders and his Democratic rivals, Hillary Clinton and Martin O'Malley.
While illegal immigration has stirred anger on the Republican side, with GOP front-runner Donald Trump calling for mass deportations, Democrats are leaning the other way, with all three candidates pledging to do more than President Barack Obama has done to curb deportations.
Sanders and Clinton have assigned key Latino outreach efforts to young "Dreamer" activists who were brought to the country illegally as children. Clinton's campaign has organized teams of mothers in the country illegally to operate phone banks on her behalf.
O'Malley has touted endorsements from immigrants in the country illegally in important primary states such as Iowa. He has met frequently with such immigrants on the campaign trail and recently held a defiant rally outside a jail operated by Sheriff Joe Arpaio, an immigration hard-liner in Arizona.
Political analysts say Democrats have embraced immigrants and their cause because they are seen as a key to the Latino vote, a growing and increasingly crucial demographic in presidential elections.
The immigrant rights movement, with young Dreamers leading the charge, has won several victories in recent years, even as Republicans in Congress and the courts have blocked legalization efforts.
"What other social movement within the Latino community has been as smart and influential?" asked Marisa Abrajano, a political scientist at the University of California, San Diego. "They're tapping into this pre-existing movement. It's very smart and strategic."
O'Malley's team consulted with day laborers, farm workers and other immigrants in the country illegally while drafting his immigration plan.
It calls for an end to a program that stations immigration agents in local jails, and for immigrants fleeing gang violence in Central America to be granted a designation known as Temporary Protected Status and allowed to stay.
"At every stage of the process, undocumented voices have literally written our platform," said O'Malley adviser Gabriela Domenzain.
Clinton's immigration stance was similarly shaped by a May roundtable discussion at a Las Vegas high school in which she hosted several young immigrants in the country without authorization.
Shortly after, Clinton put her Latino program in the hands of Lorella Praeli, a leading Dreamer activist who at one time lacked legal status but who recently obtained citizenship through marriage.
Cheska Perez, 18, said she started knocking on doors for Clinton last summer after several Republican candidates for president vowed to end Obama's Deferred Action for Childhood Arrivals program, which protects more than 600,000 immigrants brought to the U.S. as children from deportation.
Obama created the program in 2012 after considerable pressure from immigrant activists, who used sit-ins and street protests to persuade the president to act on his own when a proposed overhaul of immigration law died in Congress.
An immigrant from the Philippines who has deferred action status, Perez spends most afternoons canvassing for Clinton in the largely Latino neighborhoods of East Las Vegas.
"I may not have a vote, but I have a voice," she said.
For immigrants, having a say in presidential politics is seen as critically important.
"I don't have the luxury of doing nothing," said Astrid Silva, a Mexican-born activist who introduced Sanders at a recent Las Vegas immigration forum, although she has not yet endorsed a candidate.
"My dad has a deportation order against him," she said. "If I don't do something, my family will be separated."
Some immigrant activists say they are watching the presidential process warily, pointing out that Obama also pledged to pass immigration reform, but later was stymied by congressional opposition.
"Every four years, we get these candidates with their pretty immigration plans that are going to make my life easier, and every four years, we get disappointed," said Kenia Calderon, an activist in Iowa.
After asking questions of all three Democrats at campaign forums, Calderon decided to endorse O'Malley, who she said has the best record on immigration issues, as well as the best proposals.
Others say that after years of watching politicians decide their fate, they have come to recognize that politics is the only way to bring change.
"We've been Americanized," said Gaby Pacheco, an immigrant who grew up in Miami and is now director of the Bridge Project, which seeks to bring Republicans and Democrats together to pass immigration policy.
"We learned American history," Pacheco said. "We know that the only way we can make change happen is by being diligent and vigilant in this process, and not just sitting at home."
©2016 Los Angeles Times. Distributed by Tribune Content Agency, LLC.
Photo: Pedro Duran, a volunteer for Bernie Sanders. Kate Linthicum via Twitter