The Emerging 'Drone' Culture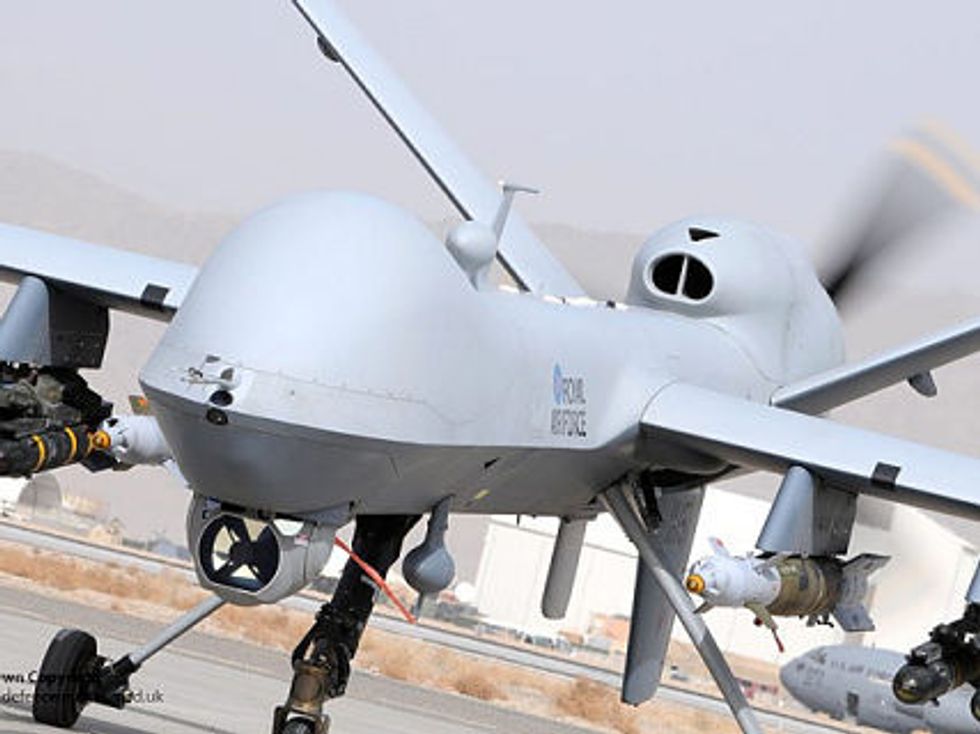 WASHINGTON — The age of the drones has arrived. It's not possible to uninvent these Orwellian devices, but we can — and must — restrain their use.
As instruments of war, pilotless aircraft have already become essential. The Washington Post reported last year that more than 50 countries had developed or purchased drones to use in surveillance — and that many of those nations were working to weaponize the aircraft. Deadly missiles fired from drones are among the most effective U.S. weapons against the Taliban and al-Qaeda.
There has been far too little discussion of the moral calculus involved in using flying robots as tools of assassination. At the very least, the whole thing should leave us uneasy. Collateral damage — the killing of innocents — can be minimized but not eliminated. And even if only "bad" people are killed, this isn't war as we've traditionally understood it. Drone attacks are more like state-sponsored homicide.
But similar complaints were raised when tanks replaced horses on the battlefield, and nothing stopped the mechanization of war. Drones allow governments to achieve military objectives without putting the lives of soldiers, sailors and pilots at risk. Robots do not bleed and do not vote, so they will do much of the fighting for us.
The thing about drones, though, is that the technology required to deploy them is nowhere near as daunting as is needed, say, to develop nuclear weapons. As they become more commonplace in the arsenals of the world, we will surely begin seeing them used by "rogue" nations — or even by non-state actors such as terrorists and drug smugglers.
If Colombian cartels are able to build dope-smuggling submarines, when will Mexican crime lords begin sending up surveillance drones to identify unpatrolled sectors of the U.S. border? Soon, I reckon, if it's not already happening.
So maybe — maybe — there might be a role for surveillance drones in patrolling the border. Perhaps there's a role in search-and-rescue missions and the like.
But the idea of police departments or other agencies routinely flying drones over American cities and towns, using them to snoop on the activities of anyone deemed snoop-worthy, is repugnant. It brings out the tea party in me — or maybe that's the spirit of the Occupy movement screaming bloody murder. Drones are a subject on which the far left and the far right can agree.
In fact, they do.
Here's quote no. 1: "Rules must be put in place to ensure that we can enjoy the benefits of this new technology without bringing us closer to a 'surveillance society' in which our every move is monitored, tracked, recorded, and scrutinized by the authorities."
Now quote no. 2: "Flying over our homes, farms, ranches and businesses and spying on us while we conduct our everyday lives is not an example of protecting our rights. It is an example of violating them. … When I have friends over for a barbecue, the government drone is not on the invitation list."
The first quote is from the American Civil Liberties Union. The second is from an op-ed written by Sen. Rand Paul, R-Ky.
The Federal Aviation Administration, meanwhile, is "working to ensure the safe integration of unmanned aircraft systems" into U.S. airspace, according to an announcement in May. Dozens of federal, state and local agencies have applied for permission to operate drones; some are already doing so, although it is unclear how many robot aircraft are in use and for what purposes.
The FAA is trying to streamline the authorization process for agencies that want to fly drones. This is one case, however, in which we need more good old-fashioned bureaucratic inertia and inefficiency. That would give us time to have a much-needed debate.
Just because we can deploy fleets of surveillance drones doesn't mean we should. Not every incremental gain in security is worth the attendant surrender of privacy and freedom.
I realize that security cameras and debit-card records already keep a pretty good record of my daily movements. I also realize that my computer usage is like a diary of what's on my mind. Privacy isn't what it used to be. But this doesn't mean we have to surrender the little we have left.
The idea of robots acting as guardians of public order has become a staple of dystopian fantasy — "Terminator," "Minority Report," "The Matrix." It is our duty to keep that stuff in the movies where it belongs.
Eugene Robinson's email address is eugenerobinson@washpost.com.