The End Is Coming, Mob Style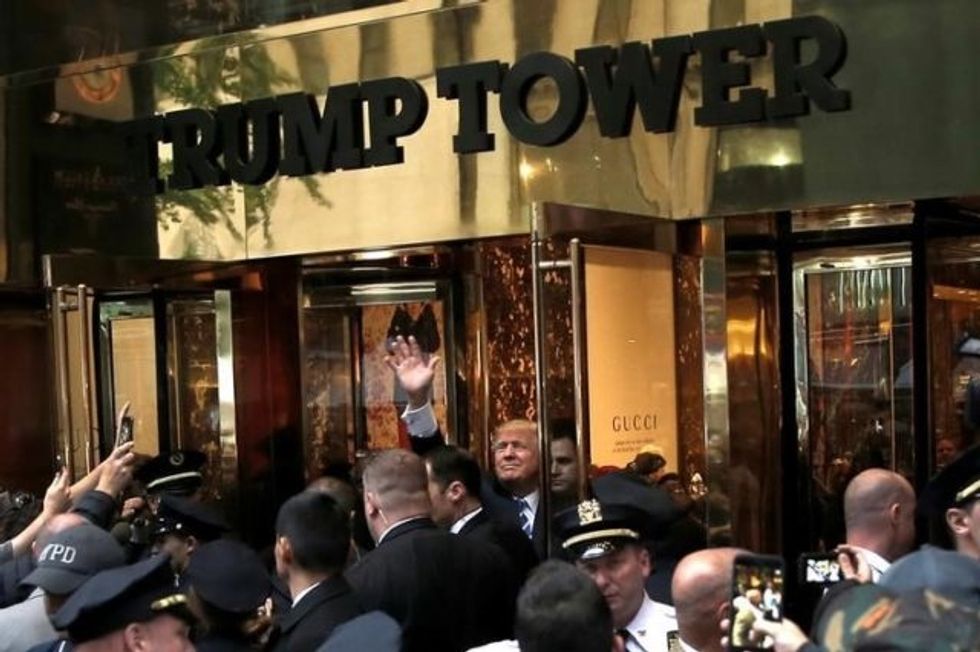 This article originally appeared on Creators.
"Lock her up!"
Roared at the Republican National Convention and every Donald Trump rally up to the present day, that ferocious chant now has a distinctly ironic ring. Several presidential henchmen who encouraged that ugly smear of Hillary Clinton — still innocent and still free — are on their way to prison. And there is a reason to believe that they will not be the last of the president's associates, possibly including his kin, to end up behind bars.
According to a jury of former Trump campaign manager Paul Manafort's peers, Manafort is guilty on eight felony counts. Former Trump deputy campaign manager Rick Gates copped a plea and testified against Manafort, but he's going to jail, too. Michael Flynn, who advised the Trump campaign and then served very briefly as national security adviser in the White House, likewise pled guilty and will do time. (He led that nasty chant at the convention, a moment that will be replayed forever as his most memorable act.) And now Michael Cohen, Trump's former personal attorney and consigliere, has entered a plea agreement on eight violations of banking, tax and campaign finance laws.
Nobody who has followed Donald Trump's career, dating back many years before he entered politics, should be surprised by these events. Nor should anyone be surprised that Trump would express "regret" over the fall of Manafort for his many crimes against the United States. As Craig Unger explains in his new book, "House of Trump, House of Putin: The Untold Story of Donald Trump and the Russian Mafia," the developer/casino magnate/reality TV star has cultivated connections with the underworld for decades. He built Trump Tower with illegal immigrant labor and concrete supplied by the Mafia — and gave an apartment there to the girlfriend of a mobbed-up Teamster boss. Millions of dollars have been poured into Trump properties from gangsters around the world in massive money-laundering operations.
He has always felt most comfortable with unsavory figures like Manafort, who should have been indicted and sent to prison for blatant influence peddling during the Housing and Urban Development scandal back in the Ronald Reagan era, and Cohen, who has long done business with crooks in the taxi and real estate sectors in New York City. His infamous attorney Roy Cohn was a mob lawyer indicted three times, who was lucky to escape imprisonment for tax evasion and many other alleged crimes.
The Trump outfit is going down in the time-honored style that marked the decline of La Cosa Nostra. A tough guy like Michael Cohen folds up and squeals exactly the same as Sammy the Bull. And a smart guy like Manafort, who has gotten away with everything and thought he always would, is put away exactly the same as Al Capone, convicted of tax evasion on the testimony of an accountant.
No doubt Trump and his choir will remind us that none of these charges touch on campaign collusion with the Russians, but that is a feeble rejoinder. Special counsel Robert Mueller has already filed preliminary indictments on that aspect of his investigation, of which there will be more to come. Meanwhile, the special counsel will present evidence concerning Trump's Nixonian attempts to obstruct his investigation.
But regardless of what Mueller eventually reveals about the president, the Cohen deal has placed Trump in grave jeopardy. In pleading guilty to felony violations of federal campaign finance statutes, Cohen has said that he paid off Stormy Daniels and another woman in a criminal conspiracy with Trump.
Remember, that plea deal was reached not with Mueller but with the U.S. Attorney's Office for the Southern District of New York, headed by Trump appointee Geoffrey Berman, and the Department of Justice, headed by Trump appointee Jefferson Beauregard Sessions. While his aides whisper to Fox News that "the president cannot be indicted," Americans will soon realize that the man in the Oval Office is an unindicted co-conspirator — just like Nixon.
The question that faces every member of Congress, and for that matter, every voter, is what to do about it.
To find out more about Joe Conason and read features by other Creators Syndicate writers and cartoonists, visit the Creators Syndicate website at www.creators.com.