'The End Of The World As We Know It' — The Tea Party Rallies Against Iran Nuclear Deal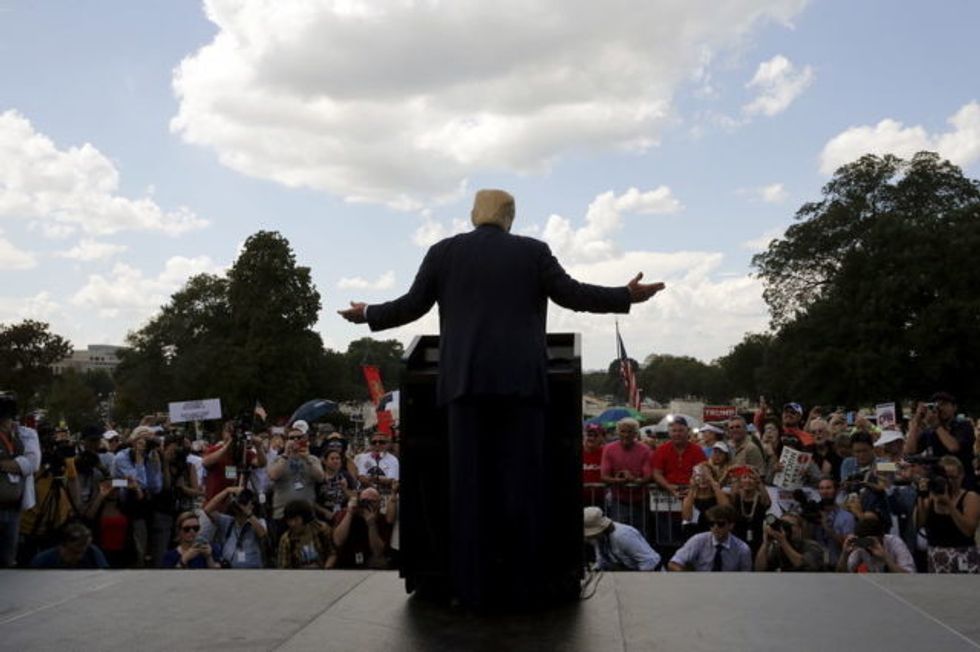 On a sweltering, Wednesday afternoon on Capitol Hill, the Tea Party Patriots organization assembled a lineup consisting of, among others, two presidential candidates, a former CIA director, and the woman who quit her job as governor of Alaska, to sound the clarion call to Congress, American citizens, and the president: The Iran nuclear deal is very, very bad.
Since the deal is basically a fait accompli — with a cloture-proof Senate minority supporting it — the event was more of a pageant of bombast than of sober address, and the oratory was nothing short of apocalyptic.
The crowd of supporters held signs proclaiming "#JewishLivesMatter;" accusing President Obama, Secretary of State John Kerry, and Hillary Clinton of "fulfilling Hitler's dreams;" calling Republican majority leaders in Congress John Boehner and Mitch McConnell "repugnicant [sic] traitors."
The headlining acts — Senator Ted Cruz, Donald Trump, and Sarah Palin — were preceded by a parade of speakers who invoked the Biblical rhetoric of the Gospels, skeletons in Obama's closet like Reverend Jeremiah Wright, and the tired historical comparison of Neville Chamberlain. Obama's actions, it was said, "bordered on treason."
Ted Cruz's reiterated his pledge to "rip to shreds this catastrophic deal," which he called "the single greatest national security threat facing America."
"If it goes through," Cruz warned, "the Obama administration will become quite literally the world's leading sponsor of radical Islamic terrorism."
He mourned the demise of "Scoop Jackson" Democrats — among whom he counted John F. Kennedy and Joe Lieberman — who stood firm on defense, he said, not on party lines. "Do you value the safety and security of the United States of America?" he rhetorically asked Senate Democrats. "Or do you value more party loyalty to the Obama White House?"
Cruz concluded by calling the president "lawless" and warning any banks that lifted restrictions on frozen Iranian assets that they would face civil liabilities and a reckoning from the next president "who is not named Barack Obama."

Despite the hyperbole, Cruz's speech was a dry and wonkish drone-fest compared to that of Donald Trump, whom Cruz introduced as "my friend."
The tow-headed mogul took the stage to the soaring chorus of R.E.M's eschatological Reagan-era ballad "It's the End of the World as We Know It (And I Feel Fine)." (The notoriously liberal alt-rock act, which disbanded in 2011, has had to deal with conservatives using their music before.)
Trump declared that he need not go into the messy details of the deal, since Cruz and others had covered that, and also since messy details are anathema to Trump — he's a doer, not a talker. Trump's speech, as has become expected, was big on bombastic, full-throated, but vague, promises, and low on actual data, tactile proposals, and vocabulary.
"I've been doing deals for a long time, lots of wonderful deals, great deals. That's what I do. Never ever, ever, ever in my life have I seen a transaction so incompetently negotiated as our deal with Iran. And I mean never," he said.
He swore that, if he were elected, the four American prisoners currently in Iran would be back home "before I ever take office. I guarantee that." Though he did not explain how he intended to do that, eliding over the details, as is his familiar tactic.
"They will be back before I ever take office — because they know that's what has to happen. Okay? They know it. And if they don't know it, I'm telling them right now."
Inexplicable victories would become the norm under President Trump, he said, in fact: "We will have so much winning when I get elected that you may get bored with winning."
Finally, Sarah Palin entered, proclaiming, "Let's bring some sanity to this discussion!"
Though nominally there to protest the deal with Iran, Palin took the opportunity to catalog a host of conservative grievances with Obama, including his use of a selfie stick and his signing off on the recent restoration of the traditional name "Denali" to Alaska's tallest peak. (Note that when Palin quit her job as Alaska's governor six years ago, she also referred to the mountain as "Denali.")
She began with a thinly veiled accusation that the president was guilty of goading violence against police officers: "Since our president won't say it, since he still hasn't called off the dogs, we'll say it. Police officers and first responders all across this great land, we [sic] got your back. We salute you! Thank you, police officers."
"It's up to us to tell the enemy: 'We win, you lose.' Just like Ronald Reagan would have told them," she said, alluding to the late Republican president who actually sold weapons to Iran.
"Only in an Orwellian Obama-world full of sprinkly fairy dust, blown from atop his unicorn as he's peeking through a really pretty pink kaleidoscope would he ever see victory or safety for America or Israel in this treaty," she declared.
Well said, governor.
Photo: Republican presidential candidate Donald Trump addresses a Tea Party rally against the Iran nuclear deal at the U.S. Capitol in Washington on September 9, 2015. REUTERS/Jonathan Ernst