The Essential Truth Of Trayvon Martin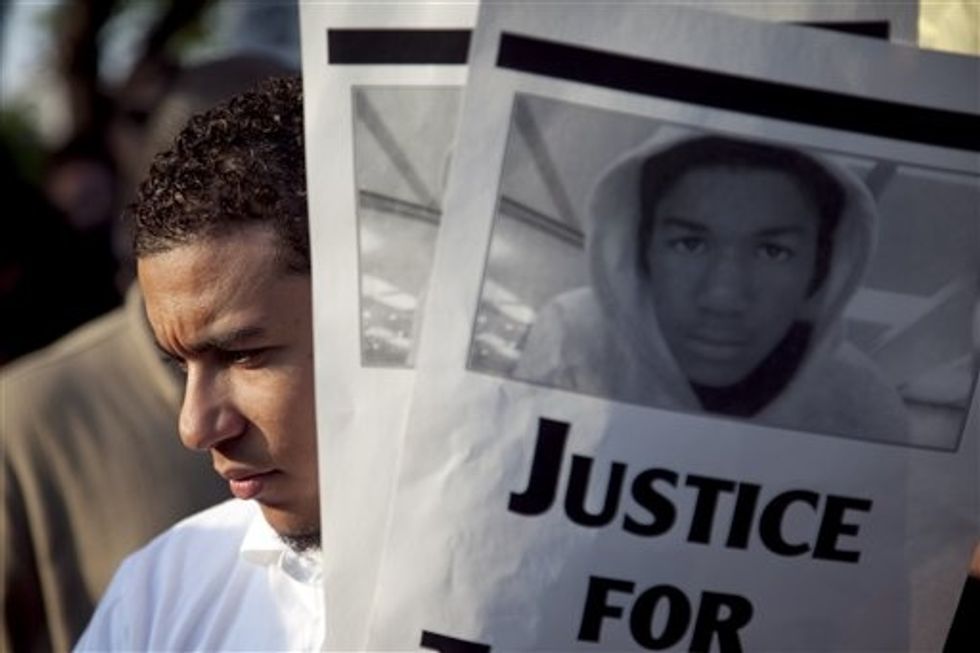 One month later, some of us fail to understand what this is about. One month later, some of us are using the death of 17-year-old Trayvon Martin to advance their own selfish aims or are throwing up smoke to divert our attention from what matters. One month later, a reminder seems sadly necessary.
Though, perhaps it is easier to explain what this is about by explaining what it is not about.
For instance, GOP presidential aspirants have sought to incorporate the tragedy into their Obama Always Does All Things Wrong narrative. As in Rick Santorum blasting a moving statement from the president — "If I had a son, he would look like Trayvon" — as "divisive" and "tragic."
But this is not about the furtherance of Santorum's fading political hopes.
Meantime, an African-American hate group, the so-called New Black Panther Party, has put a price on the head of George Zimmerman, the white Hispanic police wannabe who shot the unarmed teenager.
But this is not about the promotion of some opportunist's extremist agenda.
This week, someone leaked information that Martin had been suspended from school for possessing an empty marijuana baggie. It was also reported that Zimmerman claims Martin attacked him from behind, a version of events supposedly corroborated by witnesses. This would contradict other witnesses (the ones police initially blew off or never even bothered to contact) who paint Zimmerman as the aggressor who followed and shot a black kid he found "suspicious."
And beg pardon, but if some armed, unknown person were stalking you for some unknown reason, might you not choose to hit first and ask questions later?
But this is not about Trayvon Martin being an angel.
Geraldo Rivera of Fox "News" said last week that Martin died because of his choice of clothing. "His hoodie killed Trayvon Martin as surely as George Zimmerman did," he said, arguing that seeing a "kid of color" wearing a hoodie ignites certain feelings of "scorn" and "menace."

Rivera called the statement, for which he later apologized, "politically incorrect." Actually, it was just cowardly and dumb. Unlike, say, sagging pants, a hooded sweatshirt is a functional garment, (i.e., it provides protection against cold and wet) that is worn by black, white, male, female, young, old, college kids and street kids. Martin wore his against a persistent drizzle as he walked home from 7-Eleven, but apparently, Rivera finds something sinister in black and brown kids wearing what everybody else wears in the rain. Shall we restrict them to umbrellas from now on?
But this is not about a fashion statement.
As to what it is about, consider a passage in Michelle Alexander's book, "The New Jim Crow," in which she argues that "what it means to be a criminal in our collective consciousness has become conflated with what it means to be black, so the term white criminal is confounding, while the term black criminal is nearly redundant."
Nearly redundant.
This, then, is what killed Trayvon Martin, the fact that we are so stubbornly convinced of that redundancy that a boy walking home carrying nothing more threatening than Skittles and iced tea can become a source of terror sufficient for a George Zimmerman to stalk him and to kill him.
It doesn't matter if he wore a hoodie.
It doesn't matter if he punched Zimmerman.
It doesn't matter why he was suspended from school.
What matters is that he is unavailable for comment about those things, and always will be. What matters is that none of them changes the essential truth of what this is about.
Though innocent of any crime, Trayvon Martin was gunned down by George Zimmerman. He was sacrificed for all our fears.
(Leonard Pitts is a columnist for the Miami Herald, 1 Herald Plaza, Miami, Fla., 33132. Readers may contact him via e-mail at lpitts@miamiherald.com.)
(c) 2012 The Miami Herald Distributed by Tribune Media Services, Inc.