The Fort McMurray Wildfire Shows The Future Of Climate Change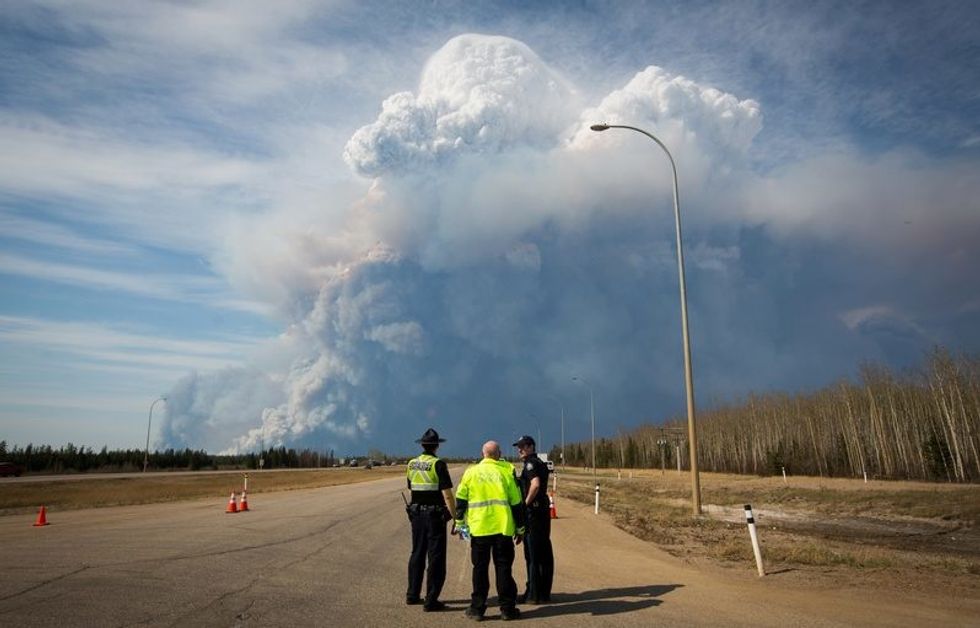 Temperatures in Fort McMurray, the epicenter of an epic wildfire sweeping through Alberta province in Canada, topped 90 degrees earlier this week.
Fort McMurray isn't all that far, relatively speaking, from the Arctic Circle. This is May. This is insane.
Temperatures have never topped 90 degrees in this part of the world at this time of year. That's 40 degrees above average.
The city's entire population of 88,000 is being evacuated as Canada declares a state of emergency. Images of the blazing fire reveal an apocalyptic landscape, with parts of the city resembling "a war-torn corner of the world," according to Canadian Prime Minister Justin Trudeau.
Wildfires are a normal part of life in Alberta. They happen every year, and indeed needed to sustain the forest. But there were real warning signs this year was different, there were more, and they started earlier, according to local reports.
A warm, dry winter, coupled with a warm, dry spring and temperatures that broke records even before this week left the ground bone dry early in the wildfire season. El Niño is to blame for some of the warm weather as well, this year and last.
To make matters worse, Fort McMurray, until recently a boomtown at the center of the tar sands oil industry — and, incidentally, where the Keystone XL pipeline was set to begin — is surrounded by forest.
The disaster has led some to suggest, if carefully, that we might finally be witnessing a catastrophic event in a western country that can be linked directly to climate change. At the very least, events like the Fort McMurray wildfire will happen more regularly in the future, and will be more fierce.
In an article published online by Scientific American Wednesday, author Brian Kahn writes: "What's happening in Fort McMurray is a perfect encapsulation of the wicked ways that climate change is impacting wildfire season."
Kahn also quotes Mike Flannigan, an expert on wildfires at the University of Alberta. "This [fire] is consistent with what we expect from human-caused climate change affecting our fire regime," Flannigan said.
Canada's Green Party leader, Elizabeth May was quoted as saying that this is "a disaster that is very related to the global climate crisis," but after receiving some criticism, she walked back those remarks, a measure of how even those in the green movement have been moved to temper their thoughts.
"Some reports have suggested that the wildfires are directly caused by climate change," May said. "No credible climate scientist would make this claim, and neither do I make this claim."
But it's beginning to feel like that point in a disaster movie, maybe a quarter way through, when the characters all realize that really bad things are actually really starting to happen, and they know it will only get worse.
At least a few characters in this movie seem to know what's going on. Pew Research released Thursday its latest polling results that show fully 81 percent of liberal Democrats view global climate change as a major threat to the U.S., compared to 18 percent of conservative Republicans.
The Day the Earth Caught Fire is a superb — a classic — London-set, near-future sci-fi disaster movie from the early 1960s.
The film's premise, daft on its face but reflective of the fears of its time, is that the two superpowers set off two huge nuclear weapons simultaneously. This knocks the world slightly off its axis, out of its orbit, causing cataclysmic climate change that affects different regions of the earth in unique ways.
London swelters, burns, and then begins to melt. It's global warming on steroids and speed.
When told that the cataclysmic climate changes to the planet are man made, a veteran newspaperman, played by Leo McKern, delivers this denunciation: "The stupid, crazy, irresponsible, bastards — they have finally done it."
Such a singular, shining, realization is unlikely in Planet Earth: The Movie — run time about 100 more years.
Photo: Officers look on as smoke from Fort McMurray's raging wildfires billow into the air after their city was evacuated, May 4, 2016. REUTERS/Topher Seguin