Scholar: The Founders Created A President, Not A Monarch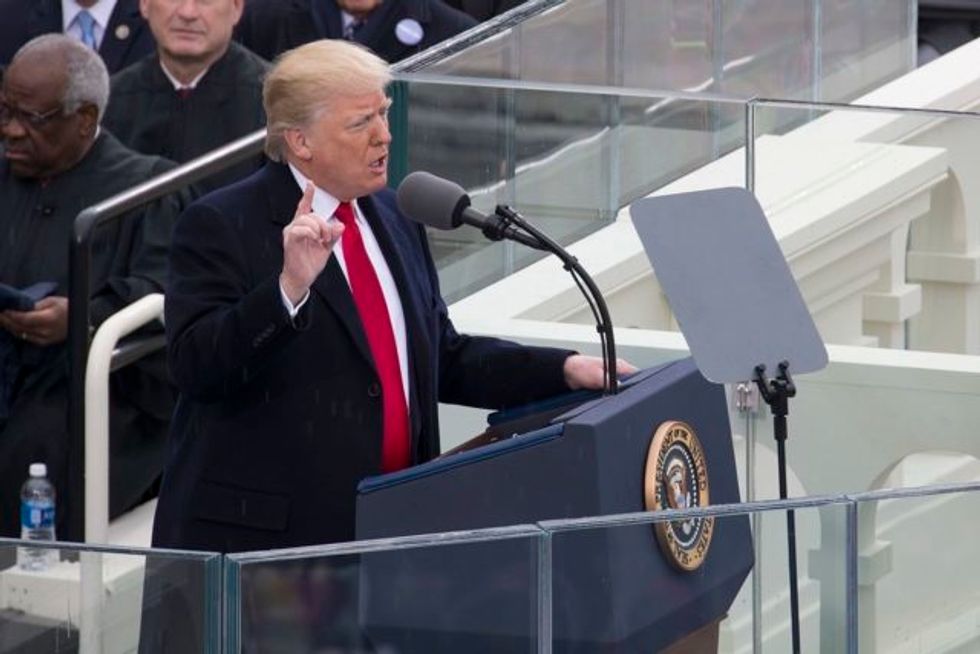 Reprinted with permission from Alternet.
In an article for The Atlanticpublished Sunday, University of Michigan law professor Julian Davis Mortenson ripped a hole in the argument made by "a great many lawyers, politicians, judges, and policy experts" who believe "executive power" is "a generic reference to monarchical authority." According to Mortenson, those who tacitly believe the president is king — in that presidents are "given all the prerogatives of a British king, except where the Constitution specifies otherwise" — are relying on a grave misunderstanding of the nation's founding principles.
Mortenson, who spent years researching "an enormous array of colonial, revolutionary, and founding-era sources," describes the president-as-king claim as "utterly and totally wrong."
"The historical record categorically refutes the idea that the American revolutionaries gave their new president an unspecified array of royal prerogatives," writes Mortenson. "To the contrary, the presidency that leaps off the pages of the Founders' debates, diaries, speeches, letters, poems, and essays was an instrument of the law of the land, subject to the law of the land, and both morally and legally obliged to obey the law of the land."
As Mortenson explained, while Congress is limited to enacting laws expressly enumerated in the Constitution, "a funny thing happens … when it comes to the presidency." Per Mortenson:
The constitutional text doesn't actually authorize the president to do very much. It enumerates the veto, appointments, and pardon powers. It grants the president "the executive power" and the office of commander in chief. It authorizes the president to receive foreign ambassadors, demand reports from his subordinates, and deliver a State of the Union address. But aside from a few miscellaneous process authorities, that's just about it.
Scholars who subscribe to the president-as-king theory fear a country whose leader lacks the power to "conduct diplomacy, recognize foreign governments, terminate treaties, acquire territory, fire officers and employees, or announce national policy," Mortenson writes. To mitigate such fears, they rely on "the executive power" mentioned in Article II of the Constitution, believing it grants the president authority to act on those implied powers.
"As a historical matter, my research shows that this claim is dead wrong," writes Mortenson. "'The executive power' granted at the American founding was conceptually, legally, and semantically incapable of conveying a reservoir of royal authority. The real meaning of executive power was something almost embarrassingly simple: the power to execute the law."