The GOP 2016 Frontrunners Are Complete Jokes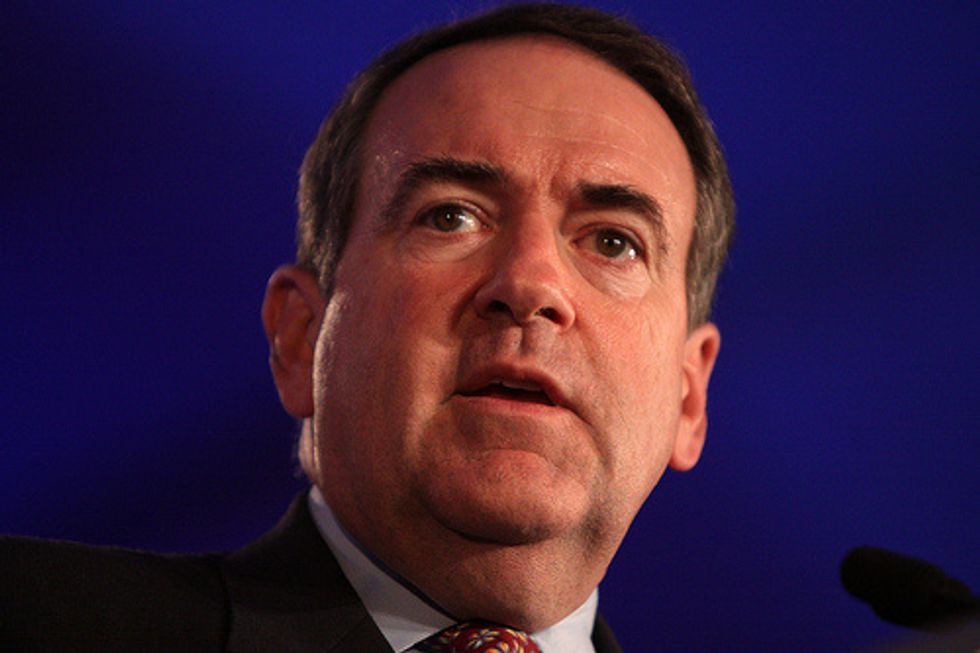 In conservative "humor," only the words "Joe Biden" elicit more laughter than "teleprompter" or mentioning "Al Gore" when it's cold. Just his name makes Republicans giggle the way most of America would if we were watching Sarah Palin, Herman Cain, Sharron Angle, Todd Akin and Miley Cyrus attempt to pass the U.S. naturalization/citizenship test.
In actual humor, Joe Biden is a '70s-style icon who is so American he perspires Budweiser all over the leather upholstery of his freshly waxed TransAm.
Thus when the vice president said he was likely to run for president in 2016, everybody smiled. But Republicans became giddier than a Romney after two Frappuccinos. Bill Murphy — who worked on the Romney campaign and is now on the staff of the National Republican Senatorial Committee — tweeted this:
Biden/@LOLGOP 2016.

— Bill Murphy (@billmurphy) February 7, 2014
LOL.
Biden is such a joke that he might as well run with a Twitter account that exists to mock Republicans. Instead of wit, this "joke" relies on a Pavlovian trigger that requires you to believe the subject is laughable before the joke is made. It's the same mechanism by which any utterance of #Benghazi provokes right-wing outrage, just because it does.
But what the right doesn't get is that to anyone who isn't in the Fox Newsosphere, where anyone who upsets Democrats — from George Zimmerman to the Duck Dynasty guy — is a hero, there isn't one GOP frontrunner who is taken even remotely as seriously as Joe Biden.
Need proof, Republicans?
Mitt Romney — star of a new movie about how he genially lost the presidency by 5 million votes — is leading the GOP pack in New Hampshire. This was a guy Republicans spent six years trying not to nominate and will only ever be the president of the Vladimir Putin fan club.
Governor Chris Christie (R-NJ) has destroyed his position as the media's favorite for the Republican nomination with a flurry of scandals that now have him doing damage control on his damage control. Bridgegate broke just days after the governor signed his DREAM Act as his first step toward an actual Republican campaign that flirts with centrism. And what did Christie's head-fakes to the center — in between cutting services, defunding Planned Parenthood and cutting taxes on the rich — earn him? Few Republicans stepping forward to defend him.
Now, as head of the Republican Governors Association, Christie's traveling the country, raising money and forcing Republican governors to change their schedules to avoid him. Who wants to be the guy standing next to him when the next scandal hits?
But let's say he does recover. Now the GOP has a Romney with hollow support from the base, and whose chief qualification is yelling at teachers in public. And he would still be a better candidate than his nemesis Senator Rand Paul (R-KY), who has disqualified himself from the presidency in so many ways that Governor Rick Perry (R-TX) lost track months ago.
Bloomberg's Jonathan Bernstein believes the senator's non-interventionist foreign policy views will disqualify him from the GOP primary, despite the vast presidential campaign machine Paul inherited from his father. The Tea Party hero also inherits his father's history of racist newsletters and connections to fringe groups that are now fair game, thanks to the way Paul has attacked Bill Clinton.
A sly politician with a gift for selling libertarianism to evangelicals using his devout anti-abortion-rights stands as common ground, the junior senator from Kentucky is selling his soul to Senate Minority Leader Mitch McConnell (R-KY) for some establishment support in 2016. But Paul's willingness to employ an ex-neo-confederate shock jock points to his lack of viability at a national level. And while the vice president had a plagiarism scandal of his own, at least Biden wasn't borrowing from Wikipedia.
But all of that is just noise compared to Paul's real disqualification: his Medicare plan, which immediately raises the retirement age and turns the Medicare guarantee into something that resembles Obamacare, with seniors picking up much more of the costs.
This leads us to Jeb Bush, the business community's new favorite candidate.
The older Bush is a fine campaigner but a squishier version of his brother George W., and has said he would raise taxes for the right deal. He's changed his mind on immigration reform so many times he's not sure what he believes. On top of his own wealth of ethical questions, the former governor of Florida would pursue the presidency with his last name being synonymous with economic ruin for most Americans.
Governor Scott Walker (R-WI) will likely fall below his promise of creating 250,000 jobs but billionaire funders love his ruthless cutting of the safety net, his passion for screwing organized labor and his devotion for lowering taxes on the rich. If he can avoid his own adminstration-destroying scandal, he'll likely be a powerful contender to be 2016's Tim Pawlenty with even less personality.
The process of elimination, which is a nice euphemism for how the GOP selects candidates, has led Mother Jones' Kevin Drum to call Rep. Paul Ryan (R-WI) the "odds-on favorite" to win the nomination. Just weeks ago pundits were saying the willingness of the chairman of the House Budget Committee to make deals with Democrats meant his goal was to be chairman of the powerful Appropriations Committee, not president. But he didn't raise taxes and despite the fact that he's in favor of slowing the growth of military pensions, he's still the most popular politician with both the GOP base and the party establishment.
But his disqualification is even greater than Rand Paul's, as the congressman is only known to most people as the guy who wants to gut Medicare. While GOP strategists say immigration reform is necessary for the party to win the White House, they underestimate how harmful their plans to change America's favorite government program have been with the seniors they need to court to have any chance of winning the presidency. Watch this speech and remember why the Romney campaign had to hide its vice presidential candidate for the last weeks of the election.
Senator Ted Cruz (R-TX) would be the most hated man in America, if most people knew who he was. Senator Marco Rubio (R-FL) probably won't even be able to win his Senate seat again. Rick Santorum should be the GOP frontrunner as the runner-up in 2012. But he hasn't won an election since 2000, when his fundamentalist policies were already dated. Mike Huckabee's last win was in 2004 and has re-emerged as a party player by infuriating women. But it's pretty safe to assume people don't want to hear him talking about sex anymore.
There will be the Herman Cains and Donald Trumps who recognize that Republican politics is an excellent way to sell crap. And there will have to be a woman or two, especially if Hillary Clinton isn't running. But unless it's former Democrat and current governor of New Mexico Susana Martinez, who accepted Medicaid expansion, it will likely be someone of the caliber of Rep. Michele Bachmann (R-MN).
You get my point. Biden could compete with any of these clowns and if you're not sure of this, re-watch how he dehydrated Paul Ryan in their one debate.
And if you think Biden/@LOLGOP is such a joke, poll us against Christie/Cruz, Paul/Santorum or Huckabee/Bush.
I've been tested against a Republican congressman before and was leading him — because the GOP brand is that smelly. This embarrassment helped keep Rep. Justin Amash (R-MI) out of a U.S. Senate race, I like to believe. And I'd love to help the GOP with a little natural selection again.
Photo: Gage Skidmore via Flickr