Government Shutdown Could Cost Republicans The House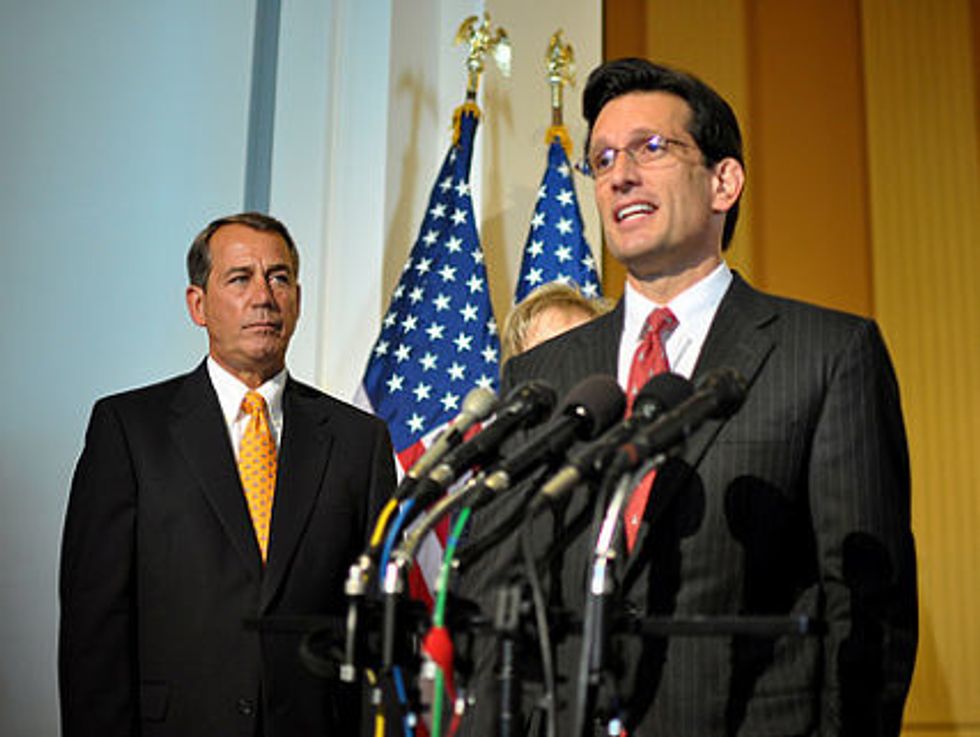 Republicans could be at risk of losing the House of Representatives in 2014, according to the first battleground poll from PPP since the government shutdown. In 17 districts, generic Democrats are leading a GOP incumbent among registered voters.
"Democrats must pick up 17 seats to win control of the House. These poll results make clear that if the election were held today, such a pickup would be well within reach," PPP's Jim Williams said. "The surveys challenge the conventional wisdom that gerrymandering has put the House out of reach for Democrats."
Liberal group MoveOn.org commissioned the polls of 24 competitive congressional districts by PPP, a Democratic pollster known for discovering that Congress is about as popular as herpes, and being one of the most accurate pollsters in 2012.
The districts — CA-10, CA-21, CA-31, CO-06, FL-02, FL-10, FL-13, IA-03, IA-04, KY-06, IL-13, MI-01, MI-07, MI-11, NV-03, NY-11, NY-19, NY-23, OH-06, OH-14, PA-07, PA-08, VA-02, and WI-07 — were surveyed from October 2-4 with a sample size of 600-700 registered voters in each district.
"The number of competitive districts is at its lowest since Cook first started the partisanship rating in the 1998 election cycle," the Cook Political Report announced earlier this year. But that was before the shutdown. In only 3 of the 24 districts did voters support the Republican incumbent after finding out s/he was in favor of closing the government.
This is the second indication that the House could be in play during next year's midterm elections, even though the GOP has used redistricting to fortify its majority — so much that they lost the popular vote by 1.4 million last year while still keeping the House, even though elections held in the sixth year of a president's term generally cost his party seats. A Quinnipiac poll taken before the government shutdown found 72 percent Americans opposed to tying a shutdown to funding of the Affordable Care Act. The same poll found Democrats leading Republican congressional candidates on a generic ballot by 9 percent.
Republican insiders warned their party in August of this year that they saw "a disaster in the making," which they feared could put their majority in jeopardy.
Frustration over the shutdown could also add to Republicans' problems with seniors.
In 2010, the electorate was much older than usual and seniors voted for Republicans by a 19 percent margin. A recent Democracy Corps poll taken before the shutdown found that margin reduced to 6 percent, near a range that could put their majority at risk.
Immigration reform has been stalled in the House for months.
"When asked which party would be to blame if immigration reform does not pass, 69 percent pointed to Republicans, compared to 13 percent who would blame Democrats," Latino Decisions' Matt Barreto reported this summer.
Photo: Republican Conference via Flickr