The Greatest Moments From The Bernie Sanders AMA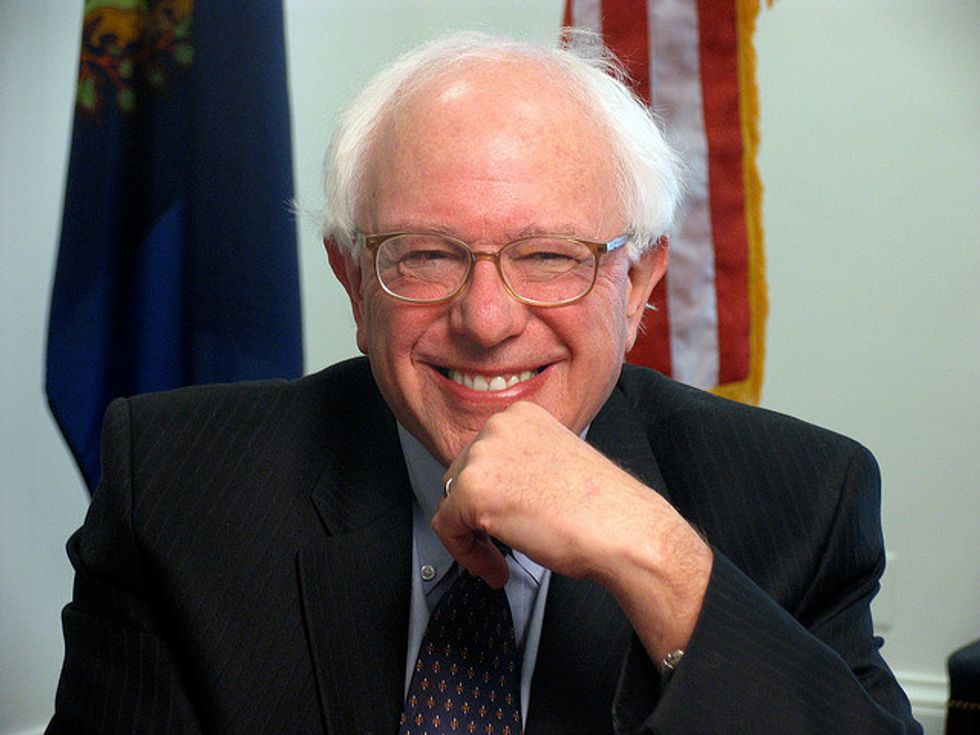 Senator and presidential hopeful Bernie Sanders (D-VT) ran an AMA (Ask Me Anything) — a kind of open-source mass interview — on the popular social site reddit.com Tuesday.
Highlights included discussions about election reform, funding higher education and research, federal wiretapping, and even marijuana legalization. Despite a long career in Washington, DC, Sanders was not overtly cynical, and offered a message of hope for the future of politics in America, openly stating his goals for system-wide change.
When asked about election reform, the senator focused on campaign financing. He mentioned the increasing importance of corporations and mega-wealthy in political races, stating:
Right now, we are at a moment in history where the Koch brothers and other billionaires are in the process of buying politicians and elections. We need to overturn Citizens United with a constitutional amendment. We need to pass disclosure legislation. We need to move toward public funding of elections.
He later went on to say how critical he believes voter engagement is, citing that a voting rate of just 40 percent will need to double to truly create change. In the short term, Sanders encouraged contacting elected officials to make public opinion heard, as well as grassroots organizing.
When asked about controversial security measures such as the PATRIOT Act and federal wiretapping, Sanders said he understands the threats from both sides of the issue. While acknowledging the serious dangers posed by terrorist groups, he followed up with:
I believe strongly that we can protect our people without undermining our constitutional rights and I worry very very much about the huge attacks on privacy that we have seen in recent years — both from the government and from the private sector.
Unafraid to defend what has proven to be an unpopular opinion in the Senate, Sanders also stood by his anti-war record. As a statesman who has voted against almost every war since Vietnam, Sanders resolutely argued that the United States needs to change its aggressive stance on international relations and work with the global community to "not only [try] to create peaceful resolutions to conflict, but to address the underlying causes of war."
In the same vein, Sanders opposed sending U.S. soldiers to combat the Islamic State in Iraq and Syria. Instead, he said that he believes peace will only come to the Middle East when Muslim countries unite to fully engage with and defeat ISIS. Western nations, he added, cannot lead the efforts. Unfortunately, he also said, he believes that a number of Republicans do not want to see a calm Middle East, but "perpetual warfare."
Turning towards domestic issues, Sanders addressed the much-debated Affordable Care Act and the broader Social Security system. Though he admits the Act is far from perfect, he explains: "I voted for the Affordable Care Act, not because I think it is the end place as to where we should be, but because I was able to get a major provision in it that greatly expanded primary health care — which is helping many millions of people today." He also cited earlier legislation he co-wrote, saying it was the most comprehensive legislation for helping veterans passed in years.
Continuing with his views on health care, Sanders also agreed that further investment in medical research is necessary to confront the serious health challenges facing the American population, including Alzheimer's Disease, diabetes, and cancer.
In terms of job creation and economic growth, Sanders said that America needs workers to rebuild a crumbling infrastructure, as well as preschool educators and medical personnel. To address these needs, and to raise overall living standards, he advised, "We have to move toward universal health care, making higher education available to all, a social safety net which is strong and a tax system which is progressive."
Overall, the open interview was a bold move for a presidential candidate. The general tone of the responses seemed positive and grateful for the chance to directly engage with a national political player. Sanders, despite a challenging race ahead, appeared optimistic and enthusiastic about the change he believes his candidacy can bring for the American people.
A fitting final quote: "The truth is that we are in a very difficult political moment. But despair of giving up is just not an option. My strong belief is that it is imperative that we maintain our vision of what American can be, and that we fight hard to make that happen. DO NOT GIVE UP."
Photo: truthout.org via Flickr