The Incomparable Chutzpah Of David Bossie, Failed Dirty Trickster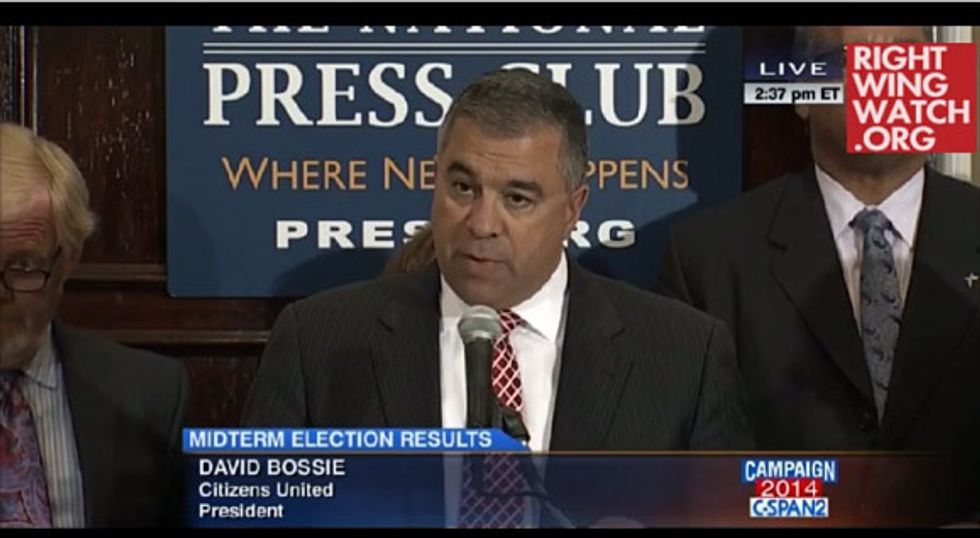 Yesterday David Bossie, the serially disgraced right-wing dirty trickster, showed up with a response to my recent articles in Politico and the New York Daily News. While Bossie lacks any of the skill and style of a truly dangerous gremlin like Roger Stone – and his rote recitations of moldy "scandal" memes aren't difficult to refute — he is a persistent fellow and substantially responsible for the awful Citizens United decision on campaign finance. No doubt that organization is raking in more dark money as this is written, the better to smear Democratic candidates — above all Hillary Clinton — in this election cycle.
Bossie's name brings back many grim memories: about the truly nasty lies he circulated about Bill Clinton in 1992, and all the other schemes he hatched with his late and unlamented mentor, the Arkansas segregationist diehard and unrepentant racist, "Justice Jim" Johnson. Sometime soon, I will revisit Bossie's dubious career in detail.
Pressed for time today, however, I noticed a few lines that stood out in his banal Breitbart essay:
Clinton, Inc. has ordered their surrogates to go out and try to convince the American people that all the Clinton scandals of the 1990's were just a figment of everybody's imagination. I'll call it the "Keyser Soze Defense"—convince the world that they never existed. It's chutzpah to the highest degree, but right out of the Clinton playbook. Joe Conason's recent article entitled "The Fake Clinton Scandals Are Back" is a perfect example.  The cynical Clinton machine is betting that the American people are a forgetful bunch that either won't recall what happened two decades ago or doesn't care to learn.
Actually, Gene Lyons and I – under orders from nobody except ourselves – took the trouble to create The Hunting of Hillary, an e-book with a new introduction and other cool features, offering for free the most currently relevant sections of The Hunting of the President: The Ten-Year Campaign To Destroy Bill and Hillary Clinton. In that saga Bossie plays a supporting role as the instrument of both his old boss Floyd Brown and Justice Jim.
While the e-book doesn't include every detail of Bossie's underhanded maneuvers, it amply refutes his claims about "Whitewater and other significant controversies surrounding the Clintons":
Here are the facts. According to The Associated Press, the Whitewater investigation "resulted in 24 indictments, at least 16 convictions." There is nothing fake about these prosecutions. Just ask Hillary Clinton's former law partner, Webster Hubbell.
Those Whitewater convictions had absolutely nothing to do with the Clintons' land deal, a fundamental fact that we explore in The Hunting of Hillary. Bossie knows that but he obviously believes Breitbart readers are both forgetful and dim.
Accusing me of "chutzpah," he is amazingly reckless and insolent to even mention the name of Webb Hubbell. Back in those bad old days, he lost his job on the staff of the House Oversight Committee, fired by its loony chairman Dan Burton (R-IN), at the insistence of then-Speaker Newt Gingrich, because House Republicans were so outraged by Bossie's misconduct involving tapes of Hubbell recorded during a prison visit with his wife, Susie Hubbell.
Hubbell was then doing time for fraud and other offenses, after Kenneth Starr's Office of Independent Counsel proved that he had stolen money from Hillary Clinton and their other partners at the Rose Law Firm. Starr went after Hubbell hoping that he would turn on the Clintons and eventually provide testimony against them. (The independent counsel and his deputies didn't seem to care much whether such testimony would be truthful or not, so long as it was damaging.)
Despite offers of leniency, Hubbell never provided a word of testimony against the Clintons — but Bossie selectively edited those jailhouse tapes to manufacture incriminating remarks, and then Burton released his deceptive version to the media. Like many of Bossie's tricks, this wasn't terribly clever; he was busted almost immediately. The humiliating and darkly funny tale is told here.
Naturally Bossie went right back on the wingnut gravy train, and evidently is still riding it today. As promised, more on him later.