The March Of Same-Sex Marriage — 2013's Story Of The Year?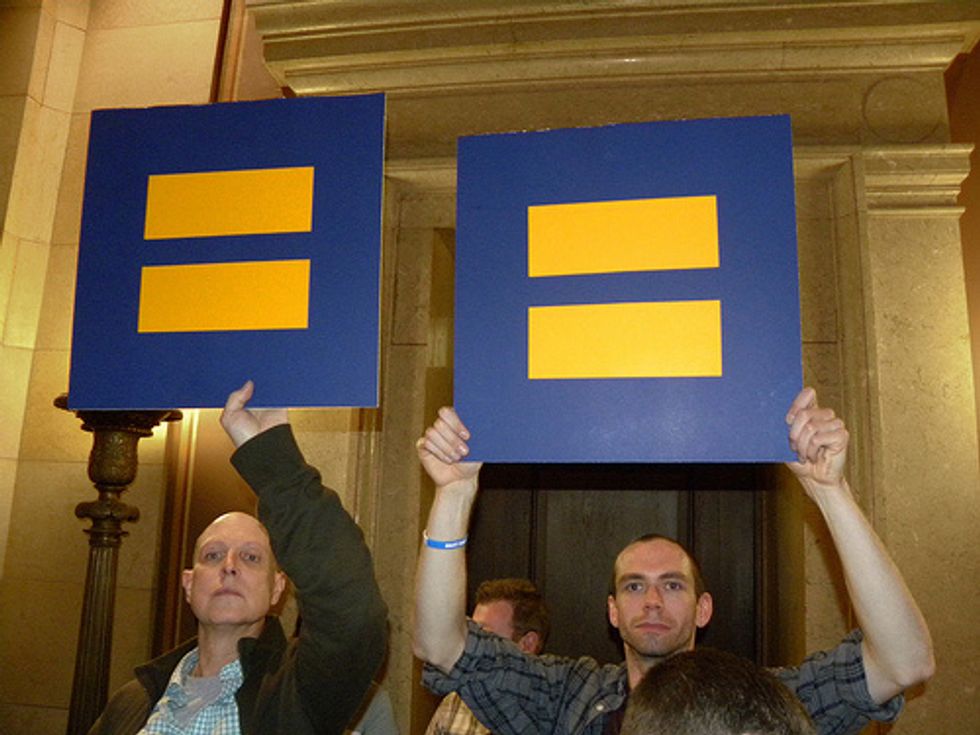 "When considering top stories of 2013, who among us even considered Utah would be issuing same-sex marriage licenses at Christmas time?" The New York Times' Jonathan Weisman tweeted on Thursday afternoon.
U.S. District Judge Robert Shelby's ruling that Utah's Amendment 3 banning same-sex marriage is unconstitutional was announced on the Friday before Christmas. Gay couples lined up throughout the state to be granted marriage licenses, which were being offered in 22 of the state's 29 counties by Monday.
The state's appeal to the 10th Circuit Court of Appeals was rejected on Christmas Eve and is now headed to the Supreme Court, where Justice Sonia Sotomayor will rule on the case that could resolve the huge question left open by the historic decision in United States v. Windsor, which found that same-sex couples could not be denied the federal benefits of marriage: Can a state ban same-sex marriage?
In the dissenting opinion on Windsor, Justice Antonin Scalia noted that it was inevitable that courts would come to the "same conclusion with regard to state laws denying same-sex couples marital status."
"The court agrees with Justice Scalia's interpretation of Windsor…" Shelby noted, likely with his tongue pressed against his cheek.
Since the decision in Windsor this June, the progress for same-sex couples has been sped up by an administration that has evolved from opposing marriage equality to now asserting that it's a right inherent in the Constitution. Married LGBT couples now have equality with heterosexual couples when it comes to immigration, military benefits and Social Security, regardless of which state they reside in.
Despite this progress on the federal level, 32 states still prohibit same-sex marriage and many of those bans, like Utah's Amendment 3, were approved by voters. If Shelby's ruling stands these bans may be as useless as the 17-state anti-miscegenation laws banning interracial marriage that were still in effect when Loving v. Virginia ruled such restrictions were unconstitutional. "Marriage," as Chief Justice Earl Warren wrote in Loving's majority decision, "is one of the 'basic civil rights of man,' fundamental to our very existence and survival."
As same-sex couples lined up for their licenses on Friday, fearful that a court would quickly stay Shelby's decision, Scoutmaster Peter Brownstein and his son Michael, an Eagle Scout, passed out pizza to the soon-to-be newlyweds gathered throughout the Salt Lake City clerk's office.
This June, Brownstein marched along with several other Scout leaders in Utah's Pride Parade. The parade took place just days after the Boy Scouts of America decided to admit openly gay scouts, while maintaining its ban on openly gay leaders. He chose not to wear his Scoutmaster uniform as he marched this summer but he and Michael were in their official khaki shirts on Friday night as they handed out 10 Little Caesar's pizzas.
Soon we'll know if same-sex couples will be able to line up for marriage licenses in all 50 states with their allies cheering them on.  Or if they'll just have to wait.
Photo: Fibonacci Blue via Flickr