The Movie Memo: Veteran Folk Music Stars Are Still Blowin' In the Wind In New Film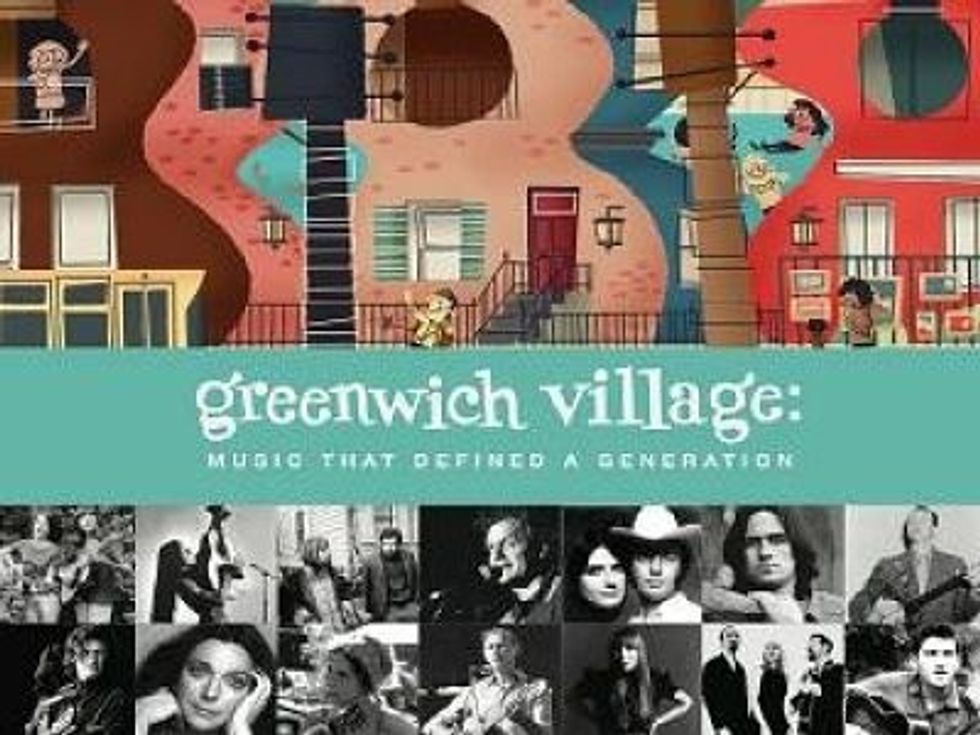 A few things can be anticipated about any film documentary on the folk, protest, and folk/rock music of the 1960's:
-No one under 55 will ever voluntarily see it.  (I'm 56.)
-Some of the performers you remember fondly who survived will have aged in silly or ghastly ways.
-Some of the performers you remember fondly will have died unsurprisingly young.
-The performance clips will be the best part.
-Old Peter Yarrow will be interviewed.  A lot.
-It will be aired on — or should be aired on – PBS.
All of these things are true about director Laura Archibald's Greenwich Village: Music That Defined A Generation, a pleasant, meandering love letter that manages to hit the high points of the genres and the era without ever quite getting under the skin of its subject.  Unlike the best protest songs, it's too gentle.  He's not in it, but this is the Burl Ives of folk music documentaries.
Almost all of the surviving big, medium-sized and cult names are here with new interviews:  Yarrow of course, Pete Seeger as a cheerful reedy oracle, Judy Collins looking disturbingly like Cruella de Vil, Carly and Lucy Simon, Tom Paxton, John Sebastian, Buffy Sainte-Marie, Arlo Guthrie, and Richie Havens too.  They happily, nostalgically, solipsitically, but charmingly reminisce about the musical and political ferment in Greenwich Village a half-century ago, when most of them were young and struggling and carrying around their guitars without guitar cases (because a case just wasn't cool).
Missing from these interviews, however, is the giant:  Bob Dylan, who never shows. Naturally the others tell awestruck stories about him that will be familiar to fans, and he is present in old clips and a sweet early radio interview.  José Feliciano does a wickedly funny singing impression of the young Dylan, a voice full of nose, and old Dylan, a voice full of scraping gears. And "Bobby" spiritually suffuses the film because it is stitched together with Susan Sarandon's narration from A Freewheelin' Time: A Memoir of Greenwich Village by Suze Rotolo, a Dylan ex-girlfriend from that era.
All the stories are lovely, but more than twice-told; one amusing surprise is an anecdote from the Simon Sisters about the Smothers Brothers, later stars of the small screen, that is too good to spoil.  And there is a fascinating account of a forgotten folk music "riot" in Washington Square Park in 1961, when city officials suddenly and inexplicably forbade any more impromptu performances at the fountain on weekends.  The musicians and assorted hipsters showed up to protest and sing; the cops ordered them to stop; the protesters resisted in loud but fairly tame ways (many of the men wearing jackets and ties); and the cops arrested a number of protesters.  Tom Paxton offers a brisk recollection of his own conduct: "(The cops) were taking people downtown.  I didn't want to go downtown.  So I left."  While some evidently believed that this very orderly demonstration presaged the more famous (and more disorderly) protest gatherings of the decade to come, the folk riot seems too parochial in a very hipster way.
Archibald pleads for the social relevance of the folk and protest songbook, but her film never focuses on any subject long enough to connect the musical dots—one minute we're hearing about the arrival of The Mamas and the Papas in New York, the next minute we're learning about The Weavers (and a sign of the movie's attention deficit is that although The Weavers are properly lauded, only Seeger is identified by name).  Lofty claims are made for music and musicians' roles in the civil rights and anti-war movements  — and they are plausible — but how their importance is simply asserted without ever proving or even narrating it.  Says Judy Collins, "That happened. We changed the world."  And that's that.
But the performance clips are indeed golden: There are a lot of them, chosen well, and often rare.  Of course there is Peter, Paul, and Mary with "Blowin' In the Wind," but then there is Seeger and an achingly young and Ivory-Girl pretty Judy Collins singing "Turn, Turn, Turn." Odetta ignites the joint with "Muleskinner Blues," a gamine Joni Mitchell does a crystalline "Night In the City," and a boyish Phil Ochs burns through "I Ain't Marching Anymore."  Sadly, not a single clip is allowed to play all the way through, and all too abruptly the film cuts back to interviews.  Do the producers expect us to buy a soundtrack album?
Still, it is touching to see so many of these music veterans soldiering on — with footage of Seeger at Occupy Wall Street — despite age and changing tastes, the decline of their old nightclubs, and a soulless entertainment industry that has long since discarded them. Greenwich Village is far from an ideal tribute, but seeing it is a fine way to honor the unquestioned talent and social idealism of a musical movement.  Snap your fingers to applaud them, get a cup of strong coffee, and contribute during the pledge breaks.
GREENWICH VILLAGE: MUSIC THAT DEFINED A GENERATION.  Written and Directed by Laura Archibald.  Released by Kino Lorber Inc.  92 min.  Now showing at the IFC Center in Manhattan