The Nation, America's Oldest Weekly Magazine, Endorse Sanders for President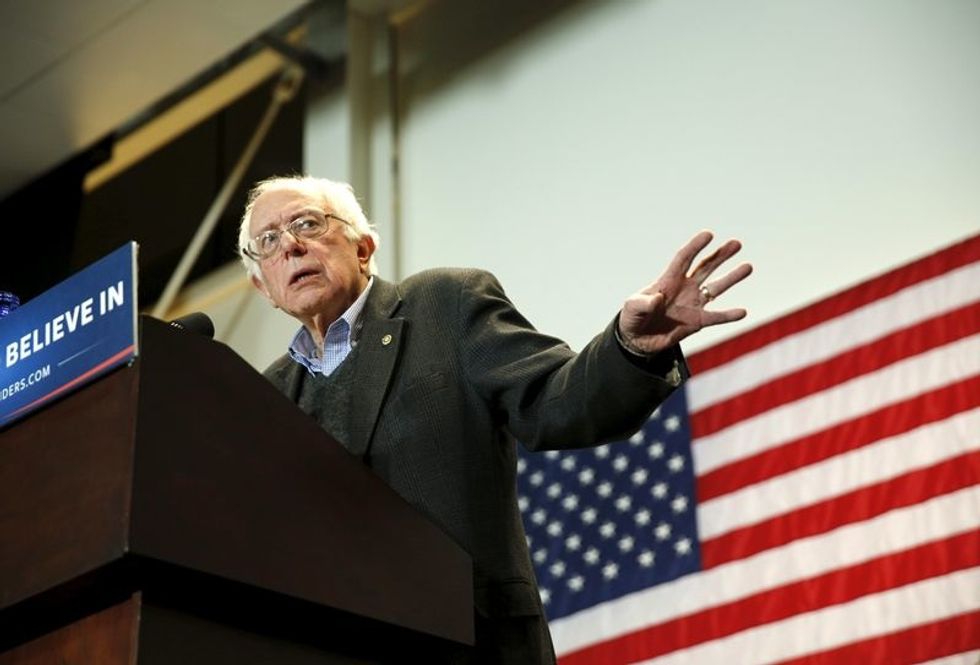 The Nation magazine, America's oldest continuously published weekly magazine, endorsed Democratic candidate Bernie Sander's (I-VT) for President. "He has summoned the people to a 'political revolution,'" they wrote in an editorial published Thursday. "We believe such a revolution is not only possible but necessary—and that's why we're endorsing Bernie Sanders for president."
The editorial outlines numerous reasons to support his bid for the White House. He has attracted a majority of young Americans, historically a politically disinclined demographic, to his political positions. His decades-long defense of progressive causes such as the $15 minimum wage, immigrants' rights, bank regulation, and LGBT rights has attracted legions of young Americans who increasingly support such unapologetically liberal stances. Sanders's endorsement is just the third time in 150 years that the publication has endorsed a candidate, the first two being Jesse Jackson in 1988 and Barack Obama in 2008.
The editorial made no effort to conceal the fact that Sanders's path to the White House is a dubious and fraught one. "His economic-populist message has resonated with many progressives and young voters, but he has yet to marshal deep support among the African-American, Latino, and Asian-American voters who form core constituencies of the Democratic Party," said the editorial. But his support has been growing steadily. He has maintained a six point lead over Hillary Clinton, once the presumed Democratic presidential candidate, in New Hampshire. And in Iowa, he has narrowed Clinton's lead from 34 points to a mere four.
That is not to say that The Nation's editors dislike Clinton. They readily admit they would prefer her to any of the "extremists running for the GOP nomination." She has unrivaled experience, and is incredibly intelligent and perceptive, they write. During the campaign, she has been lured left to champion of many of the same causes that Sanders brought to the fore. "She has responded to the populist temper of the times: questioning the sort of free-trade deals that Bill Clinton and Barack Obama have championed; calling for reforms on Wall Street and tax increases on the wealthy; courageously defending Planned Parenthood; challenging the National Rifle Association; and supporting trade unions," the editorial said.
In a piece endorsing Clinton, Katha Pollitt, one of The Nation's most prominent columnists, wrote about the seeming apathy of even wealthy, educated, white feminists to Clinton's campaign. "You would think these women, of all people, would be jumping for joy at the prospect of someone so like themselves winning the White House." But she still laid out a convincing argument for supporting Clinton.
It seems clear that the former secretary of state is still the best candidate to defeat the Republicans in the general election, given the numerous posts she's held during her decades in government and the fact that Sanders is hampered by his self-applied label as a "democratic socialist." She also would be the country's first woman president, although it is not so unusual to have a female world leader today. Socially conservative countries like Pakistan, Bangladesh, and the Philippines have previously had female heads of state. She would also be campaigning as a feminist at a time when the movement has gained newfound attention. According to a poll done by Vox, 78 percent of respondents said they believe in social, political, legal and economic equality between the sexes. A further 85 percent said they believe in equality for women.
But Clinton's associations with big banks and Super PAC funding have left a sour taste in the mouths of Democrats looking for money to wield less influence in the country's politics. The Nation editorial board wrote that "money in politics doesn't widen debate; rather, it narrows the range of possibility. While Sanders understands this, we fear that his chief rival for the Democratic nomination does not."
Sanders's rising popularity and growing list of endorsements so close to the start of the primary season have surprised the political establishment. Clinton is now ramping up criticisms of Sanders's platform in an effort to remain ahead in Iowa. But with The Nation's endorsement, a rare event, Sanders and his supporters have already made their mark on the Democratic race.