The NRA And Prominent Republicans Are… Considering Gun Control?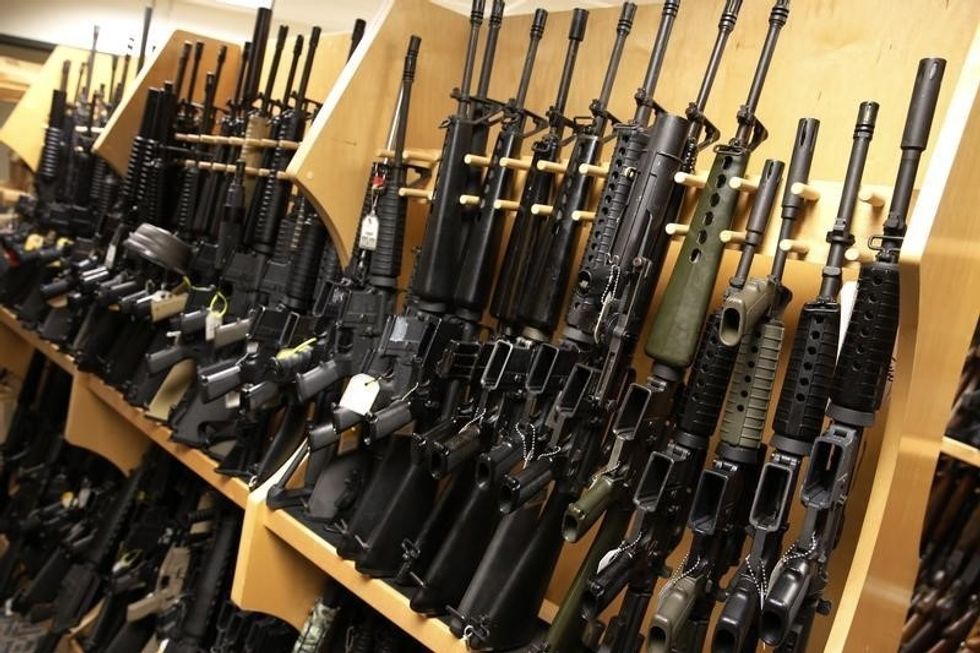 Faced with the tragic killing of 49 people in Orlando's Pulse nightclub, notable conservatives seem to be running out of excuses for why we need less gun control.
Bill O'Reilly surprised many on Tuesday when he said that new laws were "definitely needed" as a response to the Orlando shooting. After going after Democrats for not being tough enough of terrorism, O'Reilly conceded that gun crime is a problem in the U.S., and that guns are too easy to get.
"That's the fact. So let's deal with it. We all have the right to bear arms, but we don't have the right to buy and maintain mortars. Even if you feel threatened by gangsters or a New World Order. No bazookas, no Sherman tanks, no hand grenades."
"The FBI and other federal agencies need the power to stop suspected terrorists or other evildoers from buying weapons," he said. "That law needs to be very precise."
O'Reilly had a much different opinion last January, when President Obama announced a gun control executive action after the San Bernardino attack. "The truth is, terrorists are not going to submit themselves to background checks — neither are dangerous felons or insane people," he said in his January 6 program. "They are not going to sign any paper when they buy a gun. Do we all get that? They will buy their guns on the black market. And no registration law will prevent that."
Also on Tuesday, O'Reilly's fellow Fox News host Gretchen Carlson had a change of heart about gun control in the aftermath of the Orlando tragedy.
"Do we need AR-15s to hunt and kill deer?" Carlson asked. "Do we need them to protect our families? Yes, I'm in favor of people being able to carry. I think some of these mass shootings would have been less deadly if that were the case. But I'm also with the majority today taking a stand. Can't we hold true the sanctity of the Second Amendment while still having common sense?"
Perhaps most shocking, the National Rifle Association put out a statement on Wednesday saying the organization agrees that terrorists should not be allowed to buy firearms, and that they are "happy" to meet with the Republican presumptive nominee Donald Trump to discuss the issue.
Oh yeah: Donald Trump announced he was meeting with the NRA, the strongest gun lobby in the world, to discuss keeping suspected militants away from guns.
I will be meeting with the NRA, who has endorsed me, about not allowing people on the terrorist watch list, or the no fly list, to buy guns.

— Donald J. Trump (@realDonaldTrump) June 15, 2016
"Anyone on a terror watchlist who tries to buy a gun should be thoroughly investigated by the FBI and the sale delayed while the investigation is ongoing. If an investigation uncovers evidence of terrorist activity or involvement, the government should be allowed to immediately go to court, block the sale, and arrest the terrorist," the NRA's statement read.
The NRA tweeted that this statement did not represent a change in their position, and that "due process protections should be put in place that allow law-abiding Americans who are wrongly put on a watchlist to be removed."
Photo: AR-15 rifles line a shelf in the gun library at the U.S. Bureau of Alcohol, Tobacco and Firearms National Tracing Center in Martinsburg, West Virginia December 15, 2015. REUTERS/Jonathan Ernst