The Other Democrats: Martin O'Malley, Former Maryland Governor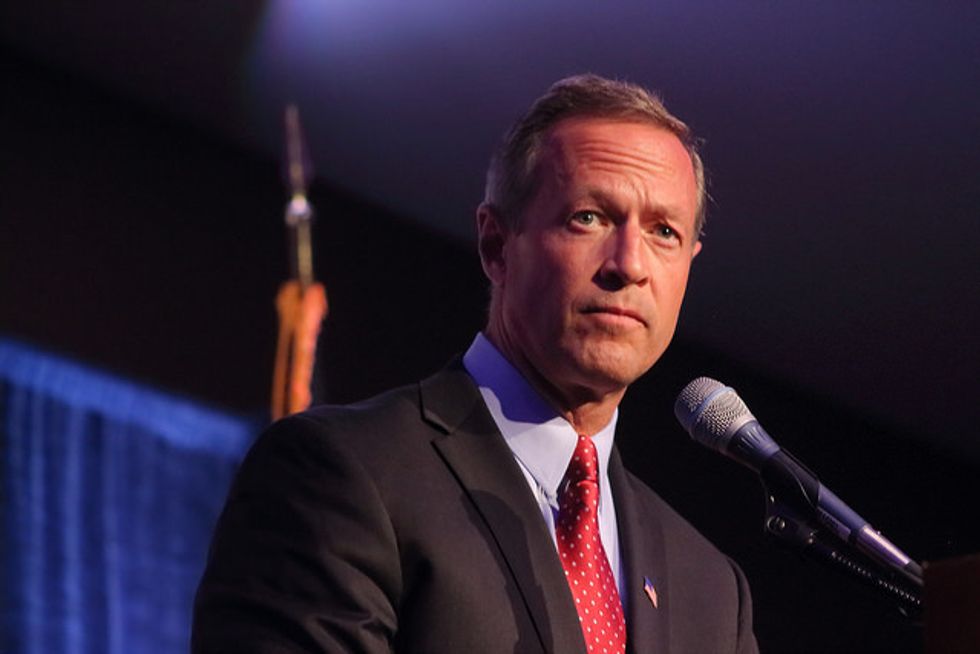 Martin O'Malley, the former governor of Maryland and former mayor of Baltimore, entered the race in May on a wave of high expectation that the young Democrat could be the candidate to challenge Hillary Clinton from the left. Throughout his career, his liberal ideals have made him an object of admiration and a target for skepticism. But Bernie Sanders, the self-proclaimed Democratic Socialist has seized that progressive groundswell that might have been his, leaving O'Malley at a dismal 0.4 in the polls. (The one area where O'Malley has been hitting Sanders hard is the Vermont senator's record on guns.)
For those who may not be familiar with O'Malley, for whom Tuesday night's debate represents perhaps his last significant opportunity to make an impression on voters, here's a primer on the man and his politics.
1. He's been a hotshot in politics for a long time.
Esquire named him "The Best Young Mayor in the Country" in 2002, and three years later, Time called him one of America's "Top 5 Big City Mayors." That same year, BusinessWeek said he, along with Barack Obama and Rahm Emanuel, was one of five new stars of the Democratic Party.
2. He's not Tommy Carcetti.
Tommy Carcetti, the fictional Baltimore councilman who eventually becomes mayor and then governor in the iconic show The Wire, might be how many people outside Maryland first heard of Martin O'Malley. While there are some parallels — most notably when it comes to O'Malley's record on crime — many elements of Carcetti are very clearly fictional, and have even contributed to negative rumors during O'Malley's first campaign for governor.
3. He's had national ambitions for a long time.
Back in 2007, just a couple of months into his tenure as governor, his bigger aspirations were spelled out in a Washington Post piece: "It's the worst-kept secret in Maryland that the governor has national ambitions," said House Minority Leader Anthony J. O'Donnell, while Senate president Thomas V. Mike Miller Jr. said, "I think it comes into play in everything he does, quite frankly. He's very much like Bill Clinton in being slow and deliberative and calculating in everything he does."
Even 10 years earlier, when he was a city councilman, there was speculation about what he would do next.
4. He's a longtime supporter of the Clintons. He's even jammed with them.
A proud Irish-Catholic (he graduated from Catholic University), he spent many years performing in a Celtic rock band as an extracurricular activity outside his government work. He played guitar on a presidential delegation returning from Northern Ireland in 2000, which cemented his relationship with the Clintons (Bill being a musician himself). In fact, in an interesting twist, he was one of the first to endorse Hillary Clinton in 2008.
5. He's against the death penalty.
Right after taking office as governor, he testified to the Maryland legislature that the death penalty is "inherently unjust" and an affront to "individual human dignity," although most of his arguments were pragmatic, rather than moral, in nature.
He told Rachel Maddow in 2009, "Time will prove that the death penalty is inconsistent with sound policy. It's expensive. It does not work. It is not a deterrent. It takes money away from things that do save lives. …I believe it's fundamentally at odds with some of the most important founding principles of this republic, namely our belief in the dignity of every individual."
During his tenure, Maryland repealed the death penalty.
6. Although he's a devout Catholic, he's deviated from some fundamental Catholic positions, like on abortion and homosexuality.
This has angered some Catholics, with one calling on him to either renounce his faith and leave the Church or call himself "a dissenting Catholic" and abstain from communion.
Yet O'Malley doesn't see any contradictions in his beliefs: "I found that the passage of marriage equality actually squares with the most important social teachings of my faith, which is to believe in the dignity of every person, and to believe in our own responsibility to advance the common good. Part of that advancement means changing laws when they are unjust, when they are not applied equally to all people," he told The Des Moines Register.
7. He passed the DREAM Act. 
O'Malley has long been a supporter of immigrant rights, and he has referred to undocumented immigrants as "new Americans."
In 2011, he signed legislation that let Maryland residents get in-state tuition regardless of their immigration status, as long as they met certain requirements. Despite a Republican-led state referendum on the issue, residents approved the DREAM Act that O'Malley championed.
"By speaking in humanitarian terms, O'Malley is helping to reframe the discussion, and forcing fellow Democrats to clarify their positions," wrote John Nichols in The Nation.
"We are not a country that should send children away and send them back to certain death," O'Malley said at a 2014 National Governors Association meeting in Nashville. "I believe that we should be guided by the greatest power we have as a people, and that is the power of our principles. Through all of our great world religions, we are told that hospitality to strangers is an essential human dignity."
Photo: A guitar-playing, devout Irish Catholic who is favor of abortion and gay marriage, abolishing the death penalty, and passed the DREAM Act. Meet Martin O'Malley. Gregory Hauenstein via Flickr
This is an updated version of a post that originally appeared on May 29, 2015.