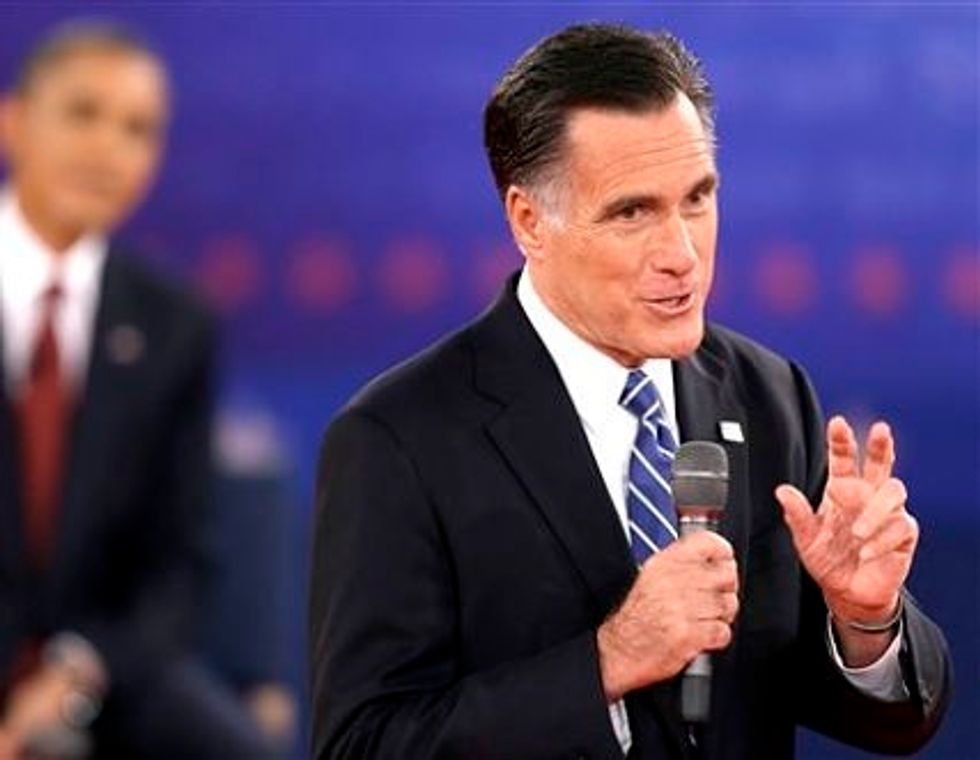 The guys who thought they were going to win the Iraq War, the guys who still think George W. Bush won in 2000, the guys who still think we could have won in Vietnam… these guys are never going to admit that Mitt Romney lost the second and third debates.
And this isn't just their delusion; it's their strategy.
New York Magazine's Jonathan Chait points out that Karl Rove bluffed his way through the end of the 2000 election claiming the momentum, though in the end it was only the Supreme Court that mattered.
Liberals were beside themselves after the first debate when President Obama didn't perform as they expected. MSNBC had to hire grief counselors.
Charles Krauthammer, speaking on Fox News after Monday's debate, recited comments he'd obviously written before the debate, likely with help from the Romney staff. Fox News—firing on all cylinders when tax breaks for the millionaires are on the line—has a Republican infallibility doctrine. And the "Republican Brain" loves this sense of order, this predictability. Of course we won: We're Republicans.
This makes it easy to create your own facts, and easy to execute the plan of smelling like a winner. When it comes down to swing voters, that's all that matters. The defining trait of a swing voter is the desire to vote for the winner. In this way, their psyche resembles a Republicans.
There are two types of Republicans: bosses and the people who believe that by voting like the boss will one day make them the boss (or loved by the boss).
Republicans say, "You're a winner because you vote for winners." They say this after George W. Bush clearly had the worst presidency in a century. They said it two elections after a Republican president resigned in shame. If Nero were a Republican, they'd say, "So what? The guy liked to fiddle."
They're going to say they won when they lost, no matter what. Studies show that arguing with right-wingers only makes them more certain. So forget that. Instead, we should imitate them.
You know the president won that debate. So just say it. And even if he lost, say it anyway. Honesty just gets you more Republicans in power. And what good is that?
Photo credit: AP Photo/David Goldman, File