The Right-Wing Media's Government Takeover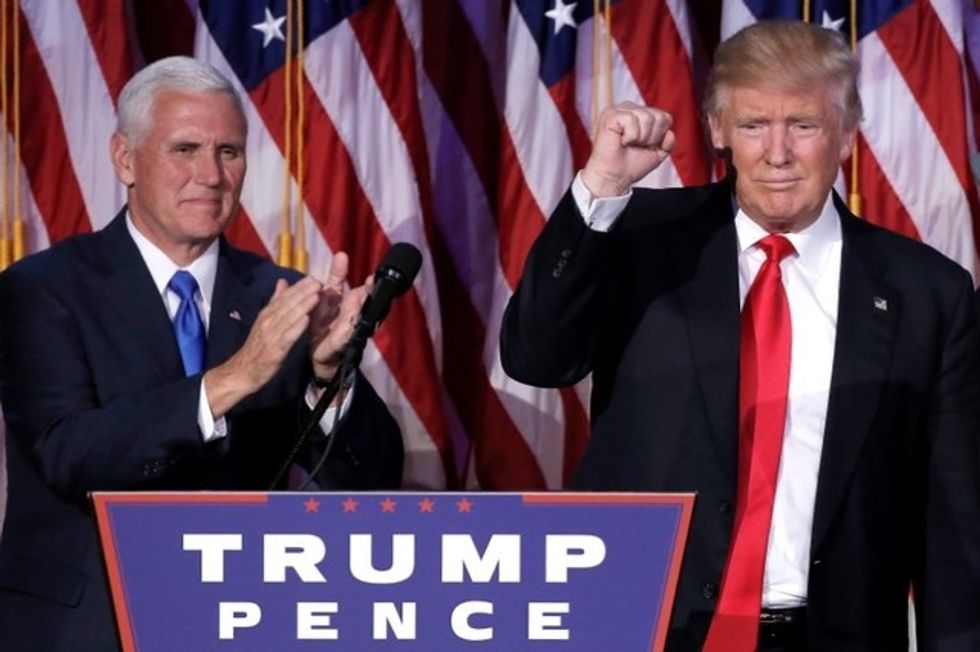 Reprinted with permission from Media Matters. 
President-elect Donald Trump has picked — or considered — nearly a dozen people who have worked in right-wing media, including talk radio, right-wing news sites, Fox News, and conservative newspapers, to fill his administration. And Trump himself made weekly guest appearances on Fox for a number of years while his vice president used to host a conservative talk radio show.
Donald Trump: President
Before he ran for president, Donald Trump had weekly segments on Fox News' morning show Fox & Friends for years, where he repeatedly pushed birther claims against President Obama, and a weekly segment with CNBC's Squawk Box in 2012. [Media Matters, 9/12/16]
Mike Pence: Vice President
Before he became governor of Indiana and then Trump's running mate, Pence served in the House of Representatives for six terms and worked as a conservative talk radio host. In a 2014 speech to "a gathering of the Radio Advertising Bureau and the National Association of Broadcasters," Pence reportedly said, "I hosted a talk radio show in the early days of that format. I liked to say, 'I'm a conservative, but I'm not [in] a bad mood about it.' I was kind of like Rush Limbaugh on decaf." [Media Matters, 7/14/16]
Stephen Bannon: White House Chief Counselor And Senior Strategist
Bannon, who was the Trump campaign CEO and was named as Trump's White House chief counselor and senior strategist, ran the right-wing news site Breitbart.com, which he called "the platform of the 'alt-right,'" referring to the fringe movement that pushes white nationalism. Bannon also hosted the SiriusXM radio show Breitbart News Daily. [Media Matters, 11/13/16, 8/25/16; The Washington Post, 11/15/16]
Ben Carson: Secretary Of Housing And Urban Development
Carson, whom Trump has named to run the Department of Housing and Urban Development, was praised by conservative media for talking up conservative policies at the 2013 National Prayer Breakfast with President Obama. That July, he became a columnist for the conservative Washington Times, and that October, he was hired by Fox News as a contributor. [Media Matters, 12/5/16, 6/4/15]
Michael Flynn: National Security Adviser
Flynn frequently appeared as a guest on Fox, where he pushed anti-Islamic views. Politico reported that his frequent Fox appearances resulted in several Republican presidential candidates reaching out to him for advice throughout the presidential campaign. Trump named Flynn as his pick for national security adviser on November 18. [Media Matters, 11/18/16]
K.T. McFarland: Deputy National Security Adviser
McFarland worked as a Fox News analyst for years. K.T. McFarland, whom Trump named as his deputy national security adviser, was a national security analyst for Fox, where she repeatedly pushed for war with Iran. [Media Matters, 11/26/16; Deadline Hollywood, 11/25/16]
Elaine Chao: Transportation Secretary
Trump's pick to run the Department of Transportation, Chao was a Fox contributor after serving as President George W. Bush's secretary of labor. [FoxNews.com, 11/29/16]
Andy Puzder: Labor Secretary
Fast food CEO Andy Puzder, Trump's pick for secretary of labor, writes op-eds and makes TV appearances to criticize wage increases and regulations that increase salaries. He has made appearances on Fox News and has written op-eds for The Wall Street Journal, The Hill, and Forbes. [Media Matters, 11/17/16, 5/19/16, 6/24/15]
John Bolton: Potential Secretary Of State
John Bolton, who is reportedly under consideration to be Trump's secretary of state, is a longtime Fox contributor who also repeatedly pushed for war with Iran and considered using his TV platform to run for president himself in early 2015. [Media Matters, 11/16/16, 1/23/15]
Laura Ingraham: Potential Press Secretary
Laura Ingraham has been reportedly under consideration by Trump to serve as his press secretary since November 12. Ingraham is a longtime Fox contributor and talk radio host who has repeatedly singled out Hispanic media outlets and journalists for criticism and ridicule. She was also an ABC News contributor and founded the right-wing news site LifeZette in 2015. [Media Matters, 11/13/16, 4/13/14; Politico, 4/1/15]
Monica Crowley: Potential Press Secretary
Crowley, also reportedly being considered for press secretary by Trump, is a Fox contributor who frequently pushes conspiracy theories on the air. She also works as a Washington Times columnist. [Media Matters, 11/28/16; The Hill, 11/25/16]
Eric Bolling: Potential Commerce Department Hire
Bolling, who has reportedly been in discussion with the Trump team for a position in the Department of Commerce, currently works as one of the co-hosts of Fox's The Five. He previously had his own show on Fox Business, and he has frequently pushed racism, anti-Muslim views, and conspiracy theories on Fox and Fox Business. [Media Matters, 11/21/16]
IMAGE: U.S. President-elect Donald Trump gestures as Vice President-elect Mike Pence applauds (L) at their election night rally in Manhattan, New York, U.S., November 9, 2016. REUTERS/Mike Segar