The Sandy Hook Lawsuit Is Bad News For Bernie Sanders In Connecticut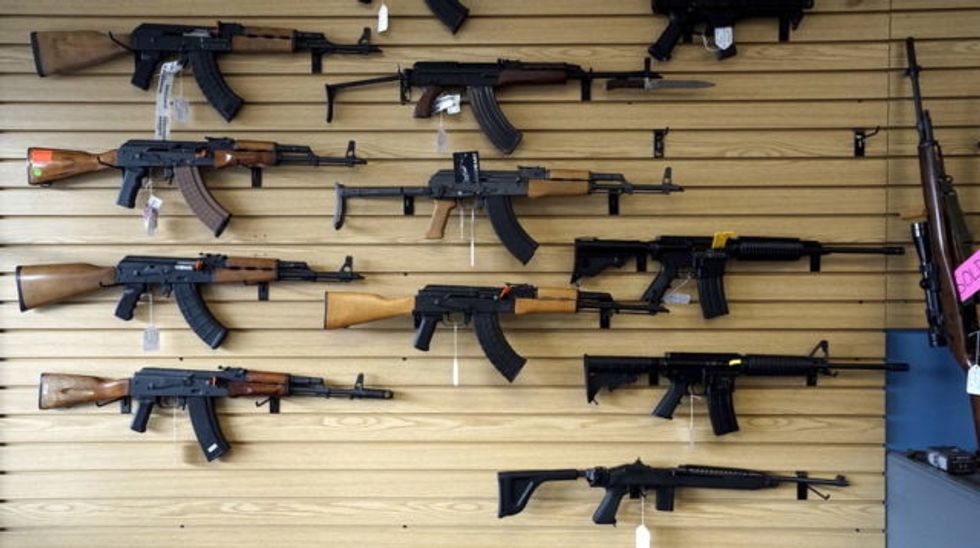 Update, 4/28/2016: This article was edited to reflect that Remington makes the "AR-15" rifle, not the "AK-15".
Only a few days ago, conventional wisdom had it that Democratic frontrunner Hillary Clinton would be cleaning Senator Bernie Sanders's clock in tonight's Connecticut primary after her big win in New York's presidential nomination. But a poll out yesterday showed the two rivals in a virtual dead heat, despite Sanders's views on gun control, which pundits had claimed would hurt him badly in the ultra blue Nutmeg state.
Wounds from the 2012 Sandy Hook massacre of school children are still raw here. Sanders, the self-described democratic socialist from Vermont, took a serious hit in the media even before he told the New York Daily News editorial board that he opposed a lawsuit filed by nine Sandy Hook families of victims and a surviving teacher against gun manufacturers like Bushmasters Firearms and Remington who make the AR-15 semi-automatic assault rifle. The weapon was used by Adam Lanza in his killing spree at the elementary school in Newtown that claimed the lives of 20 first grade students and six adults in five minutes.
Sanders had voted for a 2005 federal shield law that generally provides immunity to gun manufacturers against such lawsuits, claiming in a Michigan debate that gun companies and dealers would go out of business if they were sued for selling guns legally to people who might later use them for criminal acts. It was a position that drew an impassioned response by Mark Braden and his wife Jackie Braden, whose 7-year-old son Daniel was killed by Lanza at Sandy Hook. They are among the plaintiffs who sued the gun manufacturers, dealers and distributors in an amended complaint filed October 29, 2015.
"Sanders suggested that the 'point' of our case is to hold Remington Arms Co. liable simply because one of its guns was used to commit mass murder. With all due respect, this is simplistic and wrong," the couple wrote in an April 19 Op Ed piece in the Washington Post.
"This case is about a particular weapon, Remington's Bushmaster AR-15, and its sale to a particular market: civilians. It is not about handguns or hunting rifles, and the success of our lawsuit would not mean the end of firearm manufacturing in this country, as Sanders warned. This case is about the AR-15 because the AR-15 is not an ordinary weapon; it was designed and manufactured for the military to increase casualties in combat. The AR-15 is to guns what a tank is to cars: uniquely deadly and suitable for specialized use only."
More recently, Sanders has said that the plaintiffs "have the right to sue, and I support them and anyone else who wants the right to sue."
Ron Schurin, an associate political science professor at the University of Connecticut, said yesterday morning that he didn't believe Sanders had much of chance in Connecticut against Hillary Clinton who has made gun safety a signature issue in her campaign. He added however, that her "margin of victory could be less than 20 percent."
Hours later, in another phone conversation with The National Memo, he cited the aforementioned poll and said the race had tightened, with only a two percentage point lead for Clinton. "But that's just one poll. We'll see," he said.
Schurin noted that the former Secretary of State, who was New York's junior senator for eight years, had the backing of Connecticut's Democratic Party establishment, from Gov. Dannel Malloy "on down the line." He said her record on gun safety over the years dates back to her husband Bill Clinton's support of the Brady Bill on background checks when he was president.
"She ran a commercial here featuring the daughter of the Sandy Hook principal who was killed," he said, referring to Erica Smegielski and her slain mother Dawn Hochsprang.
By contrast, "Sanders has a mixed record" on gun safety, Schurin observed, adding that Malloy only survived his 2010 bid for reelection against Tom Foley, former U.S. Ambassador to Ireland, because of his strong advocacy for strict gun control.
Malloy, a Clinton surrogate who chairs the powerful Democratic Governors Association, attacked Sanders for voting against the Brady Bill five times in an MSNBC interview with Chris Matthews. He even accused the leftist senator of "protecting an industry that is designed to kill people."
Sanders's supporters in Connecticut repeat the mantra that their candidate is no friend of the National Rifle Association and has voted to ban assault weapons.  "I think Senator Sanders has made it loud and clear that he has a D-minus rating from the NRA," said attorney Audrey Blondin, a longtime member of Connecticut's State Central Democratic Committee and owner of a mother-and-daughter "all woman" law practice in Torrington.
She believes Sanders will "do very well" among Democratic voters, noting Connecticut has a history of support for progressive politicians. These include Gov. Jerry Brown of California who beat Bill Clinton in the Democratic primary for president in 1992 and then Senator Barack Obama who prevailed over Hillary Clinton in the 2008 primary here.
As for the lawsuit filed by the Sandy Hook families, Blondin said she didn't know enough about it to comment. But the litigation could dog the Sanders campaign. Connecticut Superior Court Judge Barbara Bellis denied a motion to dismiss the lawsuit, Soto et al versus Bushmaster, on April 19 in Bridgeport, setting a date of May 5 to rule on whether discovery can move forward to a potential trial set for April 3, 2018. A spokesperson for the gun companies, who now operate under a corporate entity called Freedom Group, Inc., did not respond to a request to interview defense lawyers.
But legal scholars say that such cases have little chance of success since passage by Congress of the 2005 federal shield law, known as the Protection of Lawful Commerce Act. Hillary Clinton has vowed to lobby for its repeal if she becomes president.
Eugene Volokh, a Gary T. Schwartz professor of law at UCLA who teaches a seminar on regulations of firearms and writes a blog called "The Volokh Conspiracy," for the Washington Post, said the defendants' first motion to dismiss the lawsuit only challenged the Connecticut court's jurisdiction to hear a case that centers on a federal statute.
"And she said, 'We do,' because the statute's defense against lawsuits doesn't strip the court of jurisdiction," Volokh said. "It's in the news because she said we have jurisdiction." He noted that the defendants in the case would get something "more substantive" when their motion to strike is heard.
Volokh noted that The Protection of Lawful Commerce Act doesn't totally protect gun manufacturers and dealers from lawsuits. "It's true that plaintiffs lose these claims routinely because the statute is so clear. However, immunity is not unlimited. For example, if you sell or lend a devise to someone who is likely to use it unreasonably, you can be held liable. It's like lending your car to someone you know drinks and has been in seven accidents over the years. All guns are dangerous, just like all cars are dangerous."
The legal concept is called "negligent entrustment." Volokh noted that his sense of the people who support lawsuits of this kind is that they "think it will highlight the issues."
Photo: A selection of AK and AR rifles are seen for sale at the Pony Express Firearms shop in Parker, Colorado December 7, 2015. REUTERS/Rick Wilking