The Simpson-Bowles Consensus Isn't Common Sense. It's Nonsense.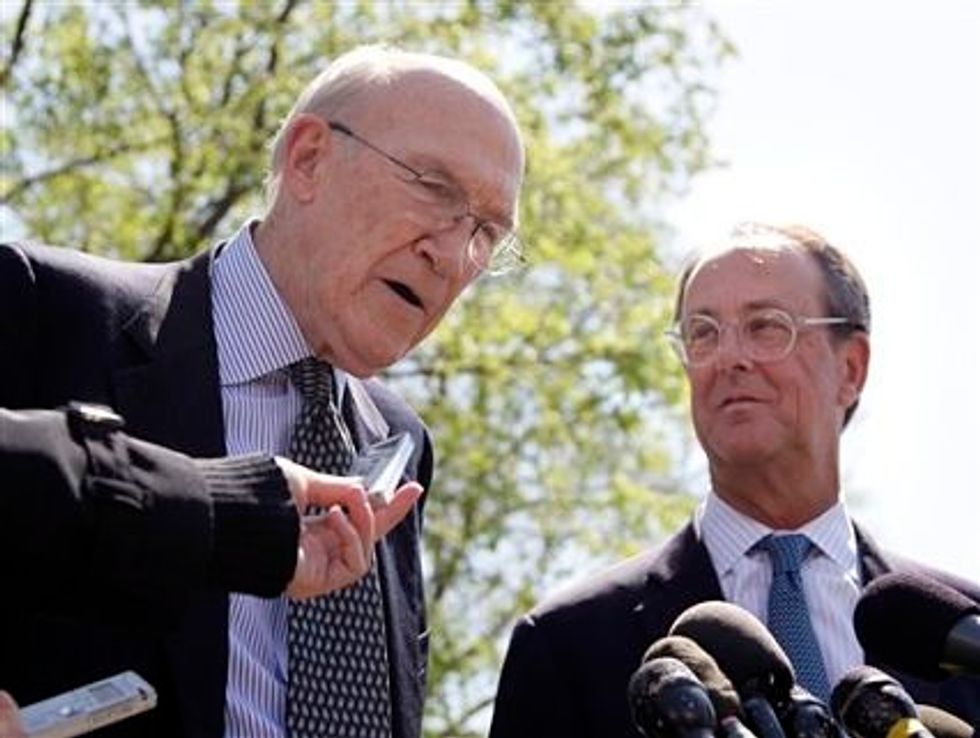 Capping federal spending at 21 percent of GDP is arbitrary, shortsighted, and wrong for America.
The Simpson-Bowles budget-balancing plan seems to have become the common-sense standard for dealing with America's future budget deficits. I'd say this move toward the right is dangerous to the future of the nation and essentially cruel—far more dangerous than the level of the deficit over the next 15 years. The commission, formally known as the Commission on Fiscal Responsibility and Reform, appointed by President Obama, achieves its deficit reduction by reducing government spending to do two-thirds of the job and raising taxes to do only one-third of the job. Even 50-50 would not be fair in such a low-tax nation. The commission proposed cuts in Social Security benefits of 15 percent for medium earners, for example.
But easily the most shortsighted objective is to hold federal spending to 21 percent of Gross Domestic Product into the future. How did they get this number? It is roughly the average level of federal spending since 1970. This is not a reasonable standard—it is not even a way to think about the issue. So where did the idea originally come from? The answer: the right-wing Heritage Foundation.
Now our most respected elder statesmen of the economy, Paul Volcker and Warren Buffett, are endorsing the 21-percent level in recent editorials. It may have been missed in Buffett's piece, which endorsed a 30-percent tax on the rich, and correctly so. But he said it plain as day: "Our government's goal should be to…spend about 21 percent of GDP."
Oh my. Did they do any analysis at all about what that level would mean for retired, sick, and middle-income-to-poor Americans? Did it occur to them how vastly the U.S. economy has changed over those years? There are many more retirees, health care is more expensive and more extensive, the U.S. has chosen to fight costly wars, and its infrastructure and educational needs are dire.
The words of the wise oracles should not be taken seriously. One wonders whether Volcker would have run the Federal Reserve or Buffett picked stock on such skimpy analysis. They present no evidence, nor do I think they have done any research or even reading that shows that a 21-percent spending level will make the economy more efficient than, say, a 24-percent level of spending.
And they beat their chests as the exemplars of responsibility in an otherwise irresponsible America. Moreover, Pete Peterson, of course, is now financing a road tour for Bowles and Simpson to fight their great moral battle to get America's budget under control—as a reminder, not by raising taxes significantly but by cutting social entitlements significantly. America cannot be run by men like these. America's great moral battle is for social justice and adequate federal investment.
The heroic and correct analysis of the Simpson-Bowles plan has been done by Paul Van de Water of the Center on Budget and Policy Priorities. Some think of the CBPP as left-wing, but it is only mildly so. It makes deficit reduction a top priority, and its analysis is typically excellent.
Van de Water concludes that keeping federal spending at 21 percent of GDP would require deep cuts in Social Security, Medicare, and Medicaid over time, as well as virtually all other federal programs. He wrote this before the Budget Control Act and the sequester we now face, but its principles still apply.
Moreover, he reminds us that the Brookings Institution held panels on the future budget, and in general, centrists on those panels agreed that spending as a percent of GDP should be 23 to 25 percent 20 years from now. He thinks the Simpson-Bowles plan is simply wrong for America. In truth, Social Security is inadequate today, and Medicaid tragically so. The latter in particular needs building up.
And then the 21-percenters generally have the audacity to demand more investment in education and infrastructure. How?
Centrists had better get together and remind America, with analysis, pragmatism, and a keen sense of justice and America's future, how deeply wrongheaded most of the basic principles of Simpson-Bowles are. This thinking has led to today's fiscal cliff, and as a blueprint for the future it is both damaging to the economy and cruel for most Americans.
Roosevelt Institute Senior Fellow Jeff Madrick is the Director of the Roosevelt Institute's Rediscovering Government initiative and author of Age of Greed.
Cross-posted from Rediscovering Government.
The Roosevelt Institute is a non-profit organization devoted to carrying forward the legacy and values of Franklin and Eleanor Roosevelt.
Photo credit: AP/Carolyn Kaster, File