The War On Woman: McConnell Says of Hillary, 'Gender Card Alone Is Not Enough'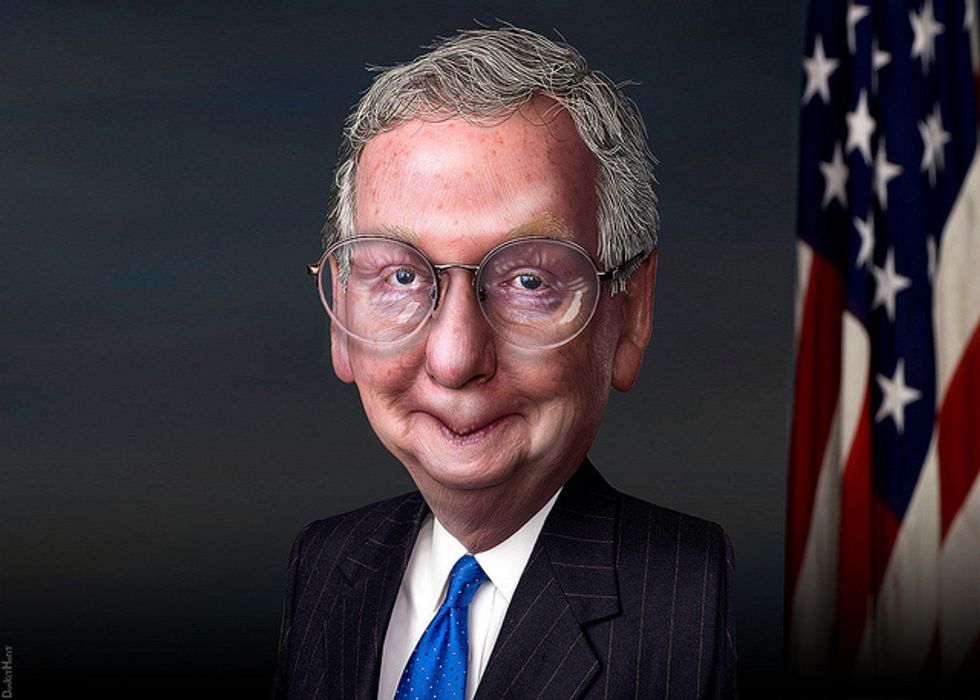 Misogynistic attacks on Hillary Clinton have been the norm for as long as she's been in the public eye. From her fashion sense to her hairstyles to her public displays of emotion, endless criticism has been leveled at Clinton that few male politicians have had to endure. Sadly, the sexist shade isn't only thrown by those on the right, nor is it limited to men. Male or female, right or left, Hillary always seems to be in the crosshairs of those who make comments about her that they'd never make about a man. Welcome to "The War on Woman."
---
"I don't think arguing vote for me because I'm a woman is enough," proclaimed Senate Majority Leader Mitch McConnell (R-KY), at a local chamber of commerce event. And he wasn't just talking about Alison Lundergan Grimes, the Kentucky Secretary of State he defeated last year to retain his Senate seat. Oh, no. He was referring to Hillary Clinton, former Secretary of State… of the United States of America. You know, the single most powerful and influential diplomat in the world? Yeah, that Hillary Clinton, the one currently leading the field in the race for the Democratic presidential nomination.
"You may recall my election last year," said McConnell. "I beat my opponent with women in my race because the gender card alone is not enough. I'm sure there are millions of Americans who would love to have a woman president. But a woman president to do what?"
Meaning what, exactly? That if a man is elected president, he will of course have oodles of fancy, important, president-y things to do, but a woman would be at a loose end? Gee, where would a former lawyer, First Lady, Secretary of State, senator, and two-time presidential candidate even begin? What could Hillary Clinton possibly know about legislation, diplomacy, economics, or foreign policy, for crying out loud? She's just a woman! She has cookies to bake, socks to darn, and a husband to obey. Presidenting is man's work!
Welp, that's pretty much how the Democratic frontrunner reacted when a reporter from the Huffington Postasked her in a Facebook Q&A what she made of McConnell's sexist slight:
Wow. If that's what he said, Mitch McConnell really doesn't get it. There is a gender card being played in this campaign. It's played every time Republicans vote against giving women equal pay, deny families access to affordable child care or family leave, refuse to let women make decisions about their health or have access to free contraception. These aren't just women's issues, they are economic issues that drive growth and affect all Americans. Anyone who doesn't get that doesn't understand what our lives are like. -H
Clinton's comment about equal pay is especially potent, considering that last year McConnell reduced the Paycheck Fairness Act to a "bizarre obsession" that's part of the Democrats' "never-ending political road show." Equal pay for equal work, insisted McConnell, is nothing more than Democrats wanting to "blow a few kisses to their powerful pals on the left."
If by "powerful pals," Senator, you mean women… you betcha.
Illustration: DonkeyHotey