The Week In Right-Wing Stupid
@FAWFULFAN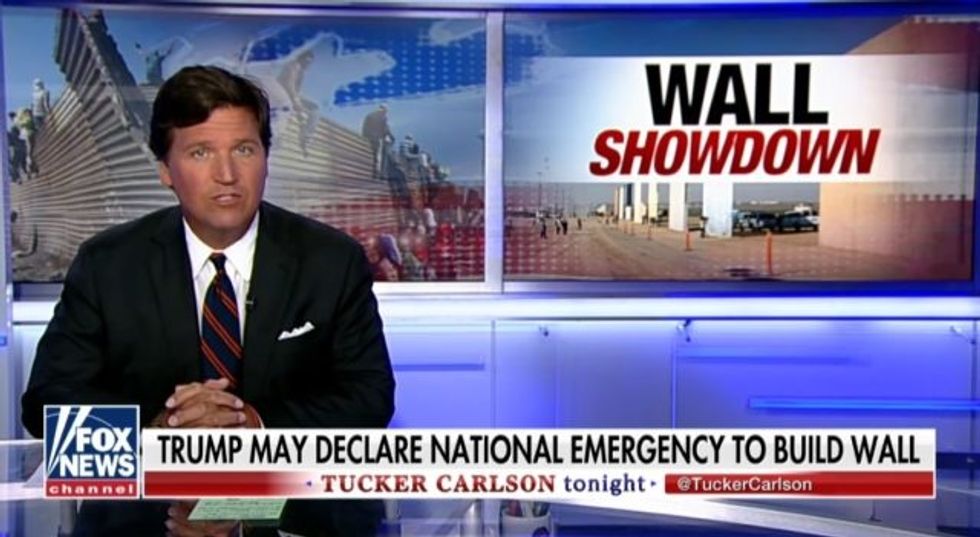 Reprinted with permission from AlterNet.
Tucker Carlson warns women being paid more than men will destroy society.
Fox News' Tucker Carlson is by now well-known for his on-air appeals to white nationalism. Last month, his remarks that immigrants make America "poorer and dirtier" have caused him to lose a raft of advertisers in recent weeks. But he also has a serious problem with women — and according to his broadcast on Wednesday, rising pay for women will lead to "men in decline."
Carlson claimed that because "male-dominated" industries like manufacturing are in decline in some parts of the country, but schools, hospitals, and other places that employ large numbers of women are in as high demand as ever, "in many areas, women suddenly made more than men … Study after study shows that when men make less than women, women generally no longer want to marry them."
Watch below:
— Andrew Lawrence (@ndrew_lawrence) January 3, 2019
Lou Dobbs calls Mitt Romney "treasonous" for his op-ed mildly criticizing Trump.
Carlson was not the only right-wing anchor eager to share his opinion this week. Also in the spotlight was Fox Business' Lou Dobbs, a psychotically pro-Trump anchor who lost it over the Washington Post op-ed by incoming Sen. Mitt Romney (R-UT), rebuking Trump's failure of leadership and moral character.
"We have Romney," said Dobbs, "who is basically saying to all of the great Americans in Utah, 'Go to hell, please! You were a bunch of suckers! And I accepted the Trump endorsement. And now I'm telling Trump what I really think of him.' What an ignorant — his character?! He's talking about character?! He's a traitor, he is treasonous, and betrayed the people of Utah!"
Contrary to Dobbs' assertion, it is not "treasonous" for a member of a co-equal branch of government to criticize the presidency. And in reality, 64 percent of Utah voters want Romney to stand up to Trump in office. The good news for Dobbs, though, is that Romney is unlikely to follow through on his anti-Trump posturing beyond empty words. He noted in his op-ed that he supports Trump's policy agenda, and clarified he intends to vote for Trump's border wall.
Trump supporter tells Fox News he wants Trump to fire Democrats like contestants on "The Apprentice."
Dobbs is not alone in confusion over the right of politicians to challenge the president. With Nancy Pelosi ascending to the Speakership once again, some Trump supporters seem to think the president ought to just fire the Democrats from the House as if they're contestants on Trump's old NBC show, "The Apprentice" — as one man identified only as "Phil" told "Fox & Friends" host Pete Hegseth at Grandma's Pancake House in Shelbyville, Indiana on Thursday.
"I'm expecting to wake up some morning and find Fox News — Trump on there, pointing his finger, 'You're fired, Democrats,'" said Phil. After everyone laughed, Hegseth had to awkwardly explain to Phil that the president doesn't have the constitutional authority to oust members of Congress.
Watch below:
— Aaron Rupar (@atrupar) January 3, 2019
Rick Santorum says Black Lives Matter is a "racist" group that "promotes a lot of hateful things."
After years of police shootings of unarmed black suspects, the Black Lives Matter movement is still an issue conservatives struggle to empathize with or even talk about. Look no further than CNN commentator and former GOP Senator Rick Santorum.
On Thursday, during a discussion with Anderson Cooper, after fellow commentator Kirsten Powers noted that the GOP has failed to grasp how Trump's racist rhetoric is hurting their party, Santorum tried to make a what about its dodge, saying that Black Lives Matter "promotes a lot of hateful things." After Powers demanded he provide an example, Santorum started to babble. "There are all sorts of clips and posters of folks in these marches that are as racist on the other way as the white racists are to blacks. You just can't wipe away all of the things that are said and written and done at these marches as a fringe element any more than you would wipe those away from a group of whites doing the same thing."
At no point did Santorum provide a specific example, or explain how such examples would reflect on an entire movement of activists whose singular goal is to make communities safe for people of color.
Trump supporters attack Alexandria Ocasio-Cortez's high school nickname and dancing skills.
Few political attacks have fallen so hopelessly flat as Trump supporters' attempts to discredit Democratic Socialist Rep. Alexandria Ocasio-Cortez (D-NY), which reached a new level of absurdity this week.
On Wednesday, right-wing blogger Jim Hoft — who Media Matters for America once memorably dubbed the "dumbest man on the Internet" — published what he apparently thought was a blistering exposé of Ocasio-Cortez's hidden past. The revelations: that she sometimes went by the nickname "Sandy" in high school and that some of her classmates were wealthier than her.
But even this pales in comparison to the misfire of Trump supporter Dan Jordan, who tried to humiliate her by posting this clip of a school-aged Ocasio-Cortez dancing with her friends, only to have her own supporters take it viral and praise her:
— Dan Jordan (@realdanjordan) January 2, 2019
Congratulations indeed.