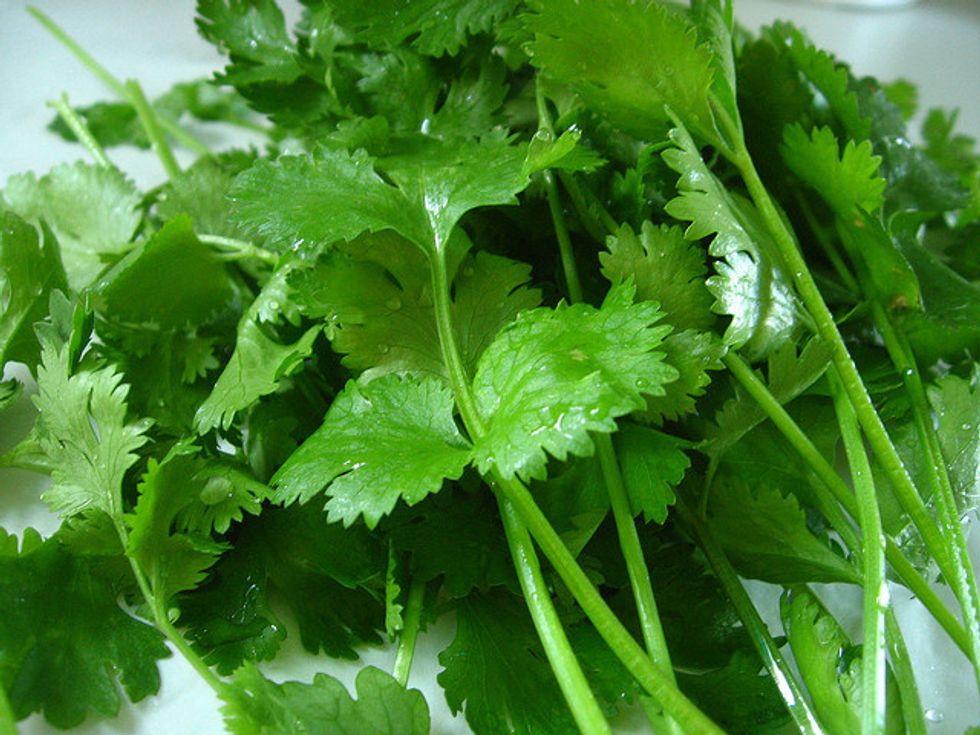 By Daniel Neman, St. Louis Post-Dispatch (TNS)
In the Bible, the manna that fell from heaven to feed the Israelites on their journey out of Egypt was described as being like coriander seeds.
Or to put it another way, the seeds of the cilantro plant.
One plant. Two names.
What is commonly known as cilantro are the leaves and stems of the plant; the seeds, which have a completely different taste, are called coriander.
But that's just in America. Throughout Europe, the whole plant is generally referred to by some variation on coriander (koriandr in Czech, coriandolo in Italian). But it's cilantro in Mexico and Spain.
In Mandarin Chinese, it's yuen sui and in Vietnamese it's ngo. Which proves the worldwide popularity of this plant.
And yet, it was little known in America just 40 years ago.
Cilantro closely resembles Italian flat-leaf parsley in appearance but has a much brighter, fresher taste and an intoxicating aroma (though some people, for genetic reasons, can't stand it). It can be used in any kind of savory dish, from soups to salads to entrees–while the seed, coriander, is even good in baked goods and desserts.
There is really only one rule to remember when cooking with cilantro: It loses its potent flavor quickly when exposed to heat, so it is always best to add it in the last few minutes of cooking.
I made three different dishes featuring cilantro, and not one of them involved adding cilantro in the last few minutes of cooking. Call me a rebel.
One of the dishes uses cilantro only as part of an uncooked sauce, adding its vibrant green color as well as its clean taste. The cilantro is the primary ingredient in a chimichurri, a South American sauce usually made instead with parsley.
Try it with the cilantro. When blended with garlic, peppers, lime juice, vinegar and olive oil, it becomes a multi-purpose, one-size-fits-all sauce that goes with many other dishes (rice, pasta, potatoes) beyond the traditional grilled meat.
I used it with grilled meat. Call me a traditionalist–one of those rebel traditionalists you hear so much about these days.
Besides, the meat I used was kind of untraditional. I made lamb chops that I marinated in a Chinese marinade and rubbed with a spice mix drawing elements from India or Mexico.
It was delicious. The simple marinade brought out the natural flavor of the lamb, which was then accented by the heady spice mix. The full-flavored sauce exponentially increased the pleasure, kicking the dish into the stratosphere.
I thought cilantro couldn't get any better than that, but I was wrong.
I made a cilantro and ginger hummus that was so addictive that one co-worker accused me of making crack. Another co-worker, who fancies herself the definitive expert on hummus, explained in no uncertain terms that what she was eating was not, in fact, hummus, because it tasted of cilantro and ginger.
Mind you, she couldn't get enough of it.
And this hummus (or cilantro-flavored chickpea spread, as the expert insisted it be called) is deceptively easy to make. You just throw a handful of ingredients into a food processor and whip it together until done.
I added one preparation that made it as smooth as silk, and it probably took less than 15 extra minutes _ though that is more time than it took to make the rest of it: I peeled the chickpeas.
They were canned, so it was easy (I've also peeled them when I cooked them myself, but that is much more work). The beans pop right out of their clear skins, and it makes a world of difference in the final product.
On the other hand, the best hummus I've ever had is made at a Lebanese restaurant in Toledo, Ohio, and I asked the owner if he peels the chickpea skins. He said no.
Finally, I made a chicken dish that may actually be my favorite of the three, though that is stiff competition. It takes more time and effort than the other two, but I'm sure you will agree that the results are well worth it.
A mole is a thick sauce popular in Mexico, and the kinds that are most familiar in this country, from the Mexican states of Oaxaca or Puebla, tend to be highly complex and take forever to make. They also tend to be enriched with ground nuts.
This version, however, is from the state of Zacatecas, which is farther north. It's a green mole, made with fresh tomatillos along with the cilantro, and it is lighter in concept than the others, though just as flavorful.
This sauce is made partly from a cilantro broth that is used to simmer the chicken. One especially enticing byproduct of the dish is that you end up with about two quarts of this incredible chicken-cilantro broth.
The mole is superb; it is mind-blowingly superb, it is unlike anything you have ever tasted.
But now I can't wait to use that broth.
ZACATECAS-STYLE GREEN MOLE WITH CHICKEN
Yield: 4 servings
For the chicken
1 (3 to 4-pound) whole chicken, cut into 8 pieces
1/2 cup cilantro stems
2 tablespoons kosher salt
1 teaspoon whole black peppercorns
2 cloves garlic
1 large yellow onions, chopped
1 bay leaf
For the green mole
8 ounces tomatillos, preferably fresh, peeled and chopped
2 jalapenos, stemmed and chopped
1/2 cup cilantro leaves
2 teaspoons kosher salt, plus more to taste
2 cloves garlic, chopped
2 (8-inch) flour tortillas, toasted, plus more for serving
2 tablespoons canola or corn oil
1. To cook the chicken: Place chicken, cilantro stems, 2 tablespoons kosher salt, peppercorns, whole (or crushed) garlic, bay leaf and 12 cups water in a 6-quart saucepan and bring to a boil; reduce to medium low and simmer, covered and stirring occasionally, until chicken is tender, about 30 minutes.
2. Remove chicken from saucepan and strain liquid through a fine strainer; reserve 4 cups and save remaining liquid for another use (it makes a delicious broth). Set chicken and liquid aside.
3. To make the sauce: Heat tomatillos and jalapenos in a saucepan over medium heat and cook, stirring occasionally, until darkened and thick, about 10 minutes. Transfer to a blender with cilantro leaves, 2 teaspoons kosher salt, chopped garlic, tortillas and 1 cup of the reserved cooking liquid. Puree.
4. Heat oil in a 6-quart saucepan over medium-high heat; add tomatillo sauce and fry, stirring constantly, until it thickens into a paste, about 5 minutes. Whisk in remaining 3 cups cooking liquid and bring to a boil; reduce heat to medium and cook, stirring, until reduced and thickened, about 30 minutes.
5. Add chicken pieces and cook until heated through, about 10 minutes. Serve with Mexican rice and tortillas.
Per serving: 527 calories; 30 g fat; 7 g saturated fat; 131 mg cholesterol; 44 g protein; 17 g carbohydrate; 4 g sugar; 2 g fiber; 1,725 mg sodium; 64 mg calcium.
Recipe by Saveur magazine
SICHUAN LAMB CHOPS WITH CILANTRO CHIMICHURRI
Yield: 4 servings
1/4 cup soy sauce
1/4 cup oil
3 tablespoons sherry
5 garlic cloves, divided, minced
8 lamb chops or 1 rack, frenched
4 tablespoons cumin seeds
1 tablespoon coriander seeds
2 tablespoons Sichuan peppercorns
2 tablespoons salt
1 pinch crushed red pepper flakes plus optional \ teaspoon
1 cup cilantro
1/2 lime, juiced
2 tablespoons jalapeno, chopped
2 tablespoons rice vinegar
1/4 cup olive oil
1. Mix soy sauce, oil, sherry and 4 of the minced garlic cloves. Add lamb chops (cut into 4 pieces if using a rack of lamb) and marinate in the refrigerator for 6 to 8 hours.
2. Toast cumin and coriander seeds by placing them in a hot skillet over medium-high heat; shake the pan frequently until the seeds are aromatic, about 1 minute. Pour out the seeds and add peppercorns to the pan; toast in the same manner until fragrant, about 2 minutes. Grind all the seeds in a spice grinder or with a mortar and pestle. Add salt and optional crushed red pepper flakes and sprinkle liberally over lamb.
3. Heat grill or a large skillet over medium-high heat. Cook lamb until done, an internal temperature of 140 degrees for medium rare. Allow to rest 5 minutes before serving with the cilantro chimichurri sauce.
4. To make the chimichurri sauce, place in a blender the cilantro, lime juice, jalapeno, rice vinegar, remaining 1 minced clove garlic and remaining pinch of crushed red pepper flakes, and blend. With the motor running, drizzle in the oil. Season to taste with salt.
Per serving: 654 calories; 54 g fat; 13 g saturated fat; 108 mg cholesterol; 31 g protein; 8 g carbohydrate; 2 g sugar; 1 g fiber; 4,833 mg sodium; 107 mg calcium.
Recipe from food52.com
CILANTRO AND GINGER HUMMUS
Yield: About 12 servings
1 (15-ounce) can chickpeas, drained and rinsed
1/2 cup tahini
1 tablespoon minced garlic
1 tablespoon minced fresh ginger
1/2 cup cilantro
1/2 lemon, juiced
1 teaspoon salt
1/2 cup olive oil
1/2 cup water
1. If desired, peel the chickpeas (if the beans have been canned, the peels will pop right off). This step is not necessary, but it makes a much smoother hummus.
2. Blend chickpeas in a food processor until coarse. Add tahini, garlic, ginger, cilantro, lemon juice and salt. Process for a full 1 to 2 minutes. With the processor running, drizzle in the oil and then the water. For a smoother, thinner consistency, add more water.
Per 2-tablespoon serving: 152 calories; 11 g fat; 2 g saturated fat; no cholesterol; 4 g protein; 11 g carbohydrate; no sugar; 1 g fiber; 273 mg sodium; 31 mg calcium.
Recipe from abeautifulmess.com
Photo by Qfamily via Flickr