The Worst Anti-Abortion Misinformers That You Might Never Have Heard Of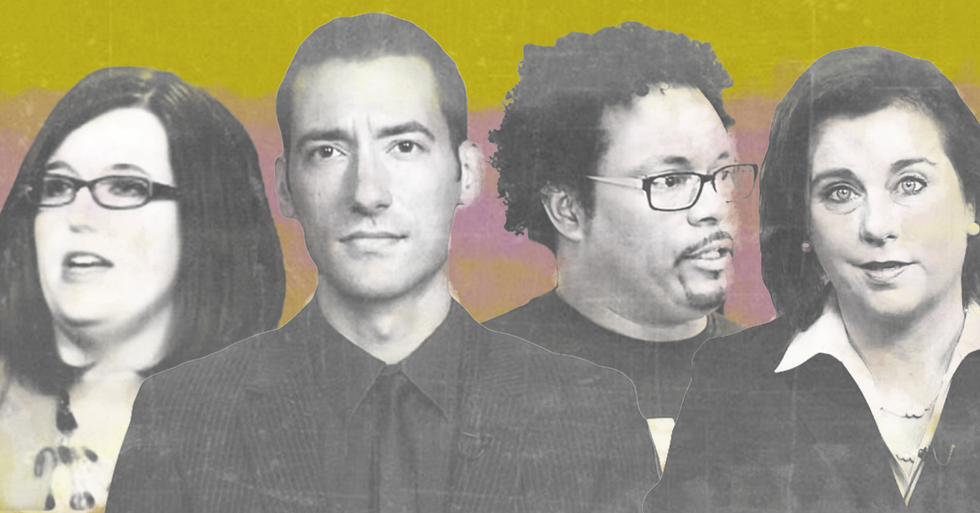 Reprinted with permission from MediaMatters.

What's an anti-choice extremist to do when the only person willing to give their blatant misinformation a platform is Sean Hannity?
This was the challenge that discredited anti-choice activist and Center for Medical Progress (CMP) founder David Daleiden faced throughout most of 2016 and early 2017. Daleiden is known for his deceptively editedsmear videos attacking Planned Parenthood — and most recently, his 15 felony charges in California.
In a study of 14 months of evening prime-time cable news coverage in 2015 through early 2016, Media Matters identified at least seven appearances by Daleiden on a variety of Fox News programs. Notably, when Media Mattersrepeated this analysis on 12 months of coverage from March 7, 2016, through March 1, 2017, Daleiden appeared only once as a guest — on Sean Hannity's eponymous program, Hannity.
Daleiden was not the only anti-choice activist whose number of appearances on the network dropped from 2015 to 2017. In 2015 and early 2016, Lila Rose (president and founder of the anti-choice group Live Action) appeared on Fox News programs 10 times to talk about abortion, while extremist hate group leader Tony Perkins appeared six times. In 2017, with the exception of Daleiden, none of these anti-choice extremists appeared on Fox News.
Although anti-abortion spokespeople did make a few one-off appearances during the 12-month period studied by Media Matters, the sustained focus of their media engagement appears to be shifting. They may not frequently appear on Fox News, but here are some of the leading purveyors of anti-choice misinformation:
Marjorie Dannenfelser, Susan B. Anthony List
Marjorie Dannenfelser is president of anti-abortion political organization the Susan B. Anthony List (SBA List). Although Dannenfelser helms a sizeable political operation dedicated to promoting anti-choice legislators and legislation, her influence further increased after President Donald Trump appointed her to lead his "Pro-Life Coalition."
Dannenfelser has spearheaded the administration's anti-choice agenda, supporting the nomination of anti-choice Justice Neil Gorsuch to the Supreme Court, the elimination of a rule preventing states from denying Title X family planning funds to abortion providers for non-abortion services, as well as the reinstatement and unprecedented expansion of the Global Gag Rule.
Dannenfelser has increasingly tried to position SBA List as not just a political organization, but also as a self-sustaining media platform for anti-choice misinformation.
In early 2017, Dannenfelser announced a partnership between SBA List and the Eternal World Television Network (EWTN) to produce a weekly anti-choice news program, Pro-Life Weekly. Dannenfelser and other representatives from SBA List frequently appear on the program. Most notably, after being convicted of 15 felonies, Daleiden gave exclusive comments to EWTN's Lauren Ashburn before appearing on that week's episode of Pro-Life Weekly. During the interview, Daleiden told host Catherine Szeltner that the allegations against him were "political prosecutions" and repeated discredited allegations about Planned Parenthood committing "infanticide."
Dannenfelser also rejects exceptions to abortion bans for reasons of rape, incest, or medical necessity. In 2015, after the U.S. House passed a 20-week abortion ban, Dannenfelser called the bill's narrow exemptions for rape and incest survivors "regrettable," "abominable," and "completely intellectually dishonest." Dannenfelser also rejected exemptions for the health of the mother. For example, in 2012, she noted that SBA List would not endorse then-presidential candidate Mitt Romney because he supported health exemptions to abortion bans.
Kristan Hawkins, Students for Life of America
Kristan Hawkins is president of Students for Life of America (SFLA), an anti-abortion group targeted at audiences from high school through medical and law school.
SFLA and its representatives commonly make the argument that millennials are the "pro-life generation," an allegation they support with questionable polling. Polling on abortion and related topics is notoriously difficult to conduct and prone to both intentional and unintentional survey bias. Although the full polling methodologies for SFLA's data are not available, SFLA has most recently relied on organizations with an anti-choice focus to supply its numbers, including The Knights of Columbus, the Susan B. Anthony List, and presidential counselor Kellyanne Conway's polling firm.
Beyond running a year-round field program that develops and assists anti-choice campus groups, SFLA also bills itself as a "one-stop shop" for anti-abortion activism by providing specific programs, materials, and trainings to students free of charge. As part of this service, SFLA regularly partners with a number of anti-abortion organizations including Heartbeat International, March for Life, Americans United for Life, Susan B. Anthony List, The Radiance Foundation, and Family Research Council.
Hawkins has also propagated a number of inaccurate and harmful claims about abortion, abortion providers, and reproductive health. Beyond openly calling for abortion to be stigmatized, Hawkins has also comparedher work with that of "slavery abolitionists," claiming that "there is no difference between fighting against … chattel slavery and fighting 'to save the pre-born.'" This particular piece of misinformation is frequently promoted by SFLA, which has dedicated a webpage to the myth that Planned Parenthood disproportionately targets black communities with its abortion services.
In a Conservative Political Action Conference (CPAC) training session with then-Rep. Mike Pence (R-IA), Hawkins pushed the medically inaccurate claim that "when you get [an] abortion, you are increasing your risk for breast cancer almost by 50 percent."
Hawkins has also frequently spread misinformation about the health risks of various contraceptive methods — calling them "carcinogenic" and "abortion-inducing." In 2011, she published a blog on the conservative outlet American Thinker's website titled "Government gone wild" in which she criticized the Affordable Care Act (ACA) for including contraceptive coverage. Hawkins wrote, "Labeling harmful birth control chemicals as 'health care' is ridiculous." In 2013, she complained that advertisements for the ACA were designed to appeal to a love of "sex, beer, and more sex" by suggesting that women can "supposedly have all the free sex they want because birth control pills are complimentary." During a January 2017 appearance on MSNBC's AM Joy, Hawkins told host Joy Reid that she would advocate for all contraceptives to be illegal.
Hawkins' extreme beliefs are not limited to abortion and reproductive health. In 2016, the Southern Poverty Law Center obtained a leaked membership roster for the Council for National Policy (CNP) — "a shadowy and intensely secretive group [that] has operated behind the scenes, providing a venue three times a year for powerful American politicians and others on the right to meet privately to build the conservative movement." Hawkins' entry in the CNP roster also listed "Marriage Issues," "Radical Islam," "Abstinence / Sex Education," and "Religious Freedom" as areas of interest.
Ryan Bomberger, The Radiance Foundation
Ryan Bomberger is the co-founder of The Radiance Foundation (TRF) alongside his wife, Bethany. According to Bomberger, The Radiance Foundation is a "faith-based, life-affirming organization to help people understand and embrace their God-given Purpose" through a variety of "creative ad campaigns, powerful multi-media presentations, fearless journalism, and compassionate community outreaches."
In reality, Bomberger and TRF frequently promote a variety of harmful myths about abortion — including the allegation that abortion providers are agents of "black genocide." Anti-choice groups and right-wing mediahave long attempted to argue (inaccurately) that higher abortion rates among black women reflect an attempt by Planned Parenthood to explicitly target black communities.
Bomberger initially garnered media attention in 2010 after TRF purchased billboards across the country "that label black children as endangered species and declare black women's wombs 'the most dangerous place' for their children." The billboards directed viewers to the (still operational) website TooManyAborted.com, which is run by TRF in order to "[raise] the public's awareness of the eugenic racism of Planned Parenthood and the hugely disproportionate impact on black communities." According to TRF, "Abortion is the number one killer of black lives in the United States," and organizations like the NAACP, the Urban League, and the Congressional Black Caucus "have done nothing to address this epidemic."
In addition to operating TooManyAborted.com, TRF promotes materials that cast skepticism on the severity of police "brutality" in comparison to "abortion brutality" and deny the existence of a pay gap between men and women in the workplace.
TRF has also alleged that abortion disenfranchises men and leads to them abandoning pregnant women — creating a "crisis of fatherlessness." TRF claims that "abortion has taken the place of fathers" because "men have been empowered by Roe v. Wade to abandon their primary responsibility–protecting."
Most recently, Bomberger participated in a debate on NPR affiliate WAMU's The Kojo Nnamdi Show against Democratic Maryland Del. Kathleen Dumais. According to Bomberger's blog post about the exchange, Dumais "had her piles of papers and prepared talking points," but he "had facts."
*Graphics by Sarah Wasko