There Is No Getting Used To Presidential Racism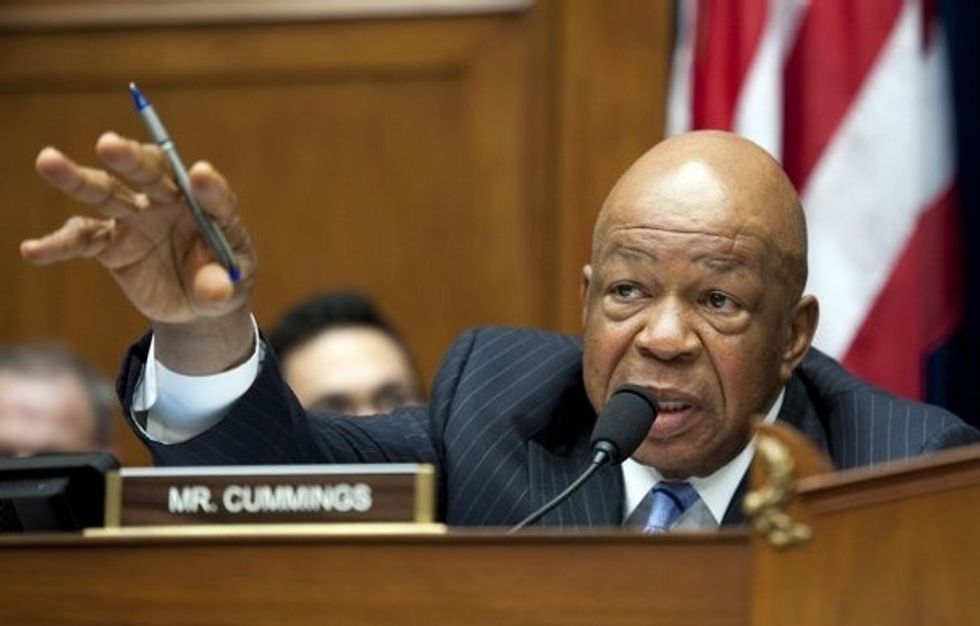 About an hour into Tuesday night's Democratic debate, Yamiche Alcindor, who covers the White House for PBS Newshour, tweeted this:
"I've been on the road for most of the last week. And it's so important to highlight just how much people feel the president's attacks put them personally in danger. Most black and brown people I've interviewed tell me this isn't just about politics but (their) ability to survive."
If you're black or brown in America, you don't need an explanation of what this means.
If you're white, you shouldn't need one either, but we all know that's not how this plays out in too many homes in America.
The timing of Alcindor's tweet was poignant, as the issue of race had not even been raised yet on the debate stage — by the journalists or the candidates. Not surprising. There is a faction of the Democratic Party that thinks we should ignore the president's racism, if Trump is to be defeated in 2020. His racism "is a distraction," the argument goes.
Not coincidentally, the ones making this argument are almost never the people targeted by the president's racism. If denial were a color, it'd be this shade of white Democrats.
If you're a person of color in this country, you can't afford the luxury of indifference when the president of the United States is encouraging racists to be more open, shall we say, with their hatred of you. Just as certainly, those of us who are white can't stand idly by either, if we believe the black community is our community, too. Think: America.
Recently, Trump told four women of color in Congress to "go back and help fix the totally broken and crime infested places from which they came." Three of the four women were born in the United States, and all of them are citizens of this country.
Suddenly, finally, more of the powerful and influential — even in newsrooms — were willing to drop the euphemistic "racially tinged" to describe the presidentially unhinged.
This was racism, period, by the president of the United States.
As Washington Post executive editor Marty Baron put it:
"The Post traditionally has been cautious in the terminology it uses to characterize individuals' statements, because a news organization's job is to inform its readers as dispassionately as possible. Decisions about the terminology we use are made only after a thorough discussion among senior editors. We had that discussion today about President Trump's use of a longstanding slur against African Americans and other minorities. The 'go back' trope is deeply rooted in the history of racism in the United States. Therefore, we have concluded that 'racist' is the proper term to apply to the language he used Sunday."
A few days later, Trump went after another black member of Congress: Rep. Elijah Cummings (D-MD), who represents part of Baltimore and has been a tireless critic of the president.
Cumming's district "is a disgusting, rat and rodent infested mess," he tweeted. "If he spent more time in Baltimore, maybe he could help clean up this very dangerous & filthy place."
Oh, Republicans. Wouldn't your patron saint, Ronald Reagan, be so proud?
Lately, I've been thinking about you white women who support Donald Trump and men like him. We are the same, you and I. Regardless of our politics, economic status or religious affiliation, we have been on the receiving end of misogyny and sexism all of our lives. We don't know what it's like to be black, but we surely know what it means to be judged and punished simply for being women, by men who feel entitled to control our bodies and our lives.
Why would we ever be on their side?
Jamil Smith, a black journalist who writes for Rolling Stone, weighed in this week on the daily toll of this president. The headline of his essay: "Trump's Racism Is a National Emergency."
"There is no getting used to this," Jamil writes, "when you are in the crosshairs of this policy, when people who look like you sit patronized by a president who tells them all the time about how he got a few more of us some jobs and a few more of us out of jail, then acts as though we should be satisfied with that. 'What do we have to lose?' he asks, while we sit in this systematically racist America. 'Why do we hate America?' he wonders aloud, as we criticize his administration for working consciously to exacerbate inequities in everything from health care to education to housing. 'Why don't we want safety and security?' Trump proclaims, as we see his government treat migrants (the ones who survive) like literal vermin while comparing our communities to 'infestations.'"
On Tuesday night, three CNN journalists questioned the Democratic candidates. Two of them were white; one was black.
Donald Trump attacked only one of them, calling him "the dumbest man on television." You know which one.
There is no getting used to this. Not if we still believe in America.
IMAGE: Rep. Elijah Cummings (D-MD).