This Week In Crazy: The Scalia Memorials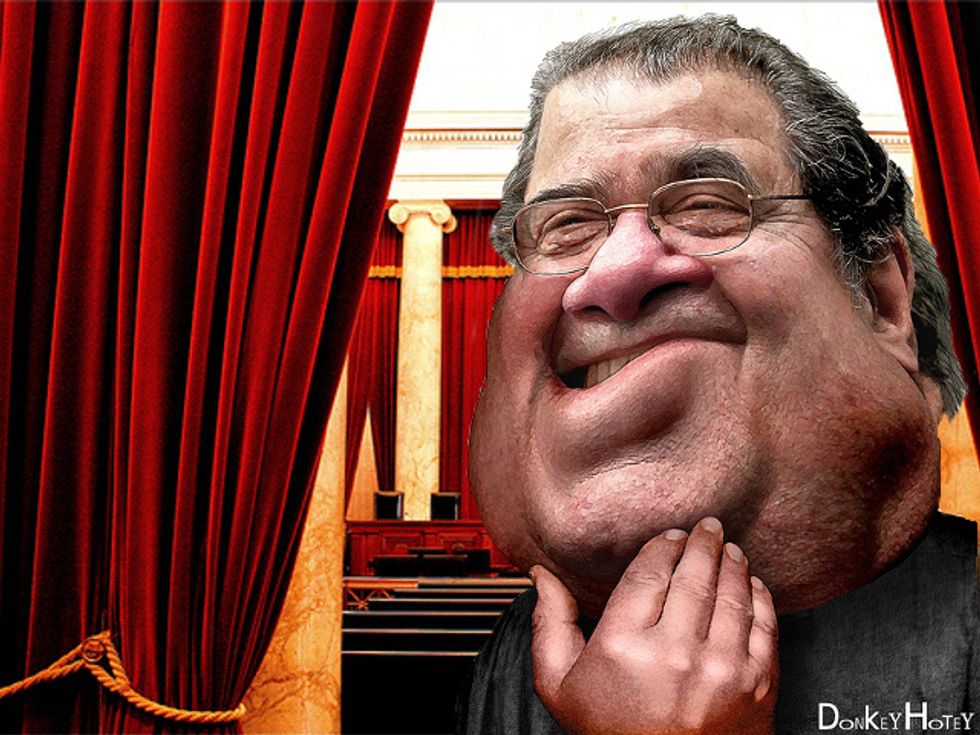 Last Saturday, Justice Antonin Scalia passed away, leaving a vacant seat in the nation's highest court and opening a vacuum into which conservatives poured their wildest obstructionist agendas and kooked-out conspiracy theories. Welcome to "This Week In Crazy," a special Scalia-themed edition of The National Memo's weekly update on the loony, bigoted, and hateful behavior of the increasingly unhinged right wing. Starting with number five:
5. Phyllis Schlafly
Of course it isn't enough to block President Obama from appointing Scalia's replacement — it is incumbent upon Senate Republicans to block any and all appointments to federal courts. This is the latest gospel from Phyllis Schlafly, writing in her column published Monday.
Schlafly writes:
Several GOP candidates promised to appoint a justice who will interpret the Constitution as it was written, rather than changing it as liberals want. But by now it should be painfully obvious that picking good judges is not sufficient to stop liberal activism by the courts.

Of course Senate Republicans should block President Obama from filling this Supreme Court vacancy in an election year, and they have 80 years of precedent on their side. But Republicans should go further and block nominations for all the other vacancies in the federal judiciary, too.
Schlafly was not content to leave it at that of course — the conservative activist, who has previously railed against abortion, same-sex marriage, the Equal Rights Amendment, and even microbrew, enjoined Congress to basically tear down the entire judicial system because, you know, liberals.
"Congress should also defund use of taxpayer money by the Department of Justice to push the liberal agenda in the liberal courts," she wrote. "Congress should cut back on the funding for the courts themselves, too, and eliminate rather than fill some of the vacancies."
In other words, no judges at all are better than judges who want to move the country forward.
4. Grant Stinchfield
Grant Stinchfield, a radio host and former Republican congressional candidate, demonstrated virtually unheard of humility (at least among right-wing shock jocks) when he confessed that he did not "know for a fact that [Scalia] was murdered." But still, he thinks he's pulled the crucial thread on a conspiracy regarding the president and the unions in cahoots with him, and he wants the Feds to look into it.
Speaking on his radio show Monday, Stinchfield cited a "whole host of factors" that led him to believe that a murder was possible. "The more reporters that tell me I'm nuts about this, it tells me that maybe I'm on to something," Stinchfield said.
He also, in a curious maneuver, decried the fact that with a potential year's worth of null 4-4 rulings, President Obama would have "free rein" to impose whatever nefarious liberal agenda he wants, glossing over the fact that if there should be a year-long vacancy on the SCOTUS, it will be despite — not because of — the president's efforts.
"#ScaliaDeath should be investigated by the FBI," Stinchfield wrote on Twitter. "To [sic] many red flags. #Obama and Unions have motive to want him dead." The plot thickens.
#ScaliaDeath should be investigated by the FBI. To many red flags. #Obama and Unions have motive to want him dead.

— Grant Stinchfield (@stinchfield1776) February 16, 2016
Stinchfield is of course only one of many, many conservative pundits who are calling for an investigation into the circumstances of Scalia's death. As we shall see…
Hat tip and audio courtesy of Media Matters
3. Glenn Beck
Well, this is a murder conspiracy of a sort.
Glenn Beck downloaded his latest dispatch from his private satellite in orbit that relays the secret plans of God to let his audience know that the Man Upstairs took Scalia to that great seminar on originalism in the sky, as a way of paving the road for His chosen candidate — Ted Cruz.
As reported by Right Wing Watch, Beck speculated that Scalia's death was God's way of galvanizing Americans into realizing just how close they are to losing their liberties, and accordingly spurring them to punch their chads for Cruz.
"I just woke the American people up," Beck said, presumably channelling the true intentions of God. "I took them out of the game show moment and woke enough of them up to say, look at how close your liberty is to being lost. You now have lost your liberty. You replace one guy and you now have 5-4 decisions in the other direction. Just with this one guy, you've lost your liberty. So you'd better elect somebody that is going to be somebody on, because for the next 30 years, if you don't, the Constitution as you know it … is hanging by a thread. That thread has just been cut."
Beck took to Facebook Wednesday night to blast the "MSM" for basically reporting that he had told listeners that "God killed Scalia to help Ted Cruz."
"Outrageous," Beck wrote. "What I did say is 'perhaps God allowed Scalia to die at this time to wake America up to how close we are to the loss of our freedom.'"
Ah, thank you for clarifying. His full Facebook post is below.
This is not the first time Glenn Beck has espied the hand of God in Ted Cruz's candidacy. He has previously said that he sees divine providence animating both the life story of the Texas senator, as well as his political aspirations. You could reasonably protest that the Almighty probably could have found a more humane, surefire way to give Cruz a boost in the race than offing one of His most effective servants — but I guess Beck hasn't yet received a transmission that explains that one away yet.
Hat tip and video courtesy of Right Wing Watch 
2. Michael Savage
Well naturally, the shock jock guru Michael Savage has a theory that Scalia was murdered. After all, how else to can you explain the sudden death of a 79-year-old man?
"We need a Warren Commission-like federal investigation," he said on his show. "This is serious business." Donald Trump conceded to Savage that the unprecedented event of a septuagenarian passing away in his sleep was "pretty unusual."
In an essay entitled "Was Scalia Murdered?" posted on his website, Savage expanded upon his theory:
The question is, is it a conspiracy theory to ask questions that are so obviously in need of answer, or is it just common sense. And where is the common sense both in the press and the Republican Party. The answer is nowhere. And that's why I am Michael Savage.

[…]we have a picture of Barack Obama shaking hands with John Poindexter. A Texas millionaire businessman, who is also a donor to the Democrat party, who also received an award from Barry Obama, related to his service in Viet Nam. You see, Mr. Poindexter, is the owner of the Cibolo Creek Ranch that Supreme Court Justice Scalia was found dead at this weekend. Did you know any of this?
"My friends," he concluded, "something stinks."
Audio courtesy of Right Wing Watch 
1. 

Rick Wiles
But it gets worse (or better) than a "mere" murder.
Of all the Scalia truther conspiracies that I've heard, Rick Wiles's certainly takes the prize for the most creative, baroque, and paranoid. Wiles, the radio host of End Times, weaves his political assassination drama together with some deeply held misgivings about the dark practices of American pagans, as well as his all-enveloping fear and loathing of the president, which is basically the background radiation noise for any good conservative rant.
Positing "possible occult connections" to the death of Justice Scalia on Trunews Monday, Wiles spun a most creative theory, uniting several distinct conservative Christian bugaboos: an insidious liberal plot, witchcraft, and the dark lord holding dominion over all, Barack Obama.
As reported by Right Wing Watch:
[Scalia] was murdered by President Obama and was a human sacrifice to mark the pagan festival of Lupercalia.

Wiles explained that the "Luciferian" "devil-worshipers" who control the government are out for blood, noting that Lupercalia is observed between February 13 and 15. Scalia's body was discovered on the 13th. "There's always human sacrifice involved," he said, claiming that Scalia was "killed" to mark the beginning of pagan fascism ruling over the U.S.
"This is the way a dictatorial, fascist, police state regime takes control of a nation," Wiles said, averring that the pillow had been left on Scalia's face as a warning to any in Washington who would oppose the Satanic cabal. The day of Scalia's death marked "the day the justice died, the day justice in America died," he continued, "they got away with it."
Wiles cited as evidence the fact that Scalia died on Feb. 13, which was the 44th day of the year — and this is the smoking gun, you see, because this devilish numerology points to the 44th president.
It all adds up.
Hat tip and audio courtesy of Right Wing Watch
—
Images: Scalia (DonkeyHotey/Flickr), Courthouse (Phil Roeder/Flickr)
Check out previous editions of This Week In Crazy here. Think we missed something? Let us know in the comments!Get This Week In Crazy delivered to your inbox every Friday, by signing up for our daily email newsletter.