This Week's Violence Exposes America's Deepest Cracks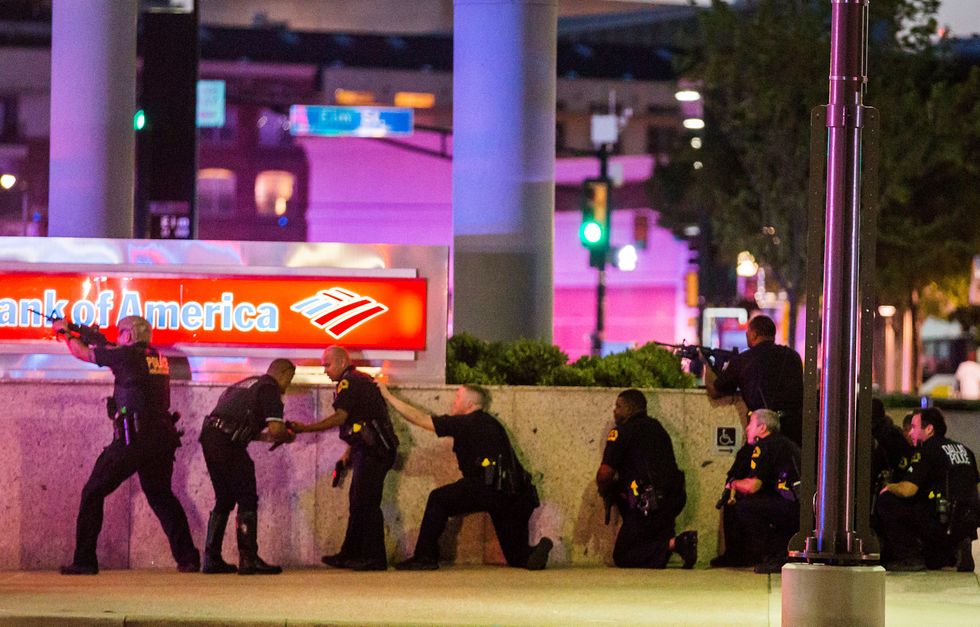 The deaths of five Dallas police officers and Alton Sterling and Philando Castile have exposed the deepest cracks in American society, bringing together some of the toughest issues the nation faces into one week: mistrust of police within the Black community, gun violence, and hyper-partisanship.
Responses to the week's violence show deep fissures in the American political ecosystem. Democrats pled for gun control and called for mutual respect between the Black community and police. Many Republicans and conservatives pointed to the shooting rampage in Dallas as proof of the effects of anti-police rhetoric from protestors.
President Obama used language related to gun control when responding to the Dallas shooting, telling reporters in Poland on Friday that Dallas was a "wrenching reminder of the sacrifices" law enforcement makes, before mentioning that it was also a reminder "that when people are armed with powerful weapons, unfortunately it makes it more deadly and more tragic, and in the days ahead we are going to have to consider those realities as well."
Dr. Ben Carson condemned president Obama's remarks, saying it was "definitely not the time to get political," before plugging in his own political beliefs: "Now is the time to use logic and ask ourselves, why do we have a Constitution? Why do we have a Second Amendment? They're always saying you don't need a high-powered weapon to hunt deer. The Constitution is not about deer hunting. It's about people being able to defend themselves from an overly aggressive government or an external invasion," Carson said on Fox & Friends shortly after Obama's statements.
Rep. Pete Sessions, who represents part of Dallas in the House of Representatives, responded to the shooting by calling for unity and strength, and for Americans to rally around presumptive Republican nominee Donald Trump, on MSNBC's "Morning Joe."
"We'll go with great resolve to Cleveland. Donald Trump will be there and be nominated and we must stand and be strong about making America great again," he said. "If we are weak at home, we are weak around the world and this is an example of a weakness when our president goes overseas and has a terrible tragedy like this is an idea why we've got to solve ourselves."
But the week's events also marked the spilling over of threatening and violent rhetoric by many who saw the president and others' responsiveness to #BlackLivesMatter as an invitation for anti-police violence. Former Rep. Joe Walsh openly threatened the president on Twitter and called for "war" to re-establish respect for law enforcement.
Walsh's threatening Tweet storm earned him a "follow" from Donald Trump Jr.
Alex Jones, the right-wing conspiracist behind InfoWars.com and a prominent supporter of Donald Trump's campaign for president called the shooting a plot by liberals to distract the American public from… something. It's hard to say. Jones is known for responding to horrific acts of violence with claims of "false flag" operations and other tales of cover-ups. The shooting in Dallas was no different, and Jones would normally remain out of the mainstream news — if he wasn't about to headline a pro-Trump rally outside the RNC convention hall in Cleveland next week.
The presumptive presidential candidates seemed to tread carefully, especially after the events in Dallas. Hillary Clinton sent out statements about the deaths of Alton Sterling and Philando Castile, as well as a statement about the Dallas shootings, after each occurred.
Alton Sterling Matters.
Philando Castile Matters.
Black Lives Matter. pic.twitter.com/GmUFN9sDH6

— Hillary Clinton (@HillaryClinton) July 7, 2016
I mourn for the officers shot while doing their sacred duty to protect peaceful protesters, for their families & all who serve with them. -H

— Hillary Clinton (@HillaryClinton) July 8, 2016
Donald Trump released a statement regarding all events on Friday using a softer tone than usual. He had not commented on the deaths of Sterling and Castile before.
Comments in response to both politicians' statements, perhaps predictably, were not as diplomatic:
https://twitter.com/JonathanJPowers/status/751403636132089857
Never as much division till @realDonaldTrump started running his racist mouth.

— Mike Evanick (@MCE072166) July 8, 2016
This same partisan divide was seen after the Orlando tragedy, in which 49 people died in the deadliest mass shooting in modern American history. Democrats argued for gun control, Republicans lashed out against Islamic extremism and demanded increased security and a re-doubling of gun rights. In an era of hyper-partisanship, even — and perhaps, especially — the most gruesome events imaginable have become platforms for political debate.
Photo: Dallas Police respond after shots were fired at a Black Lives Matter rally in downtown Dallas.Smiley N. Pool/The Dallas Morning News/Handout via REUTERS